Why Mantacore the Tiger Attacked Roy Horn of Siegfried and Roy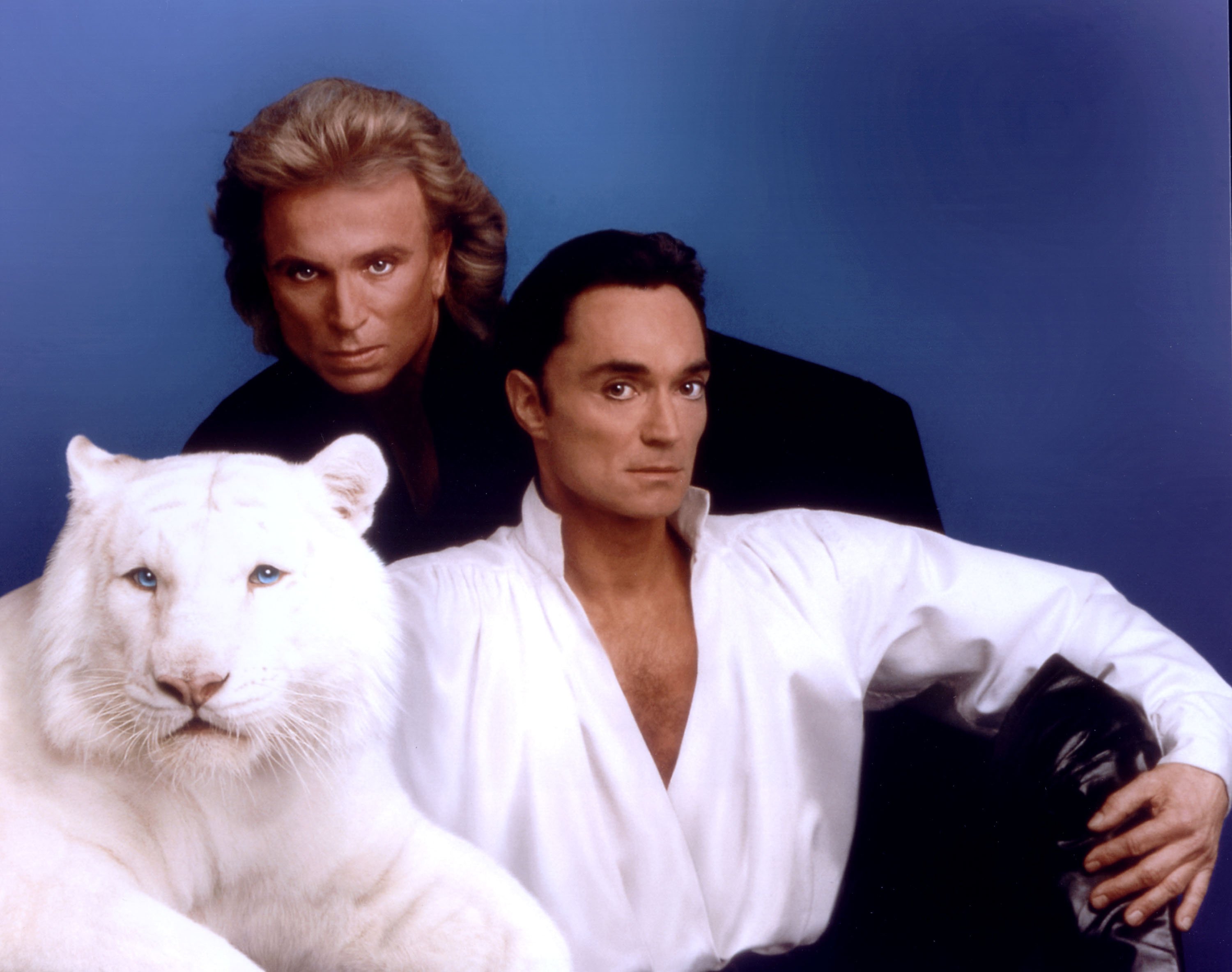 Siegfried and Roy's death defying animal taming act almost proved fatal on October 3, 2003 when Mantacore the white tiger viciously attacked Roy Horn.
Episode 2 of the Wild Things: Siegfried & Roy podcast is titled, "What Went Wrong?" and recounts the unfortunate incident that happened in front of a live audience.
Siegfried Fischbacher and Roy Horn were illusionists and entertainers, but they were perhaps best known for their work with live white lions and white tigers in Las Vegas. For over a decade, they performed the show Siegfried & Roy at the Mirage Resort and Casino, right up until the incident in question.
By the time the show came around on October 3, 2003, Horn's 59th birthday, the pair had been performing with exotic animals for 44 years.
During a segment of the show when Horn was left on stage with then-seven-year-old white tiger Mantacore, he held up the microphone to the animal's mouth for him to say "hello" to the audience.
In 2020, Siegfried and Roy's animal handler Chris Lawrence told The Hollywood Reporter about his version of events. He recalled that things started going awry almost immediately during this routine as Mantacore wandered far off his mark which led to Horn making a crucial error. "What Roy did was, instead of walking Mantacore in a circle, as is usually done, he just used his arm to steer him right back into his body, in a pirouette motion," he says. "Mantacore's face was right in [Horn's] midsection. By Roy not following the correct procedure, it fed into confusion and rebellion."
Horn improvised and asked Mantacore if he'd like to say "hello" to the audience, but Mantacore bit at Horn's arm, and grabbed his sleeve in his mouth. Horn repeatedly said "no" and tapped the animal on the nose with the microphone until he let go.
Mantacore then swiped at Horn's feet, knocking him to the floor. He then leaped at him, bit into his neck and carried him off backstage. In the podcast Wild Things: Siegfried & Roy, someone watching the event unfold is heard saying "It took four men and a fire extinguisher to get the tiger off him." The stage was soaked in Horn's blood as Mantacore had sliced through a vertebrae and severed an artery which cut off the blood to the right side of his brain—this resulted in Horn having a stroke after the attack.
Horn is alleged to have said in the ambulance, "Mantacore is a great cat. Make sure no harm comes to Mantacore." As soon as Horn was taken away from Mantacore, Lawrence recalled that the tiger calmed down and returned to his kennel for a routine dinner.
After the incident, the Mirage closed the show which had been performed for over 13 years.
Horn survived despite suffering a severed spine, massive blood loss, and other injuries which permanently impaired his motor and verbal abilities. He also suffered a stroke either during or after the attack. The Wild Things: Siegfried & Roy podcast details the cover up story which took place after the event, as the incident was played down.
In September 2004, Horn told People that Mantacore had actually tried to save his life by dragging him to safety after he had suffered a stroke.
Siegfried and Roy eventually retired from showbusiness, making a farewell appearance on April 23, 2010.
Mantacore the white tiger died at the age of 17 after a brief illness on March 19, 2014.
On April 28, 2020 Horn's publicist announced that he had tested positive for COVID-19 but was responding well to treatment. Horn later died on May 8, at the age of 75 at the Mountain View Hospital in Las Vegas, Nevada.
Horn's partner Fischbacher died on January 13, 2021 at the age of 81, two days after it was announced he had terminal pancreatic cancer.
The first three episodes of the podcast Wild Things: Siegfried & Roy are out now.