Warner Bros. Home Entertainment y DC presentan Superman: Red Son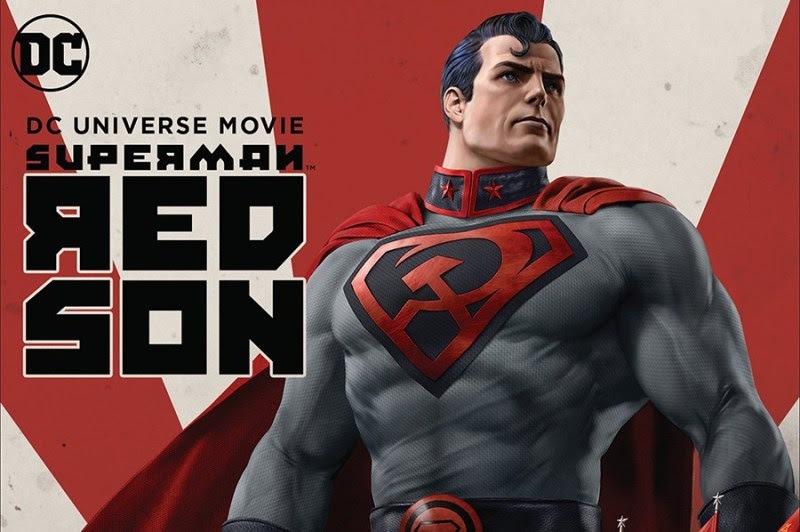 Geekzilla »
¿Qué tal si el Hombre de Acero fuera criado tras la Cortina de Hierro? Así comienza la aclamada historia de DC Elseworlds, Superman: Red Son, la próxima en la popular serie de Películas del Universo DC. Producido por Warner Bros. Animation y DC, el largometraje animado llega – junto con un nuevo corto animado de DC Showcase, Phantom Stranger – de parte de Warner Bros. Home Entertainment en Digital a partir del 25 de febrero de 2020.
. ¿Podrá esta Tierra en Guerra Fría sobrevivir a la llegada de un Superman Soviético?  
Basada en la afamada historia de DC Elseworlds de 2003, Superman: Red Son tiene lugar en una realidad alternativa donde la nave espacial con el último sobreviviente de Krypton choca – no en la rural Kansas, sino en la Rusia estalinista
El actor nominado al Globo de Oro, . Isaacs, una de las estrellas de la franquicia de Harry Potter, Star Trek: Discovery y más de 120 filmes y series de televisión, toma su turno como el superhéroe tras tres memorables apariciones en las Películas del Universo DC como famosos supervillanos del catálogo DC. Isaacs le dio voz antes a Sinestro en Green Lantern: Emerald Knights, Lex Luthor en Justice League: Gods and Monsters y Ra's al Ghul en Batman: Under the Red Hood.
Jason Isaacs, encabeza a un elenco estelar como la voz de la alternativa versión soviética de Superman
Se une a Isaacs Diedrich Bader (American Housewife, Veep, The Drew Carey Show) como Lex Luthor, Amy Acker (Angel, Person of Interest, The Gifted) como Lois Lane, Vanessa Marshall (Young Justice, Star Wars Rebels) como Wonder Woman, Phil Morris (Seinfeld, Doom Patrol) como James Olsen, el ganador del Premio de la Academia Paul Williams (Goliath, Phantom of the Paradise) como Brainiac, Roger Craig Smith (Batman Ninja, Batman: Arkham Origins) como Batman, Sasha Roiz (Grimm) como Hal Jordan, Phil LaMarr (Futurama, Pulp Fiction, Justice League/Justice League Unlimited) como John Stewart, Jim Meskimen (Parks and Recreation, Impress Me) como John F. Kennedy, Travis Willingham (Critical Role, Batman: Bad Blood) como Superior Man, William Salyers (Regular Show, Batman: Return of the Caped Crusaders) como José Stalin, y Winter Ave Zoli (Sons of Anarchy, Bosch) como Svetlana.
Superman: Red Son es producida y dirigida por Sam Liu (Reign of the Supermen) de un guión de J.M. DeMatteis (Batman: Bad Blood, Constantine: City of Demons). Jim Krieg (Batman: Gotham by Gaslight) es coproductor. Amy McKenna (The Death of Superman) es productora. Los Productores Ejecutivos son Sam Register y Bruce Timm (Batman: The Animated Series). 
"La vasta colección de historias de Elseworlds de DC ha electrizado a los fans del mundo, y Warner Bros. Home Entertainment ha comenzado a explotar estas fascinantes historias – primero con el lanzamiento el año pasado de Batman: Gotham By Gaslight, y ahora con Superman: Red Son", dijo Mary Ellen Thomas, vicepresidente sénior de Warner Bros. Home Entertainment, Originales, Animación y Familia. "Junto con el corto animado de Bruce Timm, Phantom Stranger, esta combinación de narrativa única promete entretener de maneras inesperadas".
Los fans también pueden tener Superman: Red Son mediante la compra a vendedores digitales a partir del 25 de febrero de 2020.
El 25 de febrero de 2020, Superman: Red Son estará disponible en alta definición y definición estándar de vendedores digitales selectos que incluyen Cinépolis Klic, iTunes, Google Play, Clarovideo y otros. 
Este sitio web utiliza cookies para mejorar su experiencia. Asumimos que está de acuerdo al seguir navegando. Aceptar Leer más