UTSA researchers lend their expertise to systemwide brain health summit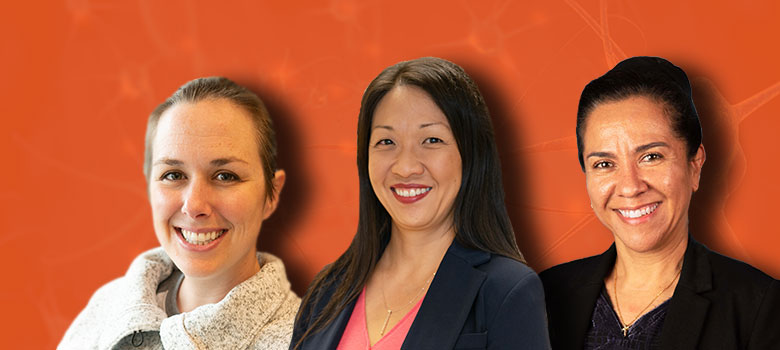 UTSA researchers lend their expertise to systemwide brain health summit
"Brain health impacts all of our lives," said Jenny Hsieh, the Semmes Foundation Distinguished Chair in Cell Biology and chair of the UTSA College of Sciences' (COS) Department of Neuroscience, Developmental and Regenerative Biology. "We are coming together to discuss what's being done, and what's left to do."
The organization has been key to elevating awareness of UTSA's brain health research, according to Hsieh, who adds that having a seat at the table of this systemwide summit is representative of the critical mass of research taking place at the Consortium.
Neely's work centers on progressing the treatment of children with autism with the science of applied behavior analysis. She will be a panelist in a discussion around autism and other neurodevelopmental disorders. Hsieh will moderate the presentation.
Cardona's research is focused on understanding the mechanisms of tissue damage in Multiple Sclerosis and diabetic retinopathy, including determining the origins of tissue injury and the factors that account for disease progression. She will serve as a moderator on the panel covering neurodegenerative disorders.
Their presence at the upcoming summit demonstrates the impactful work in brain health that is taking place across the UT System—and at UTSA.
Researchers in the Brain Health Consortium collaborate on complex, large-scale research projects that will produce a greater understanding of the brain's complexity and the factors that cause its decline. This knowledge is being used to develop new and more effective methods for treating such debilitating conditions as Alzheimer's, Parkinson's, addiction and traumatic brain injury. The researchers' expertise includes:
Hsieh expects next month's summit to expand opportunities for researchers in the UTSA Brain Health Consortium. In addition to offering a forum where participants can share clinical and basic research advancements occurring across the system, the summit will identify challenges and opportunities to advance brain research in Texas and across the country and to foster new collaborative research programs, especially among UT System investigators.  
Hsieh also believes that the event will showcase how the UT System is driving investments into brain health in Texas, which could entice other medical and academic leaders to Texas to join the effort.
"We can leverage each other's strengths," said Hsieh, adding that this work has the potential to make the UT System a national hub for significant clinical and basic neuroscience research.
The Brain Health Consortium took research of the brain to a whole new level at UTSA. The upcoming summit in Austin underscores the strong partnerships that are being forged among the UT System's academic and health institutions.
Hsieh believes these partnerships will be key to developing the innovative approaches needed to conquer neurodegenerative diseases and reverse life-threatening brain injuries.
Join us for an engaging conversation with President Eighmy to learn more about UTSA's progress to date on the strategic plan, the goals of the mid-point refresh process and its importance to the Roadrunner community. 
Lavender Graduation is a celebration of the academic accomplishments of LGBTQIA+ students.  Students are given a stole to wear for Commencement showing their pride.  This is a validation and celebration of each student and their identity.  The Lavender Student Leadership Award is presented during the celebration.
Join us for our annual Winterlude concert series featuring students from across all areas in the School of Music for a half-week of holiday cheer and delight. This three-day celebration continues to showcase both contemporary and traditional holiday works and will include performances by the UTSA Orchestra, Choirs, Bands, Jazz Ensemble, Lyric Theatre, and Dance Studio.
One of the seven principles of Kwanzaa, Ujima stands for collective work and responsibility.  This graduation celebration honors Black students and their academic accomplishments.  Students are given a custom stole to remind them to continue to work collectively to better the communities in which they work and live. The UJIMA Student Leadership Award is presented during the celebration.
The Doctoral Hooding Ceremony will take place for doctoral graduates at 7 p.m. on Friday, December 8, in the H-E-B Student Union Ballrooms (HSU 1.104).
University of Texas at San Antonio receives 'transformational' $40M gift
The University of Texas at San Antonio is dedicated to the advancement of knowledge through research and discovery, teaching and learning, community engagement and public service. As an institution of access and excellence, UTSA embraces multicultural traditions and serves as a center for intellectual and creative resources as well as a catalyst for socioeconomic development and the commercialization of intellectual property - for Texas, the nation and the world.
To be a premier public research university, providing access to educational excellence and preparing citizen leaders for the global environment.
We encourage an environment of dialogue and discovery, where integrity, excellence, inclusiveness, respect, collaboration and innovation are fostered.
UTSA is a proud Hispanic Serving Institution (HSI) as designated by the U.S. Department of Education
The University of Texas at San Antonio, a Hispanic Serving Institution situated in a global city that has been a crossroads of peoples and cultures for centuries, values diversity and inclusion in all aspects of university life. As an institution expressly founded to advance the education of Mexican Americans and other underserved communities, our university is committed to ending generations of discrimination and inequity. UTSA, a premier public research university, fosters academic excellence through a community of dialogue, discovery and innovation that embraces the uniqueness of each voice.