NFL Week 1 preview: Guide, analysis, picks for every game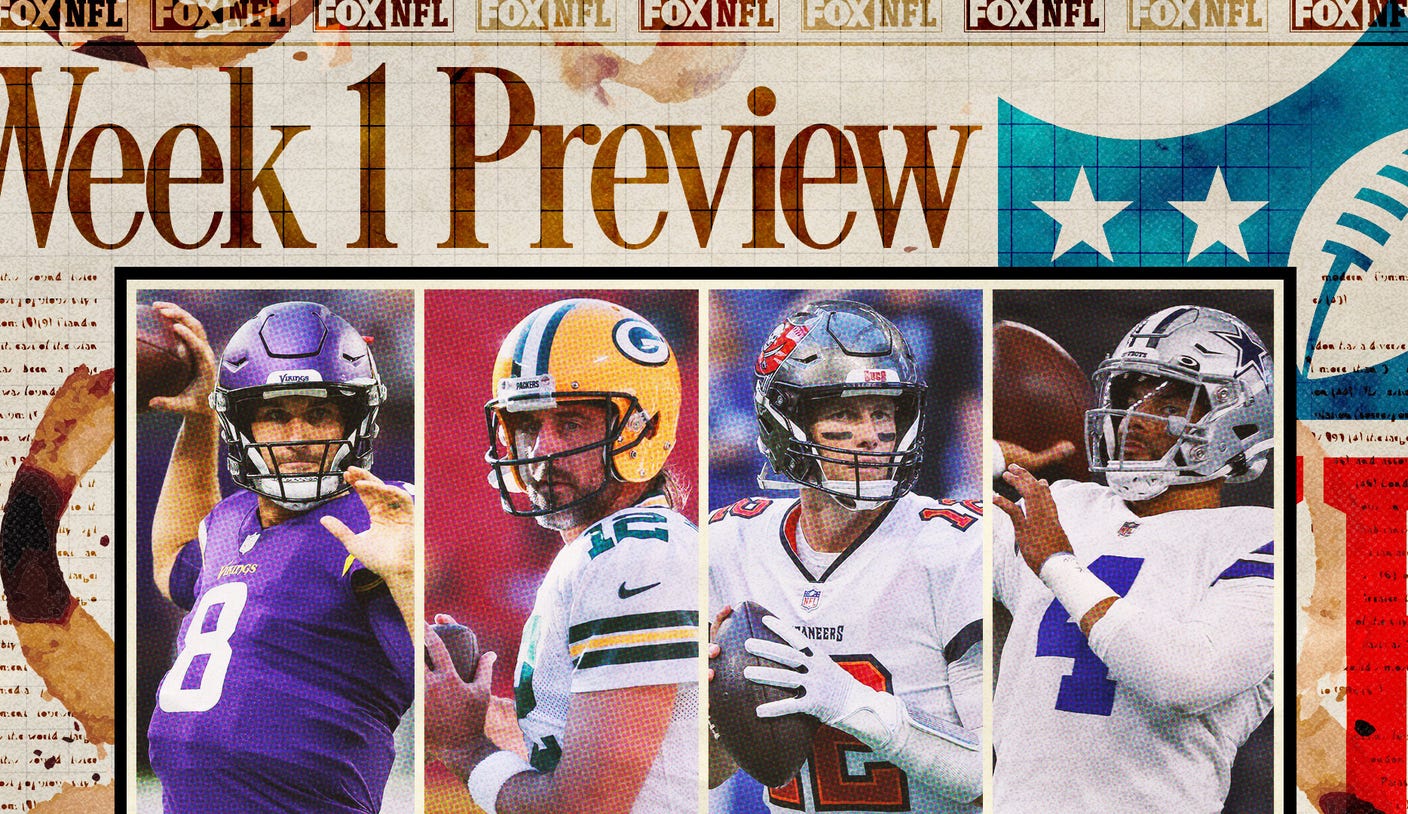 Two hundred and seven days have passed since the Rams hoisted the Super Bowl LVI trophy above their heads at SoFi Stadium in Los Angeles.
A lot has changed around the league. Superstars have changed teams. Legendary coaches have stepped away. But football remains a zero-sum game. And on Thursday, Sept. 8, 2022, the march to Super Bowl LVII begins.
FOX Sports' staff of NFL writers has assembled a guide to every game that will be played in Week 1 this NFL season. Be sure to check the site and app throughout the coming season; we're extremely excited about the group that's going to cover the league for you.
The Saints have a tough secondary, too, and if they can get the pass rush going against Mariota, it could be a long day for him. Keeping him upright is the Falcons' key to the game.
Key stat: The Saints went 5-2 in Winston's seven starts last season and 4-6 in the games he missed. Once the Saints failed to land Watson in the offseason, they got off the Quarterback Carousel, mostly because they still have optimism that they can win with Winston. They believe he was just getting warmed up when he got hurt.
Prediction: I think there is some misguided hope with both of these teams, particularly considering their choices at the quarterback position. Both Mariota and Winston are capable of big games, but it's unlikely they can sustain that kind of production over the season. 
For one game, though, Winston seems more likely to have a big day, mostly because he doesn't have to go against New Orleans' defense. The Saints' D looks legitimately good again, coming off a top-10 year, and it will be too much for Mariota, who has barely played since his last start in 2019. Saints 17, Falcons 9.
New York is still rebuilding. Baltimore has continuity under John Harbaugh and Lamar Jackson. Those two will make for a tough opponent for every NFL team.
Key stat: Lamar Jackson will be making his 50th regular-season start. He is 37-12 (.755) in 49 career regular-season starts and can become just the sixth QB in NFL history to win at least 38 of his first 50 regular-season starts. 
Key stat: The Browns are 0-16-1 (W-L-T) in their last 17 season openers. The last time Cleveland won its opener was in 2004.
The Texans moved on from Deshaun Watson, dealing him to Cleveland for a package headlined by three first-round picks. That should jumpstart their rebuilding process, which still has a long, long way to go.
The Commanders got help, too, adding veteran QB Carson Wentz (starting Week 1 for his third different team in three seasons) to a squad that was already solid and came equipped with a few excellent offensive weapons. The Jags definitely are more talented than they were, but it could be awhile before everything clicks.
Key stat: The Jaguars have lost 17 straight road games (dating back to Week 15 in 2019) and they've lost 16 straight to NFC teams (dating back to Week 1 in 2018). Just take that as a reminder of how far the Jags have fallen and how much further they still have to go. They have optimism, some good young players and just went on a big offseason spending spree. But that might not be enough.
Overview: New England and Miami must know they face a bottleneck in the AFC, particularly within their stacked division. With the Bills favored to win the AFC East, the Patriots and Dolphins might be left to fight over a wild-card berth. This season opener could prove enormously important if the two teams face a tiebreaker. 
Key stat: The Dolphins have won three straight matchups against the Patriots. Miami has never defeated New England four straight times since Bill Belichick became the Patriots coach in 2000.
Key stat: The Eagles led the NFL in rushing last season (159.7 yards per game). The Lions ranked 28th in rushing defense (135.1). Even with Brown added to the mix, the Eagles aren't going to abandon their winning formula. They have an array of running backs and a mobile quarterback with whom they can attack the Lions' defense, and they will. They think they can throw more this year, but in this game, they might not have to.
The all-time series between these two teams is tied at 32-32-1. At 18-7, San Francisco has the third-best road record in the NFL over the past three seasons, behind only the Chiefs and Saints. Five of San Francisco's first six games are against teams that missed the playoffs last season. 
Key stat: Fields finished 2-8 as a starter during his rookie year and was responsible for 14 turnovers in those 10 starts. 
Key Stat: This will mark the first time since the 2010 season (Dennis Dixon) that Ben Roethlisberger is not the Steelers' Week 1 starting quarterback.
Overview: We're going to immediately get a head-to-head matchup of the two teams that could be fighting for the NFC North crown as the Packers travel to Minnesota to take on the Vikings for FOX's Game of the Week.
Key stat: The Chiefs have won seven straight season openers, the longest active Week 1 winning streak in the NFL. The Cardinals are 0-5 in their last five home games. 
Overview: With lofty expectations, the Chargers start the regular season with a home contest against the AFC West rival Raiders. Las Vegas ended L.A.'s postseason hopes last season with a 35-32 victory at home in the final game of the regular season. The Raiders own a 66-56-2 edge in the all-time series. However, the Chargers have won 13 of the past 19 matchups at home. Sunday's contest is the earliest the two teams have met at the Chargers' home stadium since a Week 2 game in San Diego in 1980. 
Key stat: The Chargers allowed offenses to convert a league-best 49.5% of the time on third down in 2021 and gave up 173 points in the fourth quarter, also the worst in the NFL.
Key stat: The Titans are 25-3 when Henry has 100-plus rushing yards (22-3 in regular season, 3-0 in playoffs). Their formula is simple, and there's no reason to change it now, provided Henry is the same player he was before his injury. The Giants, who bring back mostly the same defense, gave up 129 rushing yards per game last season, including more than 150 yards six times and more than 200 yards three times.
Overview: The 2021 season opener between these two was an instant classic, so why mess with a good thing? The Cowboys and Buccaneers were two of the NFC's best teams throughout 2021, but both campaigns ended in bitter disappointment. How do they respond? 
This is an early measuring stick for 2021's two most potent offenses that will do a lot to shape the way we think about the NFC pecking order.