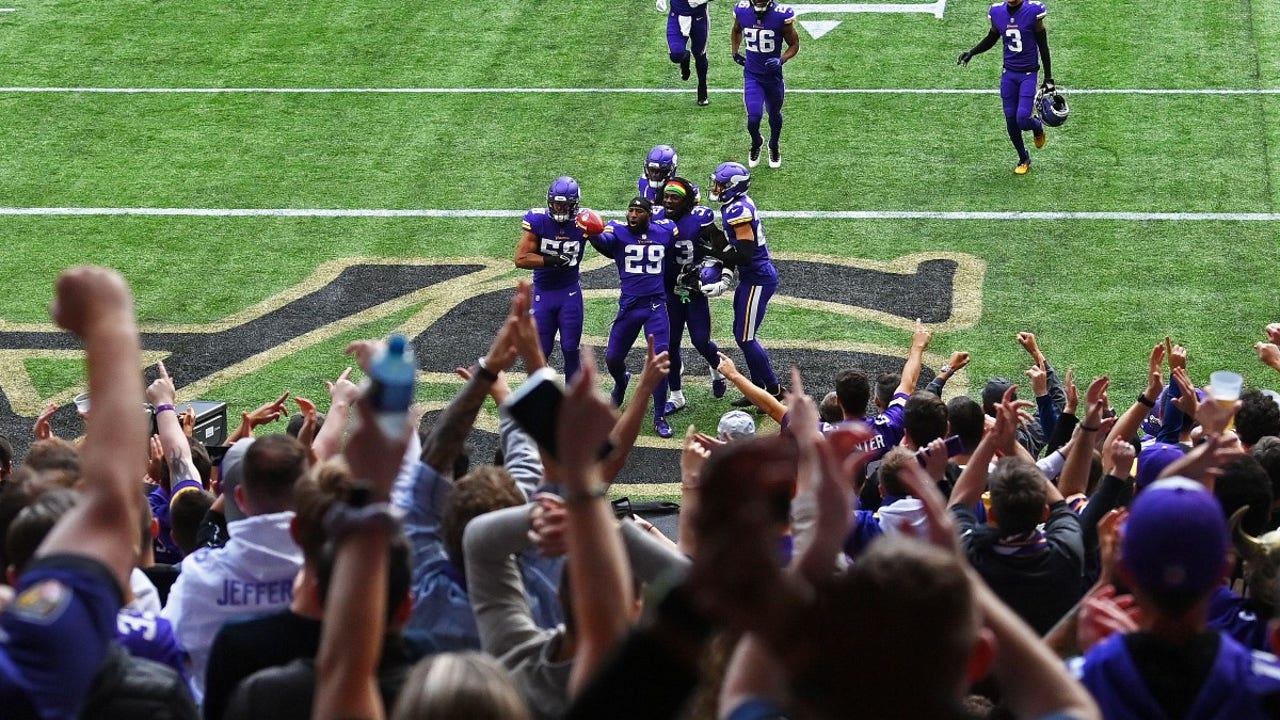 Double doink: Vikings leave London with 28-25 win after Wil Lutz missed FG
Kris Boyd #29 of the Minnesota Vikings celebrates a turnover with the fans in the second half during the NFL match between Minnesota Vikings and New Orleans Saints at Tottenham Hotspur Stadium on October 02, 2022 in London, England. 
Greg Joseph's fifth field goal of the day, from 47 yards out, gave the Vikings that lead with 24 seconds to play. Wil Lutz tried to send it to overtime with a try from 61 yards out. After converting from a career-long 60 yards minutes before that, Lutz's try clanged off the left upright, then the crossbar and fell short.
"As soon as he hit it, I thought it was going in. I told him after the game he hit them both as pure as they come. Felt like that thing had a real good chance to go through. When it left his foot, I thought it was going in. Luckily it did not," Vikings coach Kevin O'Connell said. 
The Vikings leave London with an ugly win, but a much more enjoyable flight home. Last week, they had to come back from down 24-14 in the fourth quarter for a 28-24 win over the Lions. Sunday, they had a 16-7 lead in the third quarter, got down 22-19 in the fourth and came back for the win.
Vikings fans who made a trip across the pond got to take in an exciting Vikings win on Sunday in London.
The win somewhat covers up an inconsistent day for the Vikings' offense, and a tough second half for the defense. After getting just nine catches in the last two games combined, Justin Jefferson had 10 catches for 147 yards, and a short rushing touchdown that gave the Vikings a 25-22 lead with 4:15 to play.
Jefferson's biggest play of the game was a 39-yard catch from Kirk Cousins, setting up Joseph's eventual game-winning field goal. Cousins finished the day 25-of-38 for 273 yards, one touchdown and one interception. The Vikings also had three drives in the red zone end in Joseph field goals, instead of touchdowns. The second of Joseph's five field goals came after Dalvin Tomlinson got a sack fumble on Andy Dalton, recovered by Harrison Phillips. But the Vikings had to settle for a field goal before halftime.
Vikings players, Kevin O'Connell react after 28-25 win over Saints in London
Kevin O'Connell, Justin Jefferson, Kirk Cousins and Eric Kendricks speak with reporters after Sunday's 28-25 win over the Saints at Tottenham Spur
"There were some critical moments there where maybe instead of three, some opportunities there for seven that if we do that, maybe it doesn't have to be as close in the end," O'Connell said. "Just learning opps for us, I know it's not always the easiest thing to hear, but we're four games into this thing and tons of opportunities for me to coach better."
Adam Thielen had eight catches for 72 yards, and Dalvin Cook had 20 carries for 76 yards. Alexander Mattison had one catch on the day, but it went for a 15-yard touchdown on a screen in the first quarter.
The Vikings had a 16-7 lead in the second half, but the Saints made it interesting with a pair of touchdowns to take a 22-19 lead with 9:29 to play. Latavius Murray scored from 1-yard out to get the Saints within 16-14. Taysom Hill gave them the lead with a short touchdown in the fourth quarter.
Minnesota's defense gave up 338 total yards, 111 on the ground and allowed Dalton to throw for 236 yards and a touchdown. It was more interesting than it needed to be, with the Saints missing five starters, including Jameis Winston, Michael Thomas and Alvin Kamara all to injury.
"It's huge. It's good to know when our back is against the wall, when it's a tight game like this, we're on the road in London, we can pull through," linebacker Eric Kendricks said.
The Vikings' special teams unit had a big day in Sunday's win. Joseph went 5-for-5 on field goals despite missing an extra point. Jalen Reagor and Kene Nwangwu each had long returns, punter Ryan Wright had a perfect throw on a fake punt for a first down and Kris Boyd forced and recovered a fumble on a punt.
The Vikings lost safety Lewis Cine in the first quarter to a gruesome looking leg injury, just as the rookie was starting to get defensive snaps. It now appears his rookie season might be over less than four games in.
Cine had to be carted off the field in London during the first quarter. He was running back to block for Jalen Reagor on a punt return when his left leg appeared to get caught on the turf while going to the ground.
Cine immediately went down grabbing his left leg, and was in immense pain. With players from both teams taking a knee, Cine was put on a cart with an air cast on the leg. He was immediately ruled out for the game, and the NFL Network broadcast reported Cine was taken to a London hospital for further evaluation. Vikings coach Kevin O'Connell said after the win he has a lower leg fracture, and is staying in London to have surgery. He'll get help from team officials getting back to Minnesota.
The Vikings drafted Cine, a safety out of Georgia, with their first round pick back in April.
It wasn't pretty, but the Vikings are leaving London 3-1 and return home to host the Chicago Bears next Sunday.
"When they need to, these guys can collectively come together. We rely a lot on our leadership, we rely a lot on guys to make plays in big moments. But there's never any ounce of flinch even when things don't go well for us. The expectation is a high standard here," O'Connell said.