Commonwealth Games: Birmingham 2022 is Scotland's best Games outside Glasgow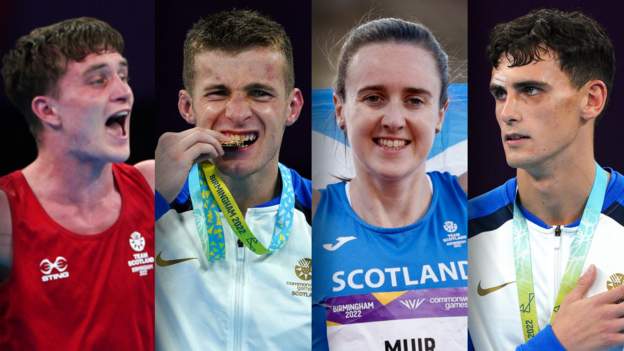 Commonwealth Games: Birmingham 2022 is Scotland's best Games outside Glasgow
Birmingham 2022 will be Scotland's most successful Commonwealth Games outside of Glasgow 2014 after eight medals - four of them gold - were won on Sunday in boxing, athletics and cycling.
Boxers Sam Hickey, Sean Lazzerini, Reese Lynch, then 1500m runner Laura Muir, all won gold to take Scotland's tally to 12, three more than on the Gold Coast in 2018.
Eilish McColgan added 5,000m silver to her 10,000 gold, after Neah Evans claimed silver and Finn Crockett bronze in their respective road races.
Then Scotland clinched an unlikely medal in the women's 4 x 400m relay after England were disqualified to take the tally to 49 - 12 gold, 11 silver, and 26 bronze - with one day of competition left.
Scotland have now burst past the 44 earned in Gold Coast four years ago, which was the highest return apart from Glasgow 2014, where the team took 53, including 19 golds.
That was despite Kirsty Gilmour missing out on a badminton medal after losing her bronze medal match to Jia Min Yeo of Singapore, and mixed doubles pair Adam Hall and Julie MacPherson also losing to Malaysia in their match for third place.
However, squash duo Greg Lobban and Rory Stewart play in their bronze medal match on Monday.
Scotland have won a boxing medal at every Commonwealth Games, but the last gold medals came in 2014, when Josh Taylor and Charlie Flynn emerged victorious.
In Birmingham, five of the eight fighters will leave with medals, with three of them gold - a record for Scotland.
Hickey, the 22-year-old middleweight from Dundee, started it all of with a blockbuster defeat of 19-year-old Callum Peters of Australia.
The pair traded brutal blows, and both landed shots in the final round before the three of the five judges gave Hickey the win. The fighters shared a hug of mutual respect after a gripping bout.
"It's been a long time coming," Hickey told BBC Scotland. "I always believed in myself but to get in the ring is easier said, than done. I'm proud of myself. Proud to be Scottish. And proud to be from Dundee."
Not to be outdone, Barrhead light-heavyweight Lazzerini performed brilliantly to defeat Taylor Bevan of Wales, landing a flurry of blows in the final round to ensure he too would take gold.
The 25-year-old performed Cristiano Ronaldo's trademark celebration in the ring afterwards, and was then conducting the crowd through Flower of Scotland as he stood atop the podium.
"Brilliant, but this is just the beginning," Lazzerini said. "Maybe even tomorrow I'll train again. What is there to celebrate? There's not going to be an end, I've got to keep progressing.
"It's been a long road and a lot of people gave up on me. But I never gave up on myself and my family and friends never gave up on me and that's why I got the gold."
Finally, it was was light-welterweight Lynch's turn. The 21-year-old from Fauldhouse had to wait for his chance to make history alongside his team-mates, and he eventually produced under pressure.
After a good first round from the Scot and an even second, Louis Richarno Colin of Mauritius finished strongly to open a cut on above Lynch's eye in the third round, before ending with a big right hand which sent his gumshield flying.
But it was Lynch who raised his hands in victory amid some boos from the crowd, after four of the five judges scored the bout in his favour.
"It's not even sunk in yet. I'm buzzing," he said. "It was a good fight, he was a good lad, very experienced. I thought I won the first and second [rounds] and the third I knew I was winning so I took it a bit easier.
"Obviously I got caught but my gumshield came out, which made it look worse than it was. I'm happy with my performance."
Cyclist Evans has been phenomenally consistent throughout the Games, finishing with a personal haul of three medals and a fourth place over the track and road.
She took track silver in the points race and bronze in the individual pursuit in the velodrome last week, and narrowly missed a medal in the scratch race too.
The 31-year-old former vet was less fancied on the road, but worked with team-mate Anna Shackley to finish second in a frantic bunch sprint behind Georgia Baker of Australia.
It capped a fantastic fortnight for Evans, who has been one of the stars of Scotland's Games.
"It's going to take a while to sink in, especially because it was in two disciplines," she said.
"I'd not road raced in three years, so I had no expectation of winning a medal. When it got to the sprint… I don't even know how far out you're supposed to go from, so I didn't realise until I was crossing the line, then I was like 'oh, right'."
In the men's race, former Tour de France winner Geraint Thomas attacked off the front with two kilometres to go, but Crockett was part of a group of riders who came past and sprinted for the line, eventually finishing third.
"For a nation like Scotland to get a medal in the road race, with the talent that is here... I honestly can't believe it," Crockett said. "To get a medal is honestly unreal."