Supreme Court draft opinion would overturn Roe v. Wade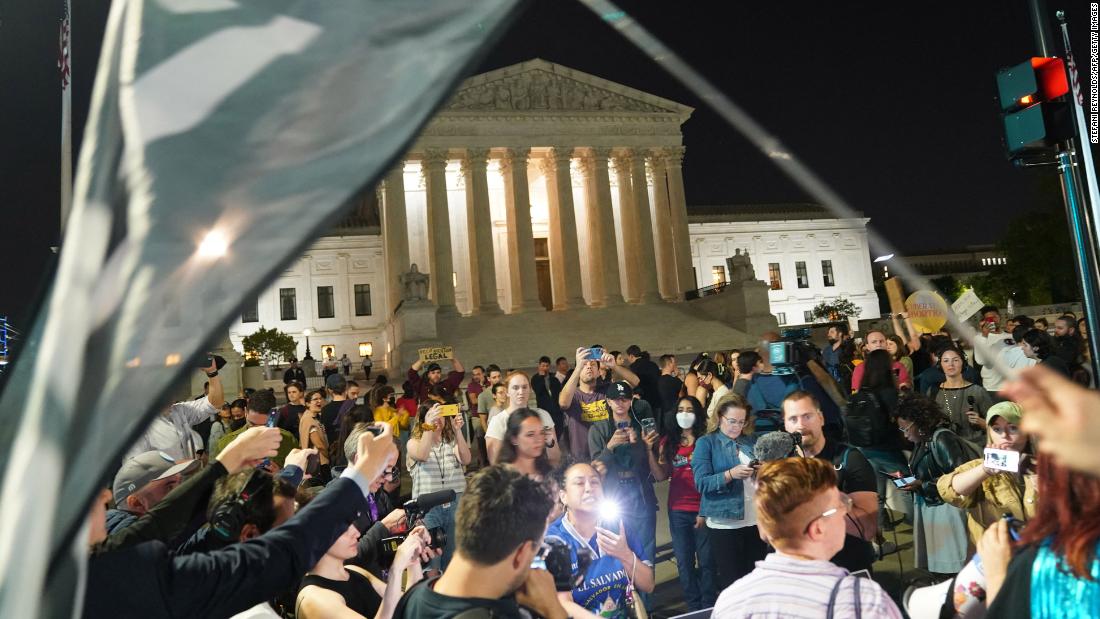 Key things to know about the Roe v. Wade draft opinion and the investigation into the Supreme Court leak
According to the draft authored by Justice Samuel Alito, the court would overturn Roe's holding of a federal constitutional right to an abortion.
Roberts called the release "a singular and egregious breach" of trust and said  into the source of the leak."
It's unclear, however, how much experience that office has in conducting a probe such as this.
Here's what we know so far about the draft opinion and the investigation:
When was the draft opinion published and what does it say? The draft opinion was published Monday evening by Politico and was later authenticated by the court. In it, Alito says Roe was "egregiously wrong from the start" and "must be overruled." 
It appears that five justices would be voting to overturn Roe. Roberts did not want to completely overturn Roe v. Wade, meaning he would have dissented from part of Alito's draft opinion, sources tell CNN. That would mean that the five conservative justices who would make up the majority overturning Roe are Alito and Justices Clarence Thomas, Neil Gorsuch, Brett Kavanaugh and Amy Coney Barrett.
What did Roberts say? Roberts, who has long tried to preserve the court's independence and reputation, said in a statement that the court "will not be affected in any way" by the leak.
"Court employees have an exemplary and important tradition of respecting the confidentiality of the judicial process and upholding the trust of the Court." 
"I have directed the Marshal of the Court to launch an investigation into the source of the leak," he said.
Who is the marshal of the Supreme Court? The marshal of the Supreme Court oversees about 260 employees, including the court's police department, which has the power to arrest people on the grounds of the court. The current marshal is Col. Gail A. Curley, who began serving as the court's 11th marshal in 2021. 
It's unclear what investigative resources the court's marshal has and how much experience employees have in finding the source of a leak. If the marshal finds evidence of a possible crime, the court can ask the Justice Department to prosecute someone. 
Who had access to the draft opinion? Typically, the people with access to such a document would be the nine justices and the people working in their chambers, including their clerks and staff — nearly 50 people in all. 
Why didn't Roberts ask the Justice Department to investigate the leak? 
Roberts has long guarded the independence of the third branch of government, keeping the legislative and executive branches, which include the Justice Department and the FBI, out of the court's affairs. His decision to have the matter handled — at least initially — internally by a force he controls underscores that desire. 
A former leader of the US Marshals Service, the agency responsible for judicial security beyond the confines of the Supreme Court, told CNN it would be unlikely that Roberts would ask an executive branch law enforcement agency to investigate the leak, noting the court is not an organization that enjoys outsiders peering in.
The source also described the marshal of the Supreme Court as differing from traditional law enforcement, describing that role as more like a chief administrative officer with oversight of a police department. 
What crime is at play? It's unclear what crime could be investigated and whether the FBI and the Justice Department have the authority to look into a leak that doesn't have to do with classified or sensitive information. 
Moreover, after leading politically sensitive investigations of presidential candidates and a sitting president in recent years, Justice Department and FBI officials are loath to get the bureau involved in what may end up being a political effort to try to affect the outcome of the court's final opinion in the case. 
"Leaks of government information, by themselves, are not crimes," said Steve Vladeck, a CNN Supreme Court analyst who's a professor at the University of Texas School of Law. "Usually, leakers are prosecuted for leaking classified information, which this isn't, or for offenses related to how they obtained the information they leaked." 
"But without one of those hooks, or some kind of financial harm to the government arising from the leak, there's no federal criminal statute that makes leaking of simply confidential governmental information unlawful," Vladeck added. 
Harris says overturning Roe v. Wade would be a "direct assault on freedom"
Vice President Harris said if the Supreme Court overturns Roe v. Wade, it will be a "direct assault on freedom."
"Those Republican leaders who are trying to weaponize the use of the law against women… Well, we say, how dare they? How dare they tell a woman what she can do and cannot do with her own body?" Harris said during remarks at Emily List's Gala Tuesday about the leaked Supreme Court draft opinion. "How dare they try to stop her from determining her own future?"
"If the court overturns Roe v. Wade, it will be a direct assault on the fundamental rights of self-determination to which all Americans are entitled," Harris said earlier in her remarks. "Roe protects the right to access abortion, it also protects a woman's right to make decisions about what she does with her own body."
Harris dedicated a majority of her remarks to the issue, reminding the crowd about a back and forth she had with then-Supreme Court nominee Brett Kavanaugh while Harris was a senator during his confirmation hearing. Harris mocked his answer when she asked if he can think of a law that governs men's bodies.
Harris then echoed President Biden, when she called for Emily's List to help the administration elect pro-choice Democrats to Congress.
"If there was ever any doubt about why Emily's List is important, last night makes the point," Harris said. "There is nothing hypothetical about this moment. Let me be clear. This fight requires the work of this very organization, Emily's List, to elect pro-choice Democrats to Congress."
Harris said it was clear that there is one party working to expand rights and another working to limit them.
"They want to take us back to a time before Roe v. Wade, back to a time before Obergefell v. Hodges, back to a time before Grunewald v. United States but we're not going back! We are not going back!"
In a rallying call towards the end, Harris said now is the time to enter a "new phase" of the fight that women have already been on the front lines for.
"Democracy cannot be strong if the rights of women are under attack. So to all here, I say, let us fight for our country and for the principles upon which it was founded and let us fight with everything we have got," she added. 
From CNN's Cody McCloy, Tierney Sneed, Ariane de Vogue and Joan Biskupic
The draft was circulated in early February, according to Politico. The final opinion has not been released and votes and language can change before opinions are formally released. The opinion in this case is not expected to be published until late June.
The court confirmed the authenticity of the document Tuesday. It also stressed it was not the final decision.
News of the draft opinion sparked reactions across the country. Demonstrators for and against Roe v. Wade gathered in front of the Supreme Court.
Justice Alito's draft opinion to overturn Roe v. Wade is everything the anti-abortion movement has worked for
Abortion opponents saw everything they have hoped for in their decades-long partnership with the broader legal conservative movement in a that, if ultimately adopted by the court, would end nationwide abortion rights protections for Americans.
With all the caveats that the draft is not final and the vote count of a majority willing to overturn Roe v. Wade could always change, prominent members of the conservative legal world were thrilled with the approach that Justice Samuel Alito took in the document obtained by Politico after it apparently had been circulated among the justices in February.
"Justice Alito did a tour de force on the history of abortion law that just made it abundantly clear how absurd the idea is that abortion is a fundamental right, rooted in American history and Constitution, in any sense," said Carrie Severino, the president of the conservative Judicial Crisis Network. "It's so heartening to know that we finally have a majority of justices on the Supreme Court who recognize the legitimate way to interpret the Constitution."
Politico published the draft opinion Monday night in a stunning breach of the norms of secrecy that surround the Supreme Court's inner workings. Assuming the court was following its typical protocols, the justices would have privately taken a vote on their views on the abortion case in question — a lawsuit, known as Dobbs v. Jackson Women's Health Organization challenging Mississippi's 15-week ban — after its December oral arguments. Then a justice in the majority would have been assigned to take an initial stab at an opinion.
Until a formal opinion is released — likely in June — it will remain unknown how many more edits and changes to Alito's reasoning will have been made to shore up a majority, or even if a majority will remain behind overruling Roe.
But longtime leaders of the anti-abortion movement gave full-throated approval of where Alito apparently wanted to take the court.
"If the draft opinion made public tonight is the final opinion of the court, we wholeheartedly applaud the decision," Marjorie Dannenfelser — the president of Susan B. Anthony List, which supports anti-abortion politicians — said in a statement Monday.
"If this is the opinion of the Court, it will be one of the greatest opinions in Supreme Court history," Republican Missouri Sen. Josh Hawley tweeted.
The 98-page document, which included 30 page appendix of 19th-century state abortion laws, was "compelling," according to prominent anti-abortion lawyer Jim Bopp, and "seems to have hit every possible issue."
"There are various parts that will … appeal to certain justices or people," Bopp, who has served as the National Right to Life Committee's chief lawyer since 1978, told CNN.
Alito called the Supreme Court's 1973 holding in Roe — which, coupled with a 1992 decision affirming it, protects abortion rights nationwide up into fetal viability — " egregiously wrong from the start," of "exceptionally weak" reasoning and a decision that has "had damaging consequences."
That biting language against Roe comes after Chief Justice John Roberts had floated, during December oral arguments, a compromise route that upheld the Mississippi law while somehow avoiding reversing Roe outright. (Lawyers for both sides in the case rejected the idea that the court could rule in Mississippi's favor without dismantling Roe.)
"Roberts at oral argument at least was … open to the idea of a middle ground. And Justice Alito's draft definitely draws a line short of that," said Adam White, a Roe critic and legal scholar at the conservative think tank the American Enterprise Institute.
Oklahoma governor signs new abortion restrictions, mimicking Texas "heartbeat" law
Under Senate Bill 1503, civil lawsuits can be brought against abortion providers for up to $10,000. Abortions would be banned from the point of detectable fetal activity, which can be as early as six weeks into a pregnancy. Abortion would be allowed to protect the life of the mother.
"I want Oklahoma to be the most pro-life state in the country because I represent all four million Oklahomans who overwhelmingly want to protect the unborn," Stitt tweeted.
The bill was passed with an emergency provision, meaning it goes into effect immediately.
Stitt already signed Senate Bill 612, which would ban nearly all abortions and is set to go into effect in August. It would make performing an abortion a felony punishable with up to 10 years in prison. Neither law would provide exceptions for pregnancies that result from rape or incest.
The bill comes as people around the country are reacting to a leaked draft opinion on Roe v. Wade from Supreme Court Justice Samuel Alito.
According to the draft, the court would overturn Roe v. Wade's holding of a federal constitutional right to an abortion. This would be the most consequential abortion decision in decades and transform women's reproductive health in America.
The final opinion has not been released, and votes and language can change before release. The opinion in this case is not expected to be published until late June.
How do you feel about the fight over abortion rights? Share your thoughts with us
Each voicemail can be three minutes in length. It may be used by CNN on television or online as part of our coverage.
Please include your name, contact information and where you're calling from.
New York attorney general: "We will not be silenced by this egregious attempt to overturn abortion rights"
New York Attorney General Letitia James Tuesday responded to the draft Supreme Court decision on Roe v. Wade, calling the decision an "egregious attempt to overturn abortion rights."
"We will not be silenced by this egregious attempt to overturn abortion rights," James said in a press release. "The time is now for Congress to act and pass legislation that codifies Roe v. Wade to protect the future of people's health and abortion access in the United States. We must defend and preserve our most basic human rights."
James continued: "I have long fought and will keep fighting for reproductive freedom in New York and states across the country because our democracy is strongest when every voice is heard and protected. I will never quit fighting for equality, justice, and the right for all people across the country to have full control over their own bodies."
Obamas: Decision would "relegate" an "intensely personal" choice to the "whims of politicians and ideologues"
Former President Barack Obama and former first lady Michelle Obama have released a joint statement on the draft Supreme Court decision on Roe v. Wade, stating that if it becomes final "it will relegate the most intensely personal decision someone can make to the whims of politicians and ideologues."
The statement continued; "Few, if any, women make the decision to terminate a pregnancy casually — and people of goodwill, across the political spectrum, can hold different views on the subject. But what Roe recognized is that the freedom enshrined in the Fourteenth Amendment of the Constitution requires all of us to enjoy a sphere of our lives that isn't subject to meddling from the state — a sphere that includes personal decisions involving who we sleep with, who we marry, whether or not to use contraception, and whether or not to bear children."
They also urged those who support abortion rights to take action and "join with the activists who've been sounding the alarm on this issue for years … vote alongside them on or before November 8 and in every other election. Because in the end, if we want judges who will protect all, and not just some, of our rights, then we've got to elect officials committed to doing the same."
Democrats shift focus to abortion after struggling to find their midterm footing
Democrats had been struggling to find their midterm footing amid bad polls and rising inflation — but now are rallying around an issue they hope will turn around their fortunes: Abortion.
With no chance of successfully passing a bill, they are pleading with voters to send them more senators to change filibuster rules and codify a woman's abortion rights.  
"We will vote to protect a woman's right to choose," Majority Leader Chuck Schumer promised on the Senate floor Tuesday despite the fact Democrats don't have the votes to pass such a law.
But in the wake of the stunning Supreme Court leak that showed a majority of justices voting to overturn the landmark abortion decision, Democrats are grappling with the tenuous reality of their 50-50 Senate: a fractured majority that leaves them no options to enshrining abortion rights in law and instead gives them only the power to keep it in the spotlight ahead of the November elections.
While some Democratic candidates are calling on senators to expand the Supreme Court or gut the filibuster to protect Roe v. Wade, neither of those options stands a chance of passing in the 50-50 Senate.
"The 50-50 Senate sucks," Sen. Mazie Hirono, a Democrat from Hawaii, lamented Tuesday, adding it was her goal to try and get more Democrats elected that would back abortion rights in the future.
For now, leaders are looking to force votes on abortion rights that will put members on the record and keep the issue in the headlines. It may be the best -- and only -- path forward for a Democratic Party that has struggled to keep voters enthusiastic ahead of the midterms.
"We are discussing this point what our next move is," said Senate Judiciary Chairman Dick Durbin, a Democrat from Illinois. "There is no decision about expanding the court in the early stages here, but there is a discussion about floor action."
But floor action will also expose long-established rifts in Democratic ranks. Sen. Joe Manchin, a Democrat from West Virginia, doesn't back a law that codifies abortion rights for women.
In February, he voted with Republicans against advancing the Women's Health Protection Act, which protects the rights of women to access abortion in the US. And both Manchin and Arizona Democratic Sen. Kyrsten Sinema reiterated Tuesday they would not back any action to gut the filibuster for abortion or any other issue.
Democrats still see a path, however, to use the Supreme Court decision to turn out their base at the polls. Democrats are hopeful it could be a swift turn of fate for a party that has been struggling to rally behind a singular and cohesive message ever since efforts to pass the President's sweeping social agenda plan faltered in December.
"The simple fact is that poll after poll show that Americans do not want to overturn Roe v. Wade," said Connecticut Democratic Sen. Richard Blumenthal. "I think it will spark outrage, anger, astonishment and a lot of votes."