Col. Dean Caswell USMC (Ret.)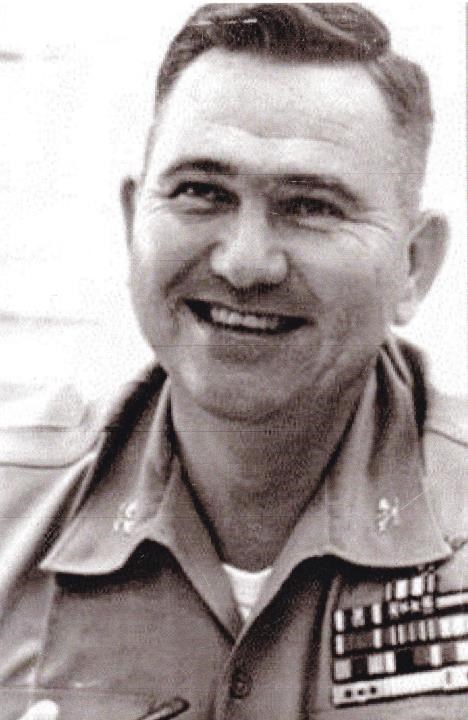 Colonel Dean Caswell, USMC (Ret) born July 24, 1922 deceased Sept 21st, 2022 at the age of 100. He was born in Banning, California and grew up in Edinburg, Texas. He attended Edinburg Junior College prior to joining the Marine Corps in September 1942. He was the last living American Marine Corps fighter ace of World War II. He fought in World War II, the Korean war and the Vietnam war. He retired from military service in 1968 at the rank of Colonel. During his service, Dean received several medals, including a Silver Star, two Distinguished Flying Crosses with three gold stars, an Air Medal with four gold stars and a Congressional Gold Medal. Dean flew over 10,000 hours and served in 110 combat missions. He also flew with the Blue Angels. Remarkably, throughout this combat, no bullet holes were ever found on Caswell's aircraft; he was never hit by enemy fire! During his lifetime Dean had piloted 56 different aircraft. After his distinguished service in the Marine Corps, Dean continued to stay active with two more careers and many other endeavors. He first served the community by running the operations of the City of Austin Robert Mueller Airport. Dean then switched his focus for the next 40 plus years serving and helping business owners and families as an agent and advisor with New York Life. Dean continued mentoring young men and women, in the business, up to and through the last years of his life. During these years he was active with private aircraft development projects and was a member of the American Fighter Aces Association (of which he was president for four years). You would often find him as a guest speaker at air shows and other events. He was an active adult leader of the Boy Scouts. He has also authored seven books about his life and adventures. He is survived by his wife Mary Donahue Caswell, and his sister Helen. His combined family of 12 children: David, Barbara, Catherine, Daniel, Lynette, Christopher, Matt, James, Timothy, Mary Jo, Silas, Mike and Alanna. 20 Grandchildren: Ryan, Jason, Danielle, Benjamin, Austin, Lexi, Trevor, Emily, Becky, Charles Eric, Tabitha, Brett, Danielle, Gunnar, Brian, Briana, Michelle, Jeremy, Duane, Zach, Kelsey, Jeff, Karen, Jacob. 12 Great grandchildren: Kylie, Makayla, Kinley, Abby, Charlotte, Sophia, Leia, Payton, Lorelei, Lexie, Karina, and Ariana. 1 Great Great Grandchild, Levi. Dean is preceded in death by his parents, two sisters, his son and Daughter-n-law, Thomas and Becky, former wife, Audrey. In lieu of flower please consider donating to the Honor and Remember of Alaska, LLC PO Box 587 Sterling, AK 99672 (established 2/2010). They are a recognized non profit organization which has been established under the national Honor and Remember organization. We are dedicated to the national recognition, with an Honor and Remember Flag, for fallen military due to actual combat or as a result of their military service. The Honor and a sacrifice flag is to publicly recognize fallen First Responders, (Law Enforcement, US Marshall Service, Fire Fighters, and EMT's). The flags can be personalized then presented to next of kin at no charge to them. Dad, Dean, was a great supporter of The Caswell House restoration. The Caswell house is now dedicated full time to the support of various charities benefiting Women and Children. He contributed in times of need for repairs and sent funds for projects that needed to be done. He loved this old house and what it stands for as a beacon of the community. He always insisted that somewhere down the ol' ancestry line, he was related.
Help tell the story of your loved one's unique life. Leave a memory or share a photo or video below to show your support.
We are reviewing your submission. It may take up to 1 hour for your comment to appear on the website