Experts: Humpback whale that washed ashore on Long Island was likely killed by vessel strike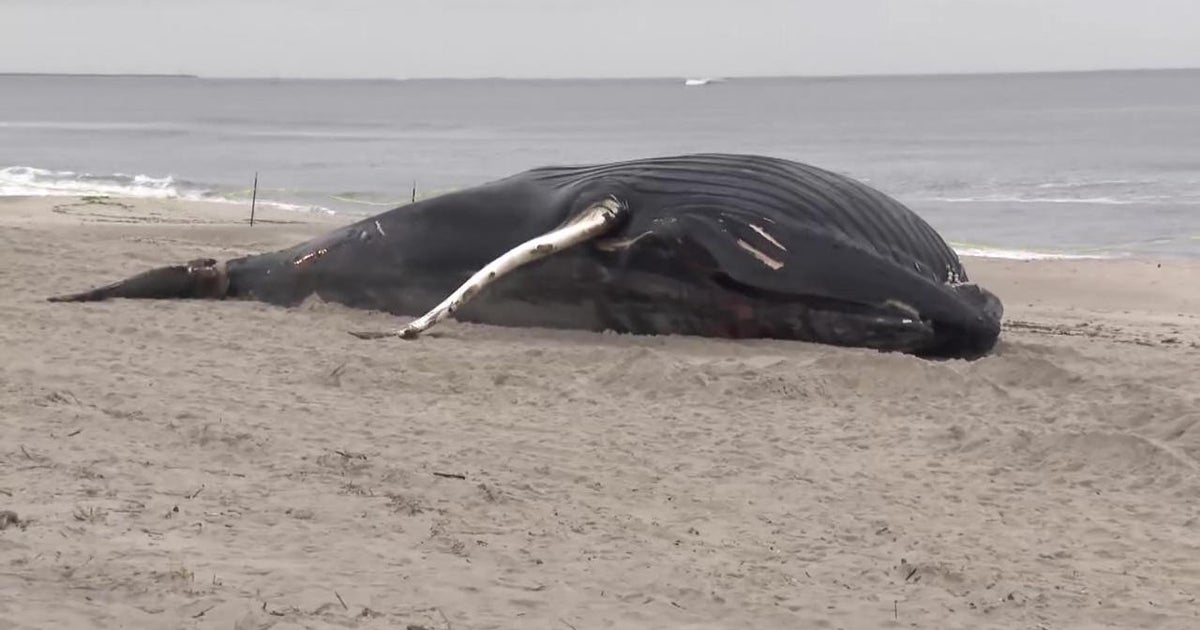 Experts: Humpback whale that washed ashore on Long Island was likely killed by vessel strike
LIDO BEACH, N.Y. -- Federal authorities examined  to try to determine how it died.
Since late last year, several whales have washed ashore in New York and New Jersey.
CBS2 has learned quite a bit more about the whale. Perhaps most interestingly, his name is Luna, he's 41 feet long, weighs 29,000 pounds, and the National Oceanic Atmospheric Administration had been tracking him for four decades.
Scientists from NOAA Fisheries and Atlantic Marine Conservation Society were hard at work on Lido Beach on Tuesday morning taking samples for a closer look at the life and death of the majestic creature. Heavy equipment was digging in the dunes to create a final resting place.
Luna washed ashore Monday morning and created quite the spectacle on the sand as onlookers took pictures to memorialize the encounter. More shots got snapped Tuesday of what some said was a once-in-a lifetime experience to see a whale this close.
"I think it's just tragic. It's amazing to be able to see up front, but we'd love to know what's causing this and, hopefully, it's something that maybe we can understand and comprehend and prevent from continuing to happen," said Rosie Angeles of Island Park.
Since the early 1980s, the Center for Coastal Studies out of Provincetown, Massachusetts, tracked Luna's movement. Senior scientist Jooke Robbins said Luna spent most of his time in the southern Gulf of Maine, adding "and over time he ended up spending more time off the tip of Nova Scotia."
That was Luna's favorite place to eat and the last place he was spotted, in September of 2022.
"Our whales, at this time of year, should have been migrated because ... down to the Caribbean, because it's mating season," Robbins said.
"What we're seeing is there are a few more whales in the northern waters than there often are at this time of year," Robbins said. "We're not sure what the reason is."
Luna was . Many questions surround the cause of that seemingly extraordinary number. In fact, in 2016 NOAA declared an unusual mortality event for humpback whales and began studying them post mortem more intensely. Andrea Gomez with NOAA Fisheries spoke with CBS2 about Luna and the other recent whale deaths.
"We estimate that he's about over 4 decades old. To put it in perspective, these humpbacks can live to 80 to 90 years old," Gomez said.
"At this time, we really have no idea what happened to him. As we continue to find out more we'll definitely keep everyone updated," Gomez added. "The leading causes of death would be vessel strikes and fishing gear entanglement, but we're also still trying to determine what other possible causes of death it could be. It could also be natural causes."
A necropsy team said Tuesday evening that preliminary findings indicate the whale was likely killed by a vessel strike.