Qatar crisis: What you need to know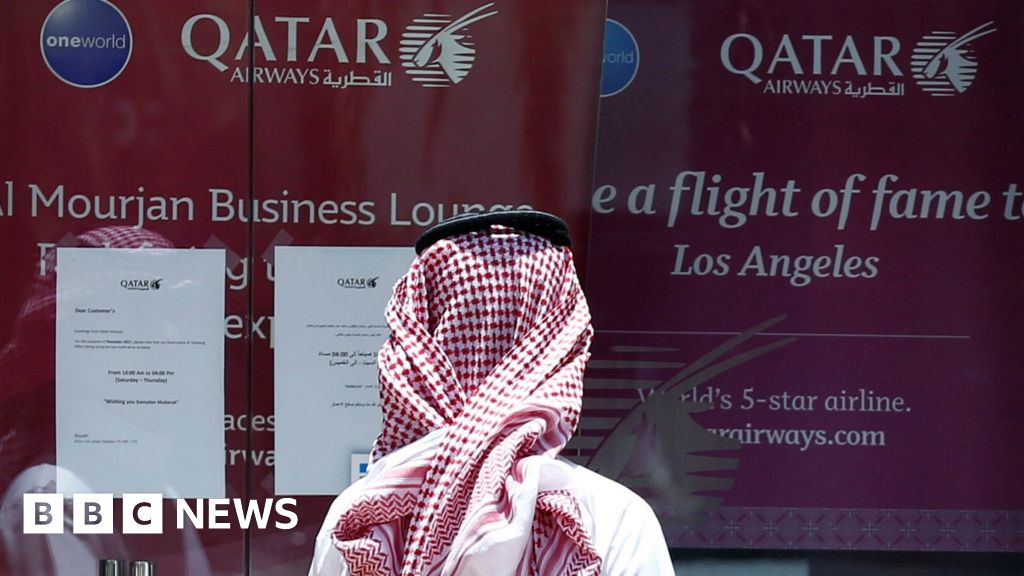 The tiny oil- and gas-rich Gulf state of Qatar has been cut off by some of its powerful Arab neighbours over its alleged support for terrorism.
Qatar refused to comply with an initial list of 13 demands, saying it would not agree to any measures that threatened its sovereignty or violated international law.
The emirate has now been told by its neighbours that they want it to accept six broad principles on combating extremism and terrorism.
Qatar has long practised an ambitious foreign policy with different priorities to its neighbours but there are two key issues which have angered them in recent years.
One is Qatar's support for Islamist groups. Qatar acknowledges that it has provided assistance to some, such as the Muslim Brotherhood, but denies aiding militant groups linked to al-Qaeda or so-called Islamic State (IS).
The other key issue is Qatar's relations with Iran, with which it shares the world's largest gas field. The Shia Muslim power is Sunni Muslim-ruled Saudi Arabia's main regional rival.
Saudi Arabia, the United Arab Emirates (UAE) and Bahrain severed relations with Qatar on 5 June. They also gave Qatari citizens 14 days to leave their territory and banned their own citizens from travelling to or residing in Qatar.
Egypt also cut diplomatic ties but did not impose restrictions on its 180,000 citizens living in Qatar.
Yemen, the Maldives and Libya's eastern-based government later followed suit.
In addition, Saudi Arabia, the UAE, Bahrain and Egypt closed their airspace to Qatari aircraft, and said foreign airlines would have to seek permission for overflights to and from Qatar.
Qatar's only land border was also closed by Saudi Arabia and ships flying the Qatari flag or those serving Qatar were banned from docking at many ports.
Two states in the six-member Gulf Co-operation Council (GCC) did not cut ties with Qatar - Kuwait and Oman. Kuwait has offered to mediate in the dispute.
Qatar is dependent on imports by land and sea for the basic needs of its population of 2.7 million, and about 40% of its food came in through the land border with Saudi Arabia.
Initially, supermarket shelves in Doha were emptied of basic supplies as residents rushed to stock up but the hoarding quickly ended after Turkey and Iran began sending food by air and sea.
Doha's Hamad International Airport has been far quieter than usual. Qatar Airways, the national carrier, has had to cancel flights to 18 regional cities and to reroute those to other destinations because of the airspace restrictions.
Qatar's stock market lost about 10%, or about $15bn (£12bn), in market value over the first four weeks of the crisis. However, the stock market has since recovered 6% of its pre-crisis value. Exports of liquefied natural gas have also so far not been affected and the emirate's finance minister says Qatar has enough resources to defend its economy and currency.
Companies working on new stadiums and infrastructure projects for the 2022 football World Cup have meanwhile had to secure new sources for building materials.
Shipping costs have gone up tenfold but Qatar has begun shipping cargo through Oman to get around the restrictions on access to ports in the UAE.
Qatar's neighbours said on 5 July they had received a "negative response" to the 13-point list of demands presented to Qatar on 22 June. In return for ending the restrictions, they had told the emirate to:
On 18 July, diplomats from the four nations said they were no longer insisting Qatar comply with the demands and instead wanted it to commit to six broad "principles".
They were combating terrorism and extremism, denying financing and safe havens to terrorist groups, stopping incitement to hatred and violence, and refraining from interfering in the internal affairs of other countries, the New York Times reported.
Qatar's Foreign Minister Sheikh Mohammed bin Abdul Rahman Al Thani said on 5 July that its neighbours were "demanding that we have to surrender our sovereignty". That was something it would "never do", he stressed.
"Qatar continues to call for dialogue, despite the violation of international laws and regulations, despite the separation of 12,000 families, despite the siege that is a clear aggression and an insult to all international treaties, bodies and jurisdictions," Sheikh Mohammed added.
Qatar has provided assistance to Islamist groups designated as terrorist organisations by some of its neighbours, notably the Muslim Brotherhood and the Hamas movement.
And while Qatar is a member of the US-led coalition against IS, it has faced accusations from Iraqi Shia leaders that it provided financial support to jihadists.
Qatar - and Saudi Arabia for that matter - has also provided money and weapons to hardline Islamist rebels fighting Bashar al-Assad in Syria. But it has stressed that it does not have links to the al-Qaeda-linked alliance, Hayat Tahrir al-Sham.
Qatar's neighbours also seized on a report alleging it had paid a ransom of $1bn (£770m) to Iraqi Shia militias, Iranian security officials and Hayat Tahrir al-Sham as part of a deal to secure the release of royal family members kidnapped in Iraq.
On 18 July, NBC News cited US intelligence officials as saying that €300m ($345m; £265m) had instead been paid to the Iraqi government, which had been in contact with the hostage-takers and subsequently confiscated the cash. Qatar said the money "was to support the authorities" in Iraq for the release of "abductees".
The US might be expected to want the crisis to end quickly because Qatar hosts the largest American military facility in the Middle East - al-Udeid airbase.
President Donald Trump was nevertheless quick to claim credit for the pressure being placed on the emirate, saying it might mark the "beginning of the end to the horror of terrorism".
But his Secretary of State, Rex Tillerson, subsequently questioned the list of demands, acknowledging that some elements would "be very difficult for Qatar to meet".
Mr Tillerson has been conducting shuttle diplomacy in the region and on 11 July signed a memorandum of understanding with Qatar on terrorism financing.