Kennesaw State's 'Year of New Zealand' helps students explore the world on campus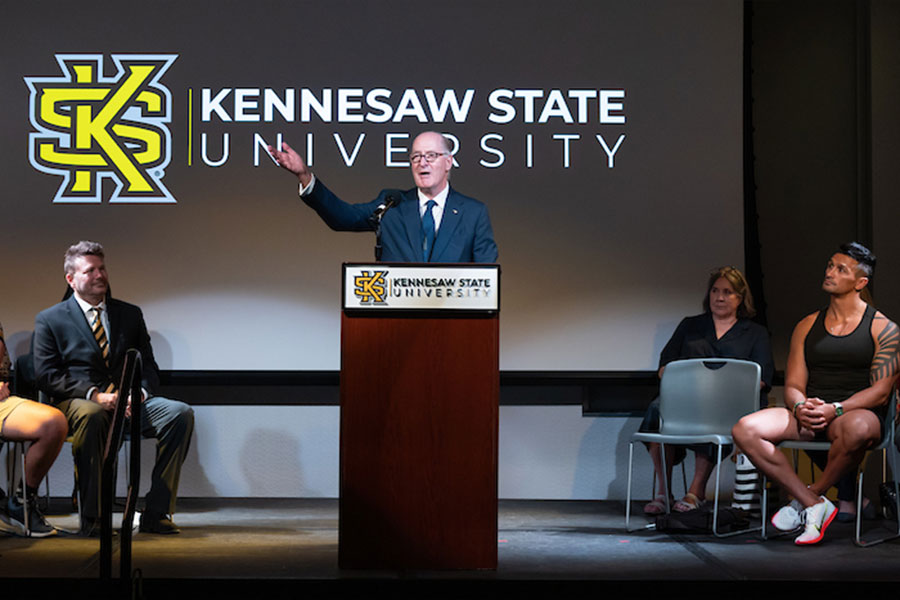 Kennesaw State's 'Year of New Zealand' helps students explore the world on campus
Eleven dancers with intense eyes sang and chanted as part of the opening ceremonies that kicked off Kennesaw State's Year of New Zealand programs.
Some of the traditionally dressed dancers held staves, harkening back to the spiritual rituals of the Māori warriors that date back centuries. 
The event, organized by KSU Global Education, included remarks from Ian Latham, honorary consul to New Zealand in Atlanta. As customary in New Zealand, Latham touched noses with Sheb True, KSU's associate vice provost for global engagement, professional education and strategic initiatives, as a gesture of welcome and mutual respect.
Since 1984, Kennesaw State's "Year of" program has annually celebrated different countries around the globe by providing the KSU community and public a chance to learn about unique cultures and their people without having to leave campus. Japan was the program's inaugural country.
"The purpose of the program is truly to internationalize the campus," said Tara McDuffie, executive director of Global Education, formerly the Division of Global Affairs. "We want to showcase the rich and diverse cultures across the globe. It helps us to see similarities in how we're connected but also to see differences, allowing for reflection, growth and change. We're able to change individual perspectives and grow understanding among the KSU community."
"Year of" programming typically includes cultural events, lectures from well-known scholars and public officials, study abroad programs and dedicated classes. 
This year offers an array of events in the fall and spring aimed at enhancing the understanding of New Zealand and its unique culture: themed rugby games with meat pie refreshments, an October lecture titled "Tūrangawaewae: Identity and Belonging in New Zealand," and a "Lord of the Rings" movie screening exploring the countryside used for the shooting of the blockbuster film series by New Zealander Peter Jackson.
Planning for each year's events includes ensuring food, music, dance, history, sport and academic opportunities that span a wide variety of interests and draw students from all backgrounds, said Lola Owokoniran, Global Education's director of community engagement and outreach. 
Though the program can offer travel opportunities for students, dedicating an entire academic year to a particular country or region gives all students a chance to enhance their understanding of a new culture, develop interculture competencies and build partnerships with people from diverse communities, she said.
Past countries and regions of the world have included Morocco, India, Russia, the Portuguese Speaking World, Arabian Peninsula and Ghana.
Students staff, faculty and members of the public can stay up-to-date on Year of New Zealand events and RSVP by visiting the Global Education website. 
A leader in innovative teaching and learning, Kennesaw State University offers undergraduate, graduate and doctoral degrees to its more than 43,000 students. Kennesaw State is a member of the University System of Georgia with 11 academic colleges. The university's vibrant campus culture, diverse population, strong global ties and entrepreneurial spirit draw students from throughout the country and the world. Kennesaw State is a Carnegie-designated doctoral research institution (R2), placing it among an elite group of only 7 percent of U.S. colleges and universities with an R1 or R2 status. For more information, visit kennesaw.edu.