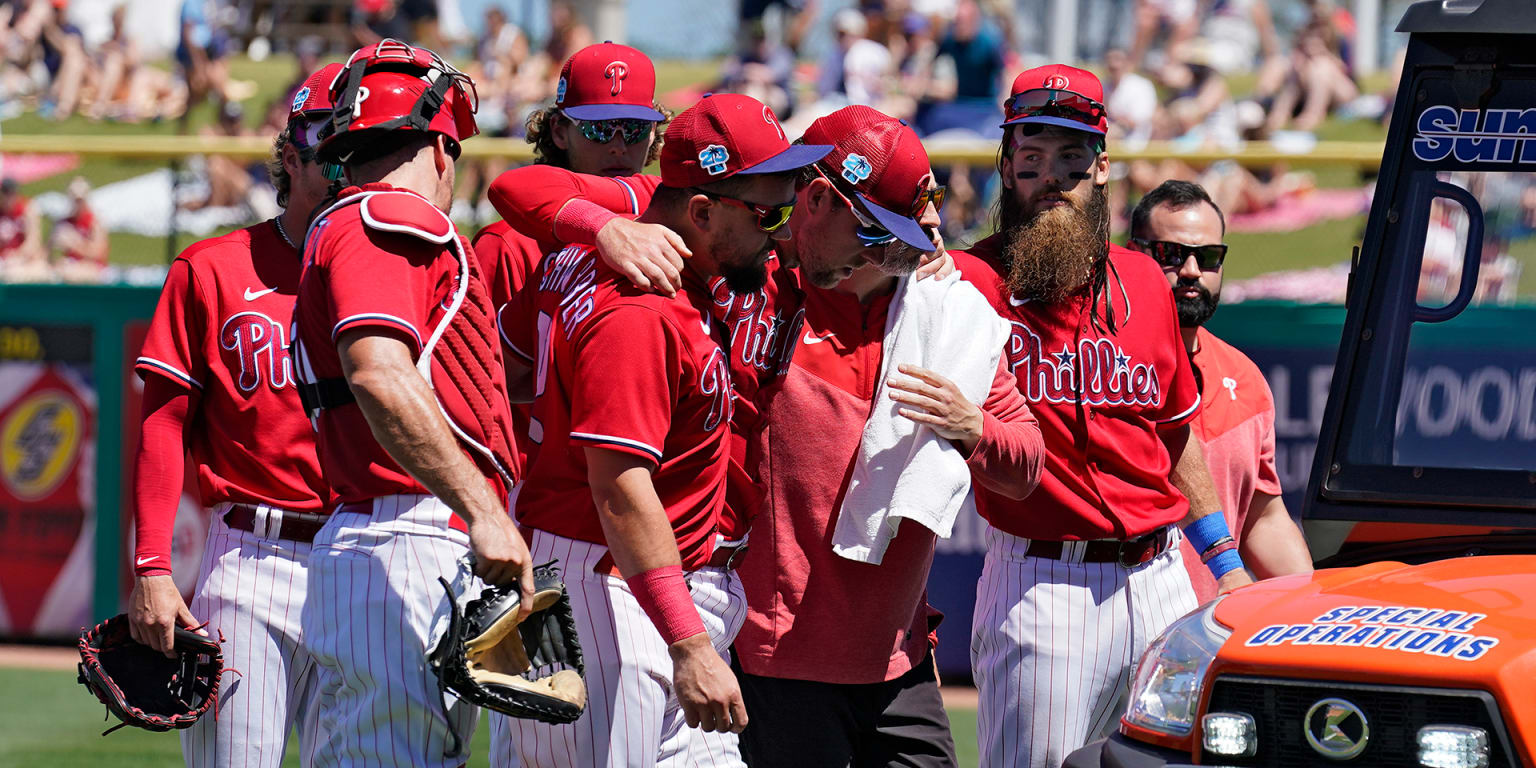 The Phillies said in a statement that "the recommended surgery is an ACL reconstruction." They will have more details about the surgery on Friday.
It is a crushing blow to the Phillies and Hoskins, who is one of the most important, popular and well-respected players in the clubhouse.
Hoskins, 30, has been one of baseball's most productive hitters since he made his debut with the Phillies in August 2017. In that time, he ranks 12th in baseball in home runs (148) and 16th in RBIs (405). Among 527 qualified hitters, he ranks in the 90th percentile in on-base percentage (.353), 91st percentile in slugging percentage (.492) and 93rd percentile in OPS (.846).
Hoskins, who will be a free agent following the season, said recently that he was looking forward to helping the Phillies win the World Series then extend his career in Philadelphia beyond this year.
But everything changed in the second inning Thursday. Hoskins backpedaled onto the outfield turf to track down a high hopper off Detroit right fielder's Austin Meadows' bat. The ball hit off Hoskins' glove. As he tried to retrieve it, his left leg gave out.
Teammates surrounded Hoskins and knelt by his side for several minutes as EMTs examined him. A cart carried him off the field.
"It was quiet," Phillies manager Rob Thomson said. "Nobody was saying a word."
"I just put my hand on his shoulder, but you know, no words needed to be said right there,'' said right fielder Nick Castellanos. "What is there really to say? Everybody knows exactly what's going on. When something like that happens, it's not taken lightly. I think every single person on that field around him [realized] the seriousness of that moment.''
Thomson said after the game that Hoskins was walking in the clubhouse. Many hoped it meant he had avoided the worst. He did not.
"He's such a baseball guy, a baseball rat, and that kind of makes it sting a little bit more," Phillies left fielder Kyle Schwarber said. "He was coming in healthy and not grinding with anything. He's such a huge part of what we're doing.
"Our hearts are so heavy for him … because he means so much to this team -- the clubhouse, the camaraderie, everything we have. It's definitely some heavy moments. He's kind of like our spokesperson. He steps up and talks [about] whatever needs to be addressed. … He does so much for our ballclub.''
Phillies president of baseball operations Dave Dombrowski will not only discuss Hoskins' injury and surgery on Friday, but he will also discuss how the team will move forward without one of its best hitters.
"No matter what happens with our club, you're going to have some injuries during the course of the year, and our club finds a way to pick up the pieces and move forward," Thomson said. "That's what we did last year. And we'll continue to do that."
The best bet is that Darick Hall moves into a primary role at first base, particularly against right-handed pitching. Hall entered camp competing for one of the team's final two jobs on the bench. He seems to be assured a job at this point.
Hall played well for a couple months last season as the team's DH, when Bryce Harper was sidelined with a broken left thumb. Hall batted .250 with nine home runs, 16 RBIs, an .804 OPS and a 121 OPS+ in 142 plate appearances. He has hit well this spring, batting .319 (15-for-47) with a team-leading five home runs, 11 RBIs and a 1.066 OPS.
Hall had only 12 plate appearances against lefties last season, so against a tough southpaw, the Phillies could shift third baseman Alec Bohm to first base and have Edmundo Sosa, who is the team's best defensive infielder, play third base. Josh Harrison also can play third.
Understandably, Thomson did not want to discuss those options Thursday. He wanted to hope for the best.
"No matter what happens, we've got to keep moving forward," he said. "We've got to play tomorrow. Luckily, we have great depth. And those depth pieces are playing well. We have some tough [roster] decisions to make, which is a great problem."