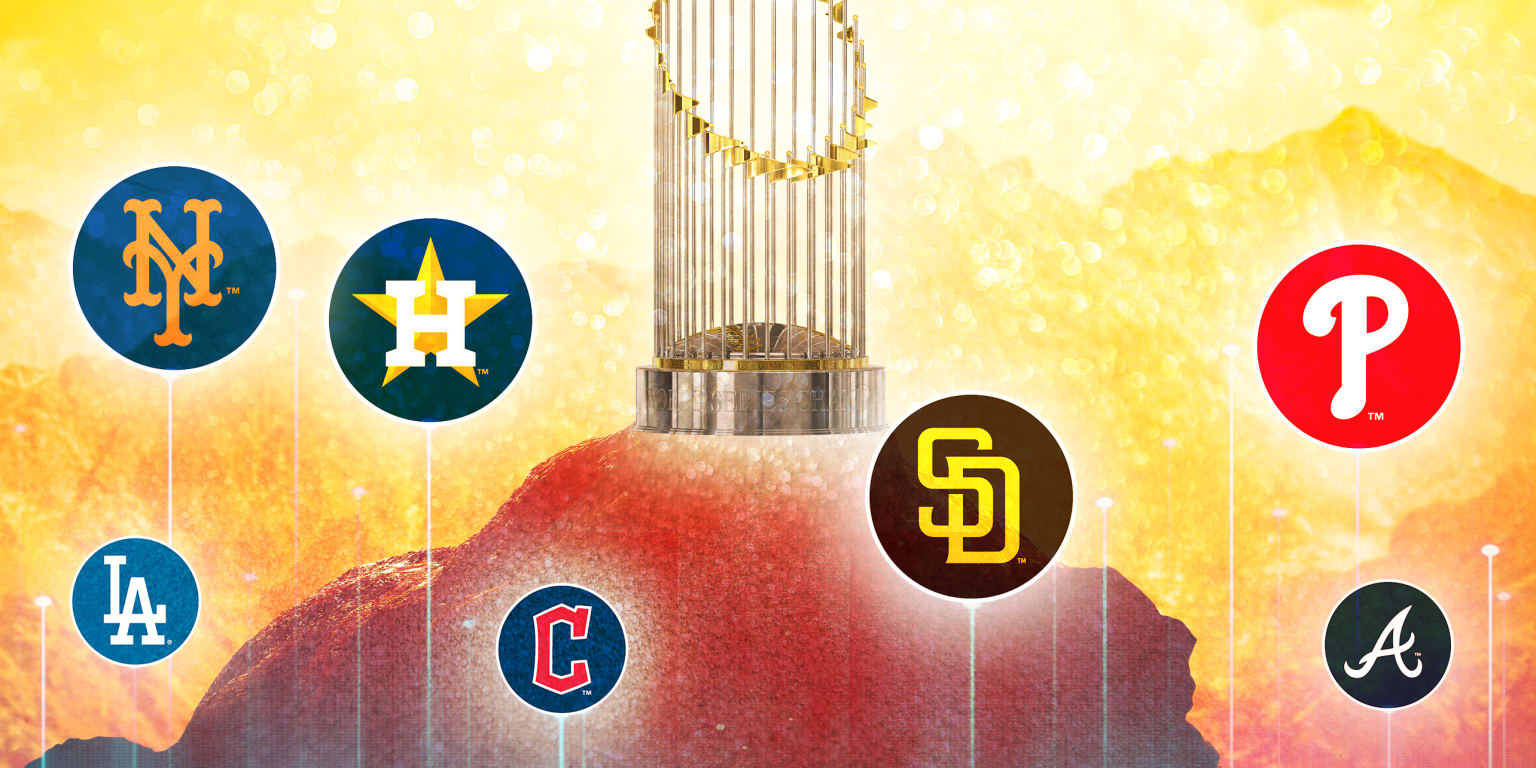 Winning is awesome, and losing stinks. That will always be true, and that's why every team that enters October is intent on winning the World Series.
But some wins carry more emotional weight than others, while some losses leave longer-lasting wounds than others. And so, each year at this time, we crunch the numbers to come up with our super-scientific World Series Urgency Index.
We factor in things like past postseason pains, pending free agents, payroll obligations and prospect potency to sort the remaining contenders on a relative scale, to determine how badly they need a crown -- 10 being the most urgent situation, 1 being the most relaxed.
Note: We are including all teams still mathematically alive for the postseason, which is 13 in total at the moment, even though only 12 will ultimately qualify for the playoffs.
Then there's the Buck Showalter factor. Sure, the manager is in the first of a three-year deal, but he's also 66 years old and has taken five previous teams to the playoffs without winning the big one. And speaking of winning the big one, the Mets, as you know, haven't done that since 1986. With Keith Hernandez's jersey retired this year, they've pretty much milked that title for all it is worth. We are overdue for a coronation in Queens.
That said, they've now fallen short in two of the last three Fall Classics, and many baseball fans will continue to give the side-eye to their 2017 triumph. Above all else, this ranking is about Baker. In terms of wins and playoff appearances, he is the most accomplished skipper ever to have not hoisted the Commissioner's Trophy.
If the Phillies can phinish the job in these coming days and nail down their first postseason appearance since 2011, that alone would be worthy of a Broad Street parade. It has not only been a long wait for such a moment, but also a ton of money spent on rosters that never meshed.
If the Yankees fall on their faces again this October, will it lead to major change? Not if Aaron Boone's current contract is honored and pending free-agent executive Brian Cashman is extended, as has been speculated. But the biggest unknown with regard to the Yanks measures in at 6-foot-7, 282 pounds. Aaron Judge's unresolved contract status looms large in the Bronx and on this list. He is the current face of this storied franchise, and his departure would have gargantuan ripple effects.
So … probably best to win one with Judge, just in case. The Yankees famously haven't even gotten to the World Series since 2009. And while their run of 30 straight winning seasons insists they won't totally retreat anytime soon, to say a team with this level of resources is due for a title is an understatement.
We had the Brewers in the No. 1 spot on this list a year ago. A few clubs that weren't involved in last year's postseason, another Dusty heartbreak in 2021 and the aforementioned Judge issue in the Bronx have nudged the Brew Crew down a bit this year.
But nothing has materially changed with Milwaukee. The Brewers remain tied with the Padres as the oldest franchises without a World Series title to their names. They began the process of repositioning their roster with this summer's Josh Hader trade, but they remain a small-market team oriented around pitching, which, as we know too well, can be a precarious commodity.
Toronto is somewhat comparable to the Padres in that significant expenditures and a seemingly championship-caliber core of players hasn't amounted to much yet. The Blue Jays were favorites among many to win the AL East this year, and it got away from them quickly. That won't matter if Vladimir Guerrero Jr. and Co. own the moment in October.
If the Jays fall flat, they can take comfort in knowing their core isn't going anywhere for a while. And having an entire country supporting you in a major market has its revenue privileges. But with George Springer entering his mid-30s, the farm system thinned by trades and Canadians clamoring for their first World Series since the early 1990s, a deep run would sure be welcomed.
Honestly, while a World Series run would obviously be tremendous and long overdue (the Mariners are the only franchise to have never reached the Series stage), just getting to October for the first time in a generation already qualifies as a monumental achievement, given all the second-half slides these fans have endured.
That said, graduations and trades -- especially the Castillo trade -- have affected the farm system. And when you're in the playoffs for the first time since J-Rod was a baby, you clearly want to capitalize.
All you really need to know about the Rays is that they have been slotted in the top 10 of MLB Pipeline's farm system rankings for a record 12 consecutive years, and this is the sixth time in those 12 years that they are headed to the postseason. That is a really difficult trick to pull off for any franchise, let alone one with the revenue challenges the Rays face, relative to their AL East peers.
So it's hard to place the Rays all that high on this list, even when you account for the sense of urgency that all small-market clubs must have in an October opportunity. Tomorrow is promised to no one, but for now there is not much reason to think Tampa Bay won't continue to pester its way to the postseason on a fairly regular basis.
The Dodgers are an exaggerated version of the Rays. They don't just regularly reach October; they are in the dance for the 10th straight year, on the heels of their ninth NL West title in that span. They don't just have a strong farm system; they have one of the absolute strongest, ranked second by MLB Pipeline, with seven Top 100 prospects. Oh, and unlike the Rays, they have loads and loads and loads of financial capital that allows them to simply swallow mistakes and be opportunistic in the market.
So while the Dodgers would like to be remembered as something other than a great regular-season team by winning their second World Series in three years (and, of course, first in a full season since 1988) and send Clayton Kershaw off on a high note (in case he really does leave or retire at year's end), no one would look at an earlier exit as the end of an era in L.A. The Dodgers are built to last.
The nickname is new, but the longest active championship drought in MLB is not. It dates back to 1948. Cleveland defeated the Boston Braves just a few weeks before Dewey didn't defeat Truman. The Braves have since moved (twice), the Indians name has been retired, and newspaper headlines don't carry the weight they once did. Cleveland baseball is long, long overdue for a Truman-like upset.
But look, nothing was expected of the youngest team in MLB this year. And while we're not crowning them for 2023 and beyond, the AL Central could be the Guardians' for the taking for a while, given the strength of their farm system (ranked third by MLB Pipeline), their relatively clean contractual commitments and the state of the other squads in that division.
We don't know how much longer Terry Francona will want to manage, but his club appears to be at the very start of a new window to win. It is playing with house money this year.
And hey, if the Braves don't go back-to-back, at least they won't have to try to top those astonishing World Series rings they designed for the 2021 title-winners.