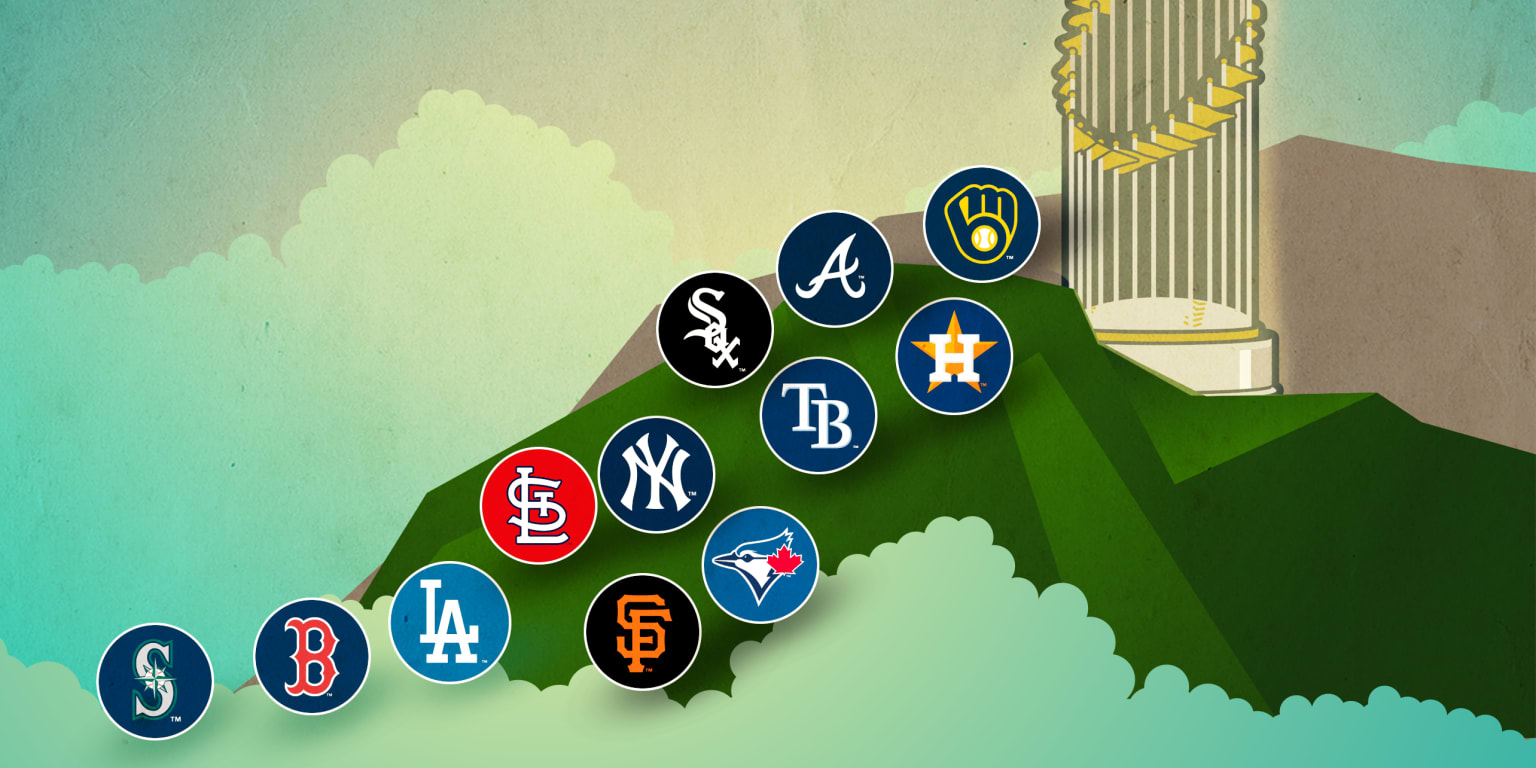 But some do carry an even greater emotional weight than others, given what a particular franchise has gone through or where it might be headed.
Think about the monumental meaning of five of the last six World Series: In 2015, the small-market Royals won it all for the first time since 1985. In 2016, the Cubs triumphed for the first time in 108 years. In 2017, the Astros won their franchise's first title, and same for the Nationals in 2019. And last year, the Dodgers ended a drought dating back to 1988. (Don't worry, 2018 Red Sox, you're special, too. But let's not pretend Boston fans were anywhere near as anxious as they were in 2004.)
That's why we put together the Playoff Urgency Index. When you factor in things like past postseason pains, pending free agents, payroll obligations and prospect potency, we can sort the remaining clubs on a relative scale -- 10 being the most urgent, 1 being the most relaxed.
Note: We are including all teams still mathematically alive for the postseason, which is 12 in total at the moment, even though only 10 will ultimately qualify for the playoffs.
We break our 10-point scale here both to make that Counsell observation and to make a larger point. Not only have the small-market Brewers never won it all, but they'll face some complicating factors in future attempts to advance.
Lastly, because this team hasn't drafted higher than ninth overall since 2017, the farm system is ranked 25th out of 30 teams by MLB Pipeline. All of which is to say, there's no time like the present for the Brew Crew.
Atlanta is up there in the pantheon of pain in professional sports (I started to write out a list of other cities in that group, but I didn't want to leave anybody out and only add to their disappointment). Sure, the Braves won it all in 1995, but that was one frustratingly fleeting moment among 14 straight division titles. (And while 1995 might not seem like long ago to some, keep in mind that Turner Field opened and closed since then.)
When last year's club blew a 3-1 lead on the Dodgers in the NLCS, it was added torture for a fan base only a few years removed from the agony of the Falcons suffering the biggest blown lead in Super Bowl history (sorry for bringing it up again).
Sure, the Astros are only four years removed from a World Series title. But they had their name thoroughly dragged through the mud for the sign-stealing scandal and, fair or not, some people are always going to call that a tainted title.
The volume of talent here and the chances that the Sox can repeat in the AL Central next year prevent this from being a 10. But the South Siders still need to seize this moment.
When it comes to contracts and young talent and whatnot, the Rays are in a really good position long-term because, well, they always seem to keep themselves in a good position long-term. That's the hard-earned benefit of constant roster churn and extrapolating value for your established talent as it gets more expensive. (The Rays have the sixth-best farm system in the game, per MLB Pipeline, and all of the clubs ahead of them have been in rebuild mode.)
But obviously, every small-market team -- even a team as well-run and consistently competitive as the Rays -- must approach an October opportunity with gusto. All the more for Tampa Bay in the wake of coming oh-so-close last year.
Honestly, we're all pretty sick of hearing how tragic it is that the Yankees went an entire decade without even reaching the World Series, let alone winning one. And those of us with small-market souls will shed no tears about the team with the second-highest payroll in the sport underperforming. At least you've had 29 straight winning seasons!
But yes, yes. When you play in the Bronx, there's pressure to win it all. We get it. This is, indeed, an urgent situation, as usual. Just not a 10.
Whoa, who let these guys in? Perhaps you've heard this one before, but the Cardinals have unexpectedly stormed their way into Wild Card positioning with a superlative September. As the 2011 club can tell you, the nice thing about an out-of-nowhere October appearance is that external expectations are kept to a minimum, making every postseason victory all the more sweet.
While 28 years is a long time between titles and Blue Jays fans are not far removed from the sting of losing in the ALCS in consecutive years in 2015-16, this generally feels like a team at the beginning -- not the end -- of something special.
The Giants have the oldest position player group in the game and the fifth-oldest pitching staff. But with this being the first postseason appearance of the Farhan Zaidi era, with the Giants widely expected to be big players in upcoming free-agent classes and, of course, with three titles in the recent rearview, it's hard to describe this as an especially urgent situation.
This team has already drastically exceeded all reasonable expectations placed upon it at the start of the year. And anyway, as you are aware, the San Francisco Giants are contractually prohibited from winning the World Series in odd-numbered years. So nobody will look down upon them if they get beat in October.
But that's all semantical when compared to the plight or aim of other organizations. Between their still-solid farm system (it has been thinned by graduations and trades, yet still contains five of MLB Pipeline's Top 100 prospects), their stash of star power and their financial muscle, the Dodgers aren't likely going away anytime soon.
Honestly, not that many people expected Boston to be vying for a World Series in 2021 to begin with.
This might seem like an odd rating on the Urgency Index for a team trying to end the longest playoff drought in North American professional sports. But let's get real here: Absolutely nothing was expected of these M's both going into the season and, for that matter, going into September. They've done an absurdly good job of winning close games and playing loose and pressure-free, and that's exactly how they should approach an October opportunity.
If the Mariners were to advance, it would be the best and most shocking story in baseball. And if they were to get immediately bounced, no sweat, for they are merely at the beginning of maturing into an earnest contender in the AL West. In other words, they're playing with house money and have no need to feel any external urgency created by their franchise's multi-decade drought.