Cristiano Ronaldo: Erik ten Hag says Manchester United forward is in his plans and not for sale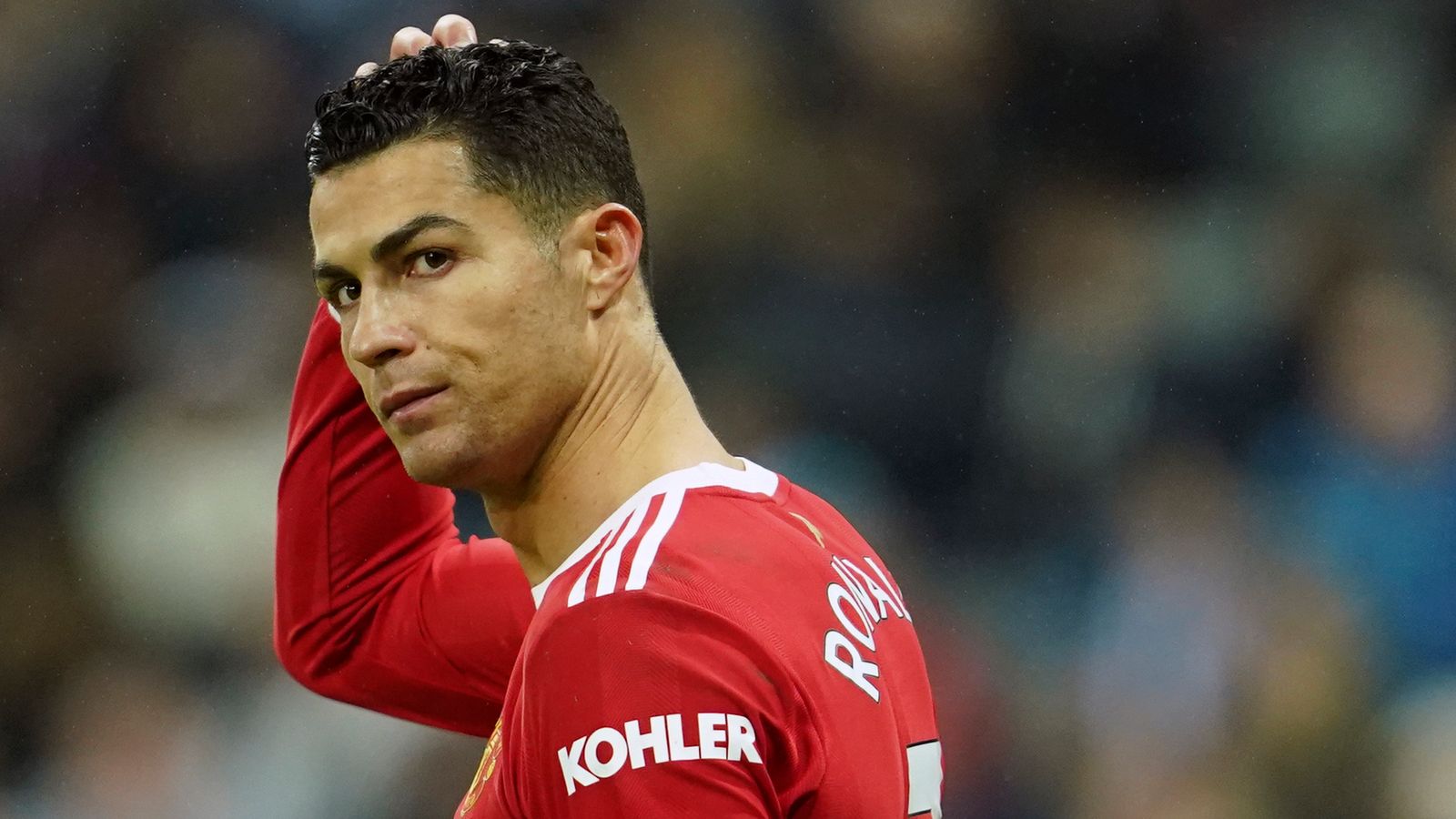 Cristiano Ronaldo: Erik ten Hag says Manchester United forward is in his plans and not for sale
Asked if Cristiano Ronaldo wants to leave, Erik ten Hag replied: "He hasn't told me this. I have read, but as I say, Cristiano is not for sale, he's in our plans and we want to get success together"
Erik ten Hag says Cristiano Ronaldo is in his Manchester United plans for the season ahead.
United are willing to listen to offers for Ronaldo this summer, Sky Sports News understands, but the club's public stance has remained that he is not for sale.
Ronaldo will not be part of United's pre-season tour of Thailand and Australia due to "personal issues", Ten Hag said on Monday.
But the United boss added: "We are planning with Ronaldo for this season - that's it. I'm looking forward to working with him."
Asked if Ronaldo wants to leave, Ten Hag replied: "He hasn't told me this. I have read, but as I say, Cristiano is not for sale, he's in our plans and we want to get success together.
"I spoke with him before this issue came up. I had a conversation with him and had a real good talk."
The 37-year-old forward returned to Old Trafford last summer from Juventus and still has a season remaining on his deal.
Sky Sports News has been told Ronaldo's agent, Jorge Mendes, has spent the past few weeks selling the 'Cristiano effect' to clubs having compiled a dossier of his client's immense sponsorship, social media and 'new markets' influence.
Chelsea co-owner Todd Boehly is among the executives to listen to the pitch and is considering a move, with the Blues having also discussed a deal for Paris Saint-Germain forward Neymar.
Bayern Munich, Barcelona and Napoli have also been engaged with Mendes.
Ten Hag also confirmed United are still looking to do business in the transfer market, with midfielders and forwards top of the list.
Sky Sports News was told last week that United and Barcelona have a "broad agreement" on a fee - believed to be €65m (£56m) plus performance-related add-ons - for Frenkie de Jong.
Ten Hag was not prepared to speak about specific targets, but said: "Definitely we are searching for players in the midfield, and also in offence we are still looking for players.
"I never talk about players who are not under contract at Man United, players at different clubs. I cannot tell you anything about this issue.
"We want to have the right players. We have a really good squad, we're working on developing our way of play and if the opportunity is there, we will strike."
"Erik ten Hag has reiterated the club's stance that Cristiano Ronaldo is not for sale and is very much part of his plans. The club have planned the campaign with him as their focal point of the attack.
"What's very interesting, though, is he said he has spoken to Ronaldo but not since the issue has arisen with his family situation and the news that he said that he wants to leave the club if a suitable offer comes in. So since that, no discussions have taken place between the manager and Ronaldo, which was a very fascinating element.
"But he said he just wants Ronaldo to concentrate on what he's currently dealing with and the club are calm about the situation."
Cristiano Ronaldo was named Premier League player of the month for April. He'd scored five goals in four games, including a hat-trick. But during that month, Manchester United won just one match out of six.
Ronaldo was also named in the Premier League team of the year. United ended the season with back-to-back defeats to Brighton and Crystal Palace. Sixth and trophyless. It was their worst league performance in 32 years.
While his team floundered, Ronaldo - at 37, we shouldn't forget - still found a way to make his mark.
Erik ten Hag confirmed that Harry Maguire will remain as his captain this season.
The England defender came in for criticism for his performances from Manchester United fans last season as the team struggled.
However, he is to continue leading United as Ten Hag said: "He is an established captain for a few years and he has achieved a lot of success, so I don't doubt about this issue."
Erik ten Hag's first Premier League game as Manchester United manager will be against Brighton at Old Trafford, live on Sky Sports, on the opening Super Sunday of the 2022/23 season.
United's trip to the Etihad Stadium for the first Manchester derby of the season on October 1 kicks off a daunting month which sees Ten Hag's side travel to Everton and Chelsea and host Tottenham, Newcastle and West Ham.
The final game before the season pauses for the winter World Cup will be against Fulham on the weekend of November 12/13. United then return to action on Boxing Day at Fulham.
2023 will be ushered in by a home match against promoted Bournemouth. Premier League champions Manchester City are next up at Old Trafford on January 14, the return trip to Anfield on March 4, while United conclude their season at home to Fulham on May 28.
Who will be on the move this summer before the transfer window closes at 11pm on September 1?