I cried when England won. It's been a long journey for women's football – and for me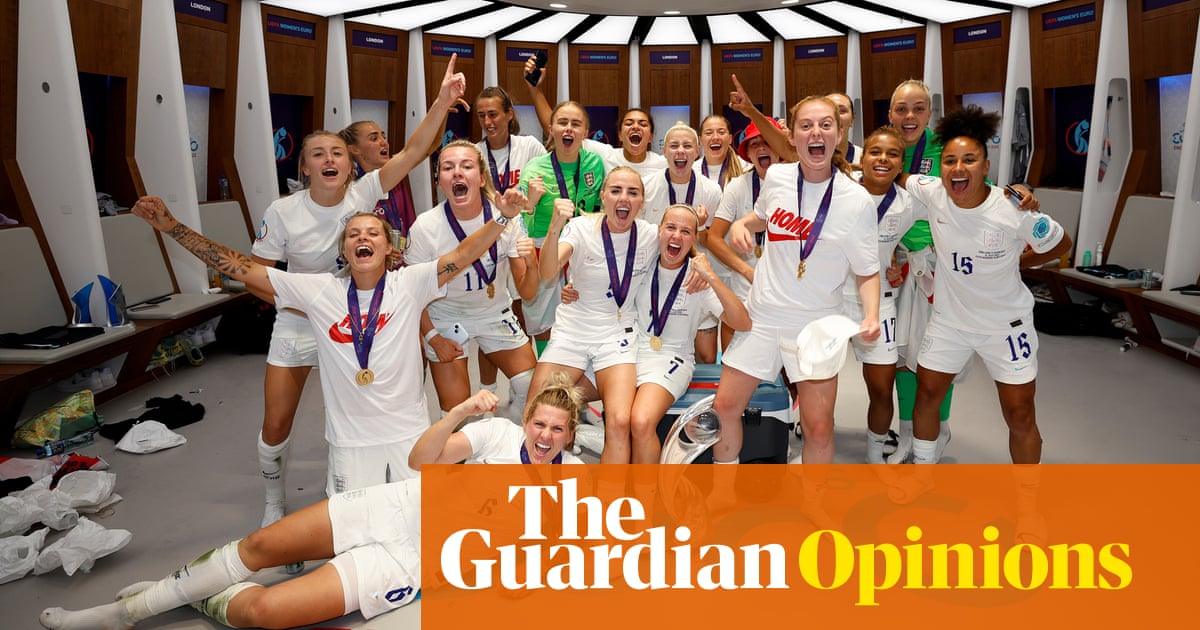 I cried when England won. It's been a long journey for women's football – and for me
The Euro 2022 triumph means the world to me and all the writers who have witnessed this team's incredible rise
When the final whistle went at the end of extra time, I pressed send on my on-the-whistle match report, put my face in my hands and sobbed. Big, loud, heart-rending, back-arching sobs.
It was not the first time I had cried around the Lionesses' stunning, swaggering run to a first major tournament trophy and I have not really stopped since.
It is hard to articulate just how much this victory means to me. When I started writing about women's football there was no full-time work available at any national newspaper for those wanting to cover the game.
Fast forward and, 1,093 articles later, I have just watched the game I have given everything to build – and that I care about very deeply – have a moment that will transform it and in turn the resources and paid work available for covering it. Incredibly, it does not feel as if we are at the summit but at base camp, ready to roll, with all the equipment needed to reach the top.
There are people who have been pioneering this game far longer than I have – on and off the pitch. I came in as minds were starting to shift in the industry. I could sight potential openings; not that it was ever about that. Trying to fathom the feelings of Tony Leighton, Jen O'Neill and Cath Etoe, who are among those who have covered the women's game for decades, when Leah Williamson lifted the trophy on Sunday is impossible.
They very much had a hand on the trophy too, as did so many others – I, perhaps, can claim a fingernail.
Every journalist covering a football team – men's or women's – gets to know the players and staff. We sit down with them and delve into their stories, sometimes asking deeply personal questions about their state of mind, feelings, tragedies, health and failures. You connect with many, with their stories, their passion, their unerring desire to push themselves to be the best. In women's football the players tell their stories freely, knowing that fans who connect with them may engage with the game and its journey to the front and back pages.
Had the men's team won last summer, or should they go one step further at the World Cup in Qatar, I imagine many journalists who have covered the team for decades will have their emotions turned upside down in similar and different ways. We work late nights, long days and have many more unglamorous hours than Instagram-worthy ones. It is, of course, all worth it.
Women's football is decades, if not a century, behind the development of the men's game. At the moment it is still very, very reliant on and invested in an engaged media to help it grow. Of course the men's game needs the press too, to maintain its deep stamp on society, but the fledgling nature of the women's game prompts far greater openness from players and managers who recognise the importance of a reciprocal relationship – we grow it and them; it grows us.
So while tears and cheering in the press box may be unfamiliar, slightly frowned upon or seen as a little unprofessional, forgive those of us who were broken by events on Sunday. We know what this means for our jobs, our industry, the players, the game and for society more generally. Football is powerful and the broader impact of it 'coming home' thanks to a group of young women cannot be underestimated.
There are lots of people raising warnings, saying the opportunity to develop this wonderful sport off the back of this historic win and moment cannot be missed. They are right. Of course they are. But if there is one thing I know, it is that the people saying these things, the players on the pitch, the staff at clubs, the former players still championing the game, will not let the moment pass without a fight.
The FA banned women's football for 50 years, tried to smash the game out of existence, but those in charge back in 19 21 failed. Instead they made sure that the most gutsy group of fighters would emerge to champion the game and grow it generation by generation.
That was a group of educated, intelligent, physical, resilient and brilliant women, who would give anything, and have given everything, to see this sport succeed. A group who have given everything to see all girls have the right to play a game that has formed so much of who they are on and off the pitch and developed them as people and as important members of society in ways they could never imagine.