KONNECT Entertainment's Kang Daniel, Yuju, and Chancellor celebrate winning K-Pop Label Award at the '2022 APAN Star Awards' | allkpop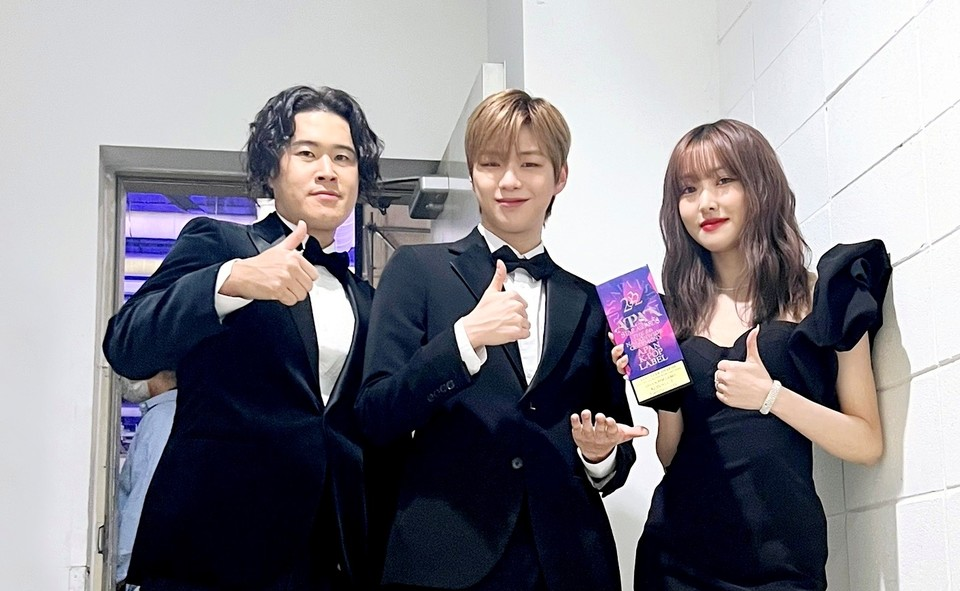 KONNECT Entertainment's Kang Daniel, Yuju, and Chancellor celebrate winning K-Pop Label Award at the '2022 APAN Star Awards'
The KONNECT artists stepped on stage to accept the APAN K-Pop Label Award together.
"First, many thanks to CEMA and APAN Star Awards for such a huge and meaningful award. Honestly speaking, out of the awards I received so far, this award is particularly special because it's not one received under the name of Kang Daniel but as KONNECT Entertainment, so it carries a lot of meaning. Of course, the start really wasn't easy. There were manyups and downs, and there were many falls. But with this award, I think we have been running hard. All KONNECT employees, this company KONNECT as a team, really persevered well. It's an award that makes one feel immense pride and is all the more precious."If that was the first act, now we are in act 2 with Chancellor and Yuju showing a lot of great music and good performances, growing together each time which makes me happier. In the future, we'll show you in the third act through music and stages, good contents as a feast for ears and eyes to enjoy. Once again, thank you. Thank you, APAN Star Awards."
Chancellor spoke next:
"As a KONNECT artist and producer, receiving this K-Pop Label Award is very meaningful and unique. Thank you so much to the APAN officials who gave us this award. I really want to call you. In the future, I'll work hard to make more good music and great K-contents. Thank you.""Usually at award ceremonies, artists receive the spotlight a lot of the time, so I think it's very meaningful to win an award under the name of 'KONNECT' as a K-pop label today. I think it's quite different. Thank you APAN for giving KONNECT this great award. KONNECT will continue to make good music in the future, so please look forward to it. Thank you."
In a separate interview, Kang Daniel said it was even more touching that the award is for KONNECT and that it wasn't an easy road. Sometimes he had to be strong on an unfamiliar road, and other times he felt out of his depth. Whenever that happened, he felt the power of family with him in the name of KONNECT.
Daniel thanked the other artists:
"These wonderful artists opened the second act of KONNECT. Thanks to them, we were able to present more challenges and charming music."
After APAN, the KONNECT artists took to SNS to further express their excitement.
Congratulations to Konnect Entertainment, especially to CEO Kang Daniel, artists Chancellor & Yuju, all the staff & management, producers, dancers and everyone who loves this agency. Not to forget our superstar CL for putting trust to Konnect to manage her domestic activities for Alpha album.