Sci-tech cooperation hailed with Latin America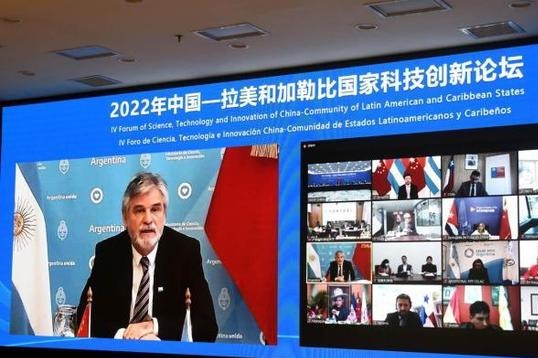 China will enhance practical scientific and technological cooperation with Latin American and Caribbean countries in fields such as technology transfer, innovation in sustainable food and in jointly tackling global challenges, officials said on Friday.
Clean energy, digital technology, agricultural technology, communications and satellites are fields in which it is hoped that deeper cooperation will occur between China and Latin America.
China's Minister of Science and Technology Wang Zhigang made the remarks at the Fourth Forum of Science, Technology and Innovation of China-Community of Latin American and the Caribbean States. More than 20 leading science officials from the regions participated in the online meeting.
Wang said that China has sought to build solidarity and cooperation among developing countries, which has resulted in sustained progress in scientific and technological collaboration between China and Latin American countries.
The two sides are facing the shared challenges of economic recovery, improving livelihoods and achieving sustainable development, Wang said.
At the same time, he said that China would facilitate the establishment of the China-Latin America sustainable food innovation center and technology transfer center that were proposed last year.
China will take advantage of complementary strengths between it and other Latin American and Caribbean countries to promote new cooperation that is deeper, broader and more inclusive.
Daniel Filmus, Argentina's Minister of Science, Technology and Innovation, whose country currently holds the rotating presidency of the Community of Latin American and Caribbean States (CELAC), said that he appreciates the results of cooperation between China and Latin American countries, adding that the forum plays a vital role in promoting scientific and technological cooperation and building mutual trust.
Latin American countries believe that science and technology development is a key way to promote national socioeconomic development and will continue to engage with China through bilateral and multilateral mechanisms, Filmus said.
Officials said that training, joint research projects and technology transfers are important areas of cooperation.
In December, China and CELAC member states signed a joint action plan for cooperation in key areas from 2022 to 2024. They include high-level official exchanges, economy, food security, science, industry, culture and public health among others.
Copyright 1995 - . All rights reserved. The content (including but not limited to text, photo, multimedia information, etc) published in this site belongs to China Daily Information Co (CDIC). Without written authorization from CDIC, such content shall not be republished or used in any form. Note: Browsers with 1024*768 or higher resolution are suggested for this site.