Jorginho: Arsenal close to agreeing deal for Chelsea midfielder and remain ready to do deal for Brighton's Moises Caicedo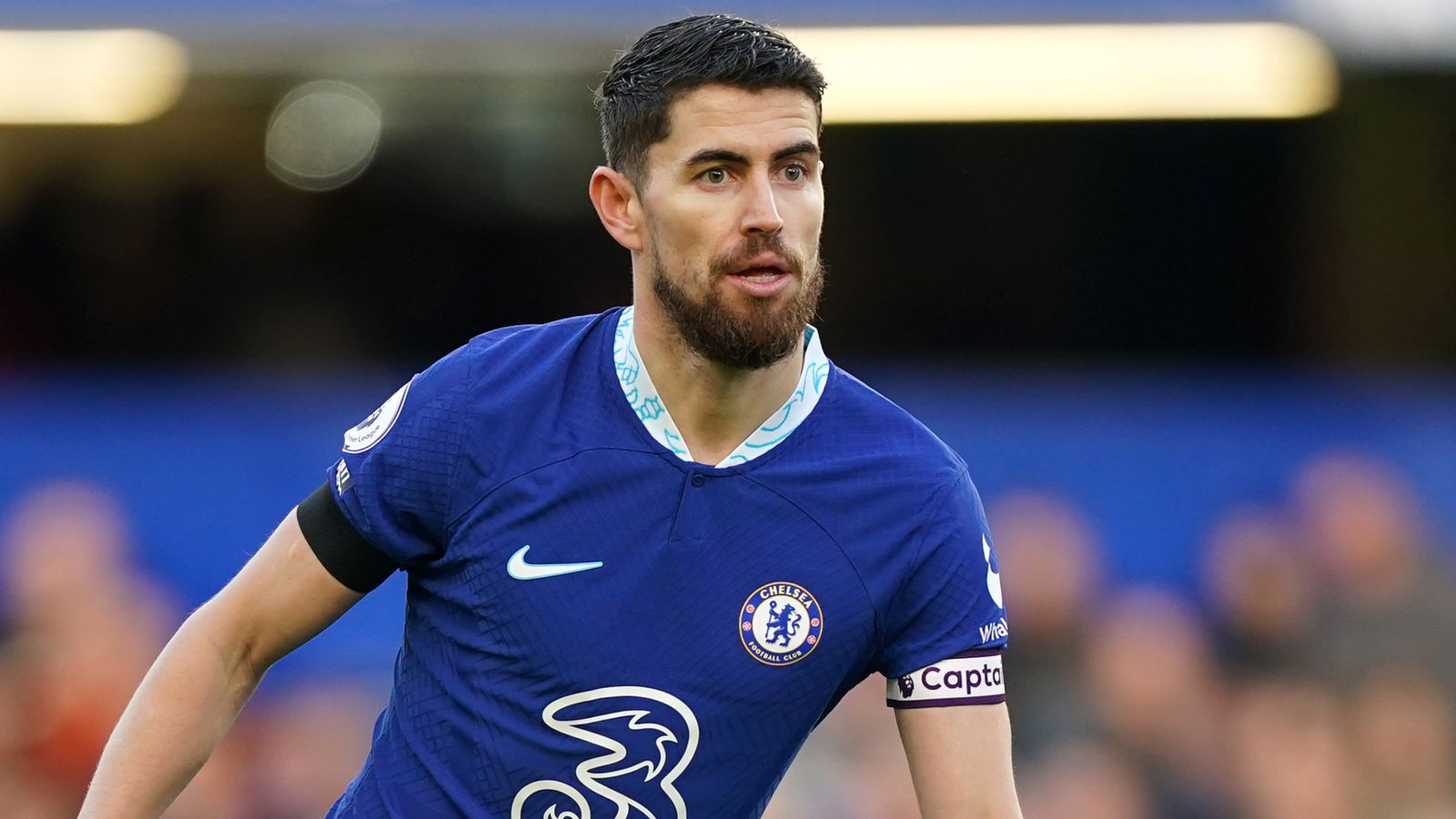 Jorginho: Arsenal close to agreeing deal for Chelsea midfielder and remain ready to do deal for Brighton's Moises Caicedo
Arsenal closing in on a deal to bring in Jorginho from Chelsea; Gunners are still prepared to do a deal for Brighton's Moises Caicedo if the Seagulls change their "not for sale" stance; Mikel Arteta wants new midfielder on Deadline Day; Mohamed Elneny has suffered "significant" knee injury
Arsenal are close to agreeing a £12m deal with Chelsea for midfielder Jorginho.
The 31-year-old midfielder is expected to sign an 18-month contract, with an option to extend for a further year.
The Italian is into the final six months of his Chelsea contract and the Blues are trying to land a British record transfer for Benfica central midfielder Enzo Fernandez.
Arsenal have seen two bids for Brighton's Moises Caicedo rejected, with the second one amounting to £70m, and remain keen on the Ecuador international and ready to do a deal, should the South Coast side change their stance.
Under Mikel Arteta, Arsenal tried to sign Jorginho in the summer of 2020, the year before the midfielder won the Champions League and European Championships with Italy.
Arteta was also the assistant coach at Manchester City when they tried to sign him in 2018 - but Jorginho turned down the move to join Maurizio Sarri instead at Chelsea from Napoli.
Arsenal are short on options in midfield and revealed on Deadline Day that Egypt international Mohamed Elneny has suffered a "significant" knee injury.
A club statement read: "Following an injury sustained in a recent training session, subsequent assessments have confirmed that Mohamed Elneny has a significant injury to his right knee.
"Mo has had successful surgery in London and will be ruled out for an extended period of time. A more detailed timescale will be established once the early stages of rehabilitation have been completed.
"Everyone at the club will be offering Mo all the support he needs and working hard with him so he can return to action as soon as possible.
"Arsenal have gone for [Moises] Caicedo, but maybe they cannot get that done from Brighton, so they have gone for Jorginho, who is an interesting one. I can totally understand it, but I was listening to people talk about it today, and he is not the sort of style for Arsenal's play, which is so quick, fast and energetic now and he is the opposite of that and I get that argument.
"But I also think that with maybe 10 games to go in the season, when they might actually need cool heads, when there is a pressure moment and the nerves are coming on in that title run in with seven or eight games to go, he may actually be a really good signing in terms of slowing things down with a cool head. He is a player that has won the Champions League, he has won a European Championship in the last few years, so he is a top player, there is no doubt about that, but he is a different style of player.
"But I am not saying that is for Arsenal week in, week out forever, but I think that could be a big help for them towards the end of the season as they get nervous."
We've been here before with Arsenal looking to sign Jorginho on Deadline Day. Rewind to October 2020 when Mikel Arteta first tried to tempt the Italian to make the switch across London.
"People may be surprised, when you look at the profile of players Arsenal had been signing, but Mikel Arteta had made the point on the day they signed Leandro Trossard that they need players who are fit and ready to go straight off in the Premier League. That's what Jorginho is.
"Arsenal are short in the midfield area. Mohamed Elneny is out and there was no commitment from Arteta when he might be back. We know Thomas Partey picked up that injury in the cup and he's gone for an MRI on his ribs. So the squad is looking thin there.
"Europe is about to re-start and they'll be going Thursday-Sunday-Thursday-Sunday and they want somebody else in.
"Moises Caicedo is the man who's been attracting a lot of attention from Chelsea and Arsenal, who have made two bids. Brighton are saying he's not for sale.
"Had Arsenal not been in this position in the league, chasing their first title in almost two decades, would Arsenal and Arteta move in this way? But it makes it an interesting Deadline Day."
One of the most important factors behind Arsenal's success this season is that they have been able to keep Thomas Partey fit. The Ghanaian was sorely missed during his periods on the sidelines last term and Arsenal's record with and without him proves it.
In fact, factor in the current campaign as well and Arsenal's win rate stands at 74 per cent in the Premier League games he has started compared to just 50 per cent in the ones he has missed.
The gulf in quality between him and his deputies, Mohamed Elneny and Albert Sambi Lokonga, is simply too large and the Egyptian's injury exposes Arsenal's lack of depth even more glaringly.
Waiting until the summer, when the club hope to recruit Declan Rice from West Ham, is now even riskier than it was and that means action is required before the end of January window.
Arsenal's schedule has been relatively kind since Christmas, but it ramps up with a run of four Premier League games in 14 days at the start of February, and that's followed by the resumption of their Europa League campaign in March.
Partey's load will need to be managed in order to minimise the risk of injury and that will only be possible if Mikel Arteta is granted his wish for a viable alternative in the 29-year-old's position.
Arsenal's recruitment in recent years has centred on the long-term but right now, top of the Premier League and with the added burden of European commitments to come, a short-term solution is needed.