TMQ: Fan attendance at Connecticut Ice tournament, voting Boston University as nation's top team, predicting NCAA tournament dark horses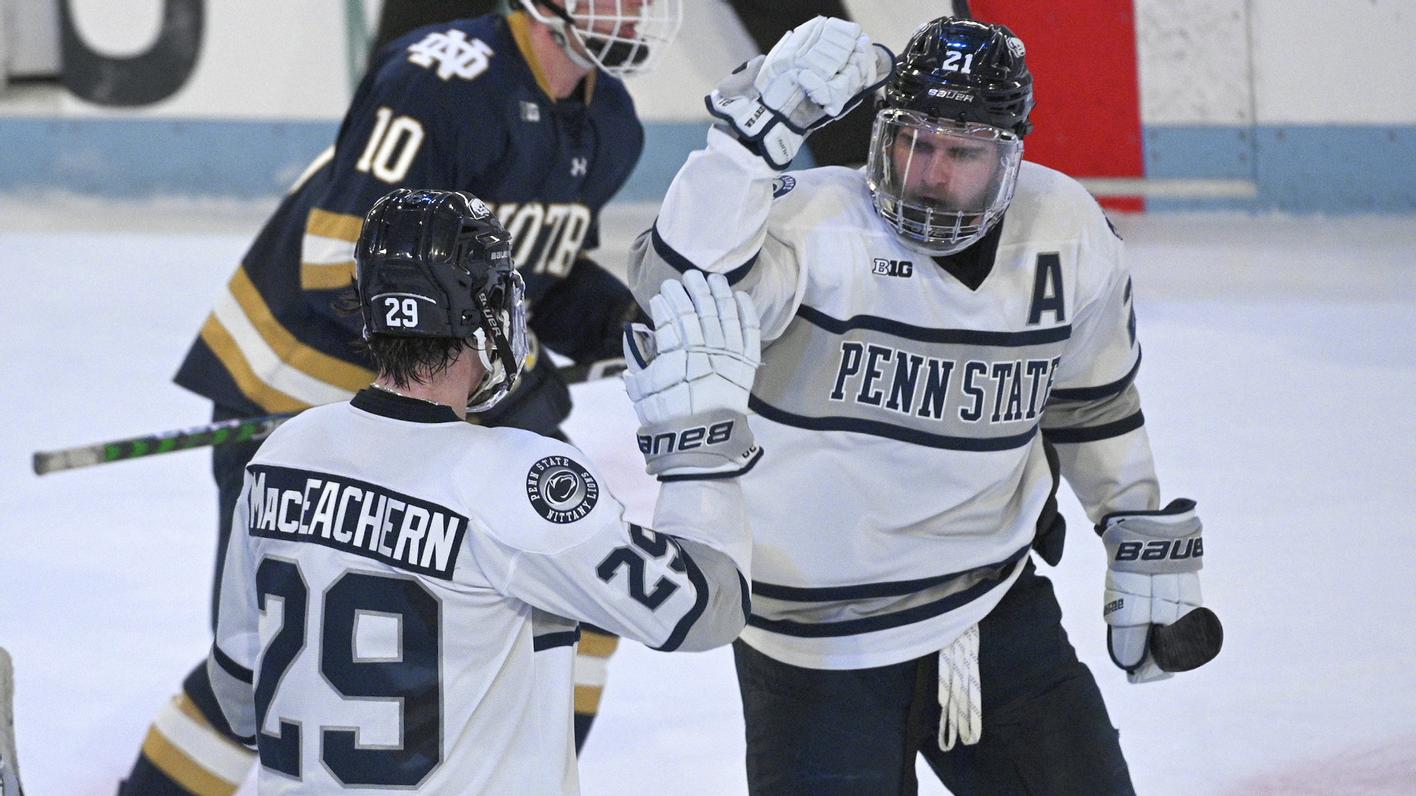 We use cookies to personalise content and ads, to provide social media features and to analyse our traffic. We also share information about your use of our site with our social media, advertising and analytics partners.
TMQ: Fan attendance at Connecticut Ice tournament, voting Boston University as nation's...
TMQ: Fan attendance at Connecticut Ice tournament, voting Boston University as nation's top team, predicting NCAA tournament dark horses
Each week during the season, we look at the big events and big games around Division I men's college hockey in Tuesday Morning Quarterback.
Dan: Happy Tuesday, everyone! I don't know if everywhere feels like Massachusetts, but I woke up this morning to spring skies and a 50-degree warmth that sent me right to the driving range with a group of trusty clubs. The good news? It felt like early March. The bad news? My mid-iron swing is as bad as ever.
Speaking of March, though, this past weekend felt like an early preview of some postseason action when a number of conference rivalries renewed their acquaintances. As things typically happen in college hockey, the chaos started there, and we open this week with Minnesota back in the No. 1 national ranking after St. Cloud pratfalled in Duluth.
Jimmy – you and I actually called this one in our weekly USCHO Edge podcast when we said Minnesota-Duluth, for reasons we couldn't pinpoint, would beat the Huskies, straight up. The Bulldogs did better than that with their sweep, and after a weekend in which I think I picked every winner, that series really set the tone for A LOT of unpacking we really need to do around the weekend, don't you think?
Jim: Aside from St. Cloud, the top of the poll impressed me. Minnesota handled Michigan State without a problem. Boston University swept their rival, Boston College, 6-3 and 3-1. And Quinnipiac was impressive enough to find a way to win the Connecticut Ice Tournament.
The Bobcats Saturday win in the title game over UConn was impressive, coming back from 3-2 down through two to find a game winner late in regulation.
The Connecticut Ice tournament is curious to me. Obviously it imitates the Beanpot, though is played on consecutive nights as opposed to over two weeks. But according to reports I read on social media, I felt like the spirit of the event might have been lost by what seems like a maneuver by this year's host, Quinnipiac, which reportedly tried to keep other team's fans out of the arena to skew the home-ice advantage. If this event hopes to become a sustainable event, you need a constant flow of fans from all of the schools to have an ability to attend, no matter the venue
In my opinion, it makes sense to move this event into a neutral site – either the XL Center in Hartford or the pro building in Bridgeport where Sacred Heart used to play – seems sensible.
What makes the Beanpot so sustainable (next Monday will be the 70th edition) is the support it's gets from all four fan bases. The first night of the event is considered a true social event and that's something the Connecticut Ice tournament could achieve IF tickets are easily attainable by all four fan bases
Dan: As someone who grew up in and around Boston, I realize it's sacrilegious to say what I'm about to say, but for a number of years and a number of reasons, I always called the Beanpot the most overrated tournament of the year. I specifically remember how ECAC had to schedule around Harvard, which meant a certain number of teams couldn't play the Crimson in February because of the travel component, and it drove me insane that people got hung up by a tournament that had been won by Boston University on an annual basis. Boston College's rise tilted some of that, but the lack of championships surrounding Northeastern and Harvard made the tournament, to me, an overrated, nostalgic piece of an outdated era.
That was me in a younger era, but my hunt to prove my line of thinking back then got me squarely fixated on Connecticut as an alternative state for New England college hockey. I always thought the idea of a Connecticut-style Beanpot – much like the Connecticut lobster roll – was tailor made for the college hockey fan. The four teams each had their own tradition – even Sacred Heart, which played at the Milford Ice Pavilion in those days – and I felt like there was a real opportunity to showcase the state's hockey tradition.
I had several conversations with Sacred Heart coach CJ Marottolo about the old days in and around the cities of the state, and the way he talked about the youth hockey culture made me wonder aloud if we were overlooking the state a little too much.
It felt natural that the Connecticut Ice could succeed, but you bring up a good point that, frankly, Quinnipiac should be skewered over. Tournaments are only as good as the buy-in, and if Quinnipiac wanted to make it a four-team invitational to its home building, it should have invited the teams for a travel weekend somewhere along the way. The tournament could have just been scheduled as non-conference games and not a special event because the UConn fan base deserved better than what it received, based on the reports trickling out of Hamden.
You think about what the state has to offer – Yale is one of the oldest programs in the country, Quinnipiac is a consistent powerhouse, UConn is a rising power in Hockey East, and Sacred Heart has the newest, shiniest building in college hockey. Instead of celebrating state culture, we were treated to a bunch of Quinnipiac home games. Cool.
The reason there's even an argument over the Beanpot is because people care way too much about it. For what it's worth, I've come back around on the tournament, and as someone who revisited his personal roots over the past 10 years, I've come to realize how much I love the neighborhood feel. The Nutmeggers deserve better.
Speaking of the Beanpot, you mentioned BU's sweep from this past weekend and how the Terriers took six points from Boston College. I think BU is arguably the best team in the country right now, and it feels like the Beanpot is coming at a unique time for Jay Pandolfo's first year at the helm.
Much of our attention is rightfully sent out west to Denver, Minnesota, St. Cloud and the like, but where do you stand on Pandolfo's first year, and should we talking more and more about how we could be barreling towards the restoration of the original New England powerhouse?
Jim: Before I move past the Connecticut Ice, I want to go back to your comment. You talked about "what the state has to offer." Well, really, it still isn't much. None of the programs – even Yale – has some massive established blue blood tradition in college hockey. The Bulldogs won an incredible national title in 2013. Otherwise, Connecticut is still pretty much a newbie in the sport.
Don't act like one if you want to be established. Bush League moves like keeping opposing fans out of a tournament is just stupid and childish. This event needs to be above it if it wants to succeed.
You asked about Boston University, and I'll admit I was one of seven voters to give them my first-place vote. The Terriers have been consistent of late (eight straight wins and a 13-2-0 mark in their last 15). Goaltender Drew Commesso is suddenly playing his best hockey of the season and looks like an Olympic goaltender (interestingly his Canadian Olympic counterpart Devon Levi looks just as impressive for Northeastern). So barring any major injuries for the Terriers, I'd expect them to be the favorite heading into the Hockey East tournament.
That may be easier to pick than, say, Big Ten. Right now, it seems safe to slot Minnesota into the league's top spot and Wisconsin in the bottom. The other five slots are open. Given that, I feel like Minnesota is an easy pick for favorite, but do you have one or two dark horses in that tournament?
Dan: First, I also voted BU as the No. 1 team in the nation for the same reasons you mention above. But to answer the burning question of the week, I did not sing "Go BU" when I did it.
As for the second question, I think a dark horse is hard to predict because it's the team we can't see coming. It's too easy to look at a Penn State or a Michigan and expect a championship run, especially given the way that we've seen them both play this season. Michigan State is even a sexy choice in that regard because the Spartans have shown a propensity for picking off wins against teams like Penn State and Michigan.
So to go for a dark horse, I'm going to a team that I really don't think will win the Big Ten championship: Notre Dame. Listeners to our Edge podcast know I have no love for this year's Irish team, but that's exactly why I think they have some potential in there. Let's think back to a couple of weeks ago to when I said that Notre Dame felt like it couldn't win on Friday nights. You corrected me by pointing out how the Irish were something like 4-6 on Fridays and had actually played better than it felt. So when we broke it down, it showed how the numbers were there, even if the good feels weren't.
For that reason, I think we might see something out of Notre Dame. I think Wisconsin is better than advertised, but Notre Dame swept the Badgers and beat Penn State on a Friday two weeks ago. Few coaches are built for primetime like Jeff Jackson, so, yeah, I'd be hammering the Irish in those future bets right now.
Before we walk away this weekend, I want to throw it over to you. We've got about a month left. Is there a dark horse that we should be talking about in general, not just to win the league, but that could really ruin someone's tournament chances the rest of the way? We both predicted Minnesota Duluth to win last week's game over St. Cloud. Even if the team misses the tournament, if I'm a team angling for one of those final bubble spots in the Pairwise, which one really has to watch itself here in the last month?
Jim: Dark horses are difficult for me to predict as we all have different definitions. Are we talking about a team no one is thinking about reaching the Frozen Four (like RIT?) Are we looking for a team no one thinks can win their conference tournament (maybe Bowling Green). And are we maybe talking about a team way down the PairWise right now that can possibly win a national tournament?
I think both Harvard and Northeastern strangely each have certain components to win a national title (though both need to qualify). So if I had to look at a team that I almost guarantee will qualify and not enough people are talking about, I'm going with Penn State.
When the Nittany Lions were 50:1 to win the title, I was trying to tell friend to throw a few dollars on them as they felt like a great long shot. Now at 16:1, the value might not be there as much but if the goaltending and defense come together for Guy Gadowsky's team, they'll make a fun postseason run.