The sky is the limit for sci-tech research and high-end manufacturing in Hengqin: Guangdong CPPCC member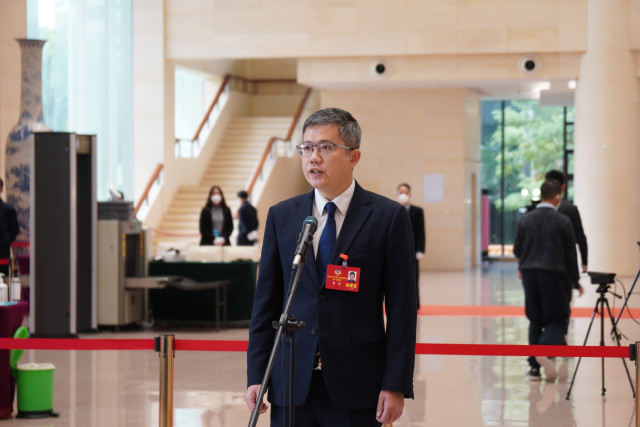 The sky is the limit for sci-tech research and high-end manufacturing in Hengqin: Guangdong CPPCC member
"The use of Hengqin's proprietary core technologies to promote the development of the manufacturing industry will benefit both the diversified growth of Macau's industries and Macau's integration into the overall national development," said Lei Zhen, a member of the 13th Guangdong Provincial Committee of the Chinese People's Political Consultative Conference (CPPCC) as well as CEO of Zhuhai Nanometals Technology, when talking to GDToday during the 2023 Two Sessions of Guangdong.
As the CEO of a new material company settled in Guangdong-Macao In-depth Cooperation Zone in Hengqin, Lei Zhen thinks highly of the development of sci-tech research and high-end manufacturing in Hengqin, which are also two of the area's four major industries.
"Hengqin's strongest advantage lies in its preferential policies. As an in-depth cooperation zone, Hengqin benefits from the 'One Country, Two Systems', as it has gathered the merits of both the Chinese mainland and Macau's institutional systems. Hengqin can utilize Macau's advantages in international platforms and capital, and the mainland's advantages in policies, as well as industrial and supply chains", said Lei Zhen.
Nanometals Technology has realized the industrialization of proprietary core material technologies and applied them to the downstream manufacturing industry. Lei Zhen hopes the core materials made in Hengqin can help China upgrade its manufacturing development in the future.
As the border reopens between Chinese mainland, Hong Kong, and Macau, Lei believes that the increasingly convenient nature of personnel and capital exchanges will promote the economic development of Hengqin, and provide Macao residents with a broader development space.
More than 10 percent of Japanese youngsters who acquired acute brain syndrome after contracting COVID-19...
Israel and the United Arab Emirates on Sunday signed a customs agreement, Israeli officials said,...
French Prime Minister Elisabeth Borne told AFP Sunday she would meet opposition leaders early next...