Shanahan-McDaniel history; Sam Darnold's moment? Schrager's Cheat Sheet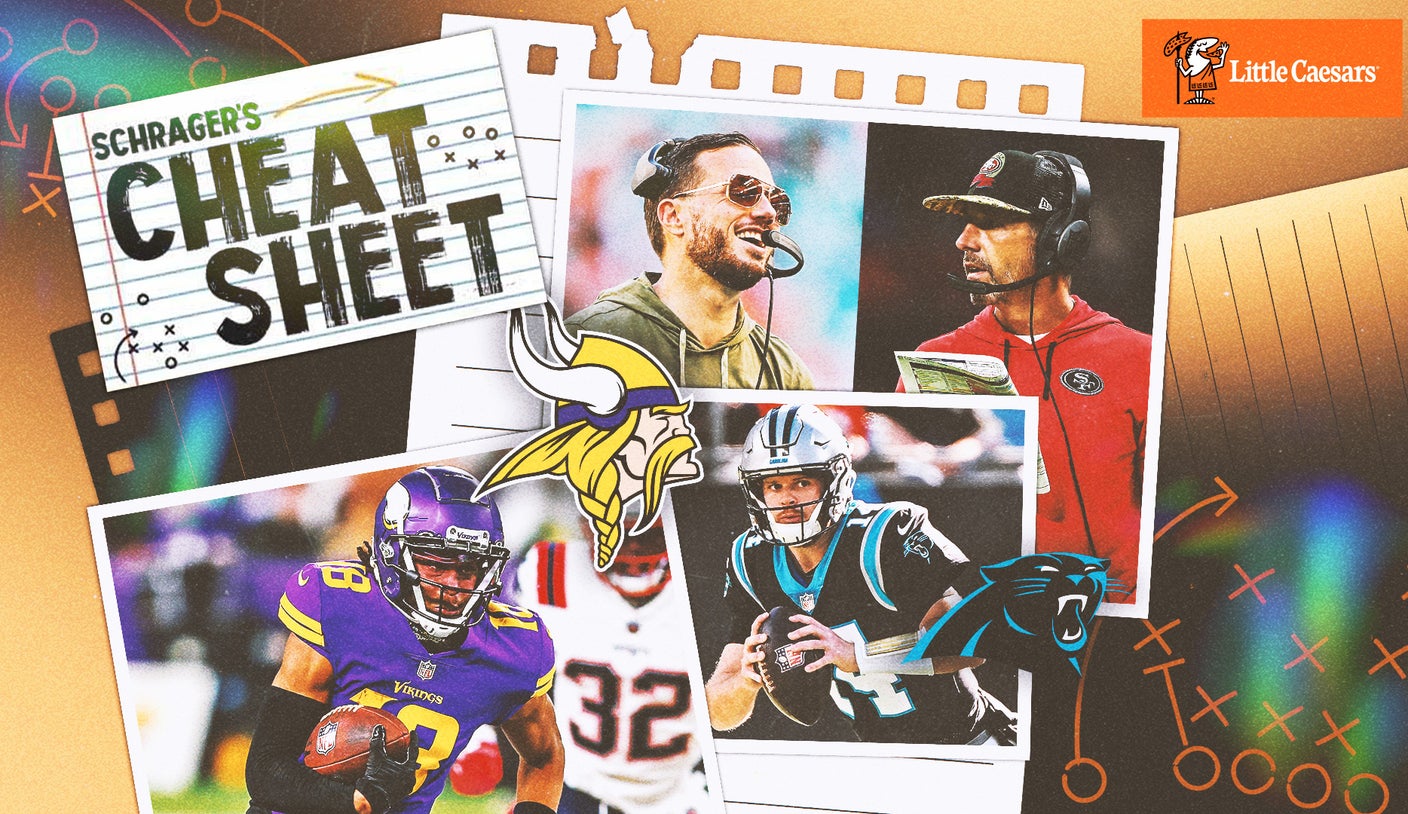 Shanahan-McDaniel history; Sam Darnold's moment? Schrager's Cheat Sheet
The Mike McDaniel-Kyle Shanahan connection dwarfs any McVay-LaFleur, any LaFleur-Shanahan and any Shanahan-LaFleur relationship in sheer years having worked together. McDaniel, who I think still is the favorite for NFL Coach of the Year, spent 14 years working under Kyle Shanahan in some capacity, and those jobs ranged from the early years in Houston, to the Shanahan years in Washington, to Cleveland, to the Falcons' Super Bowl run in Atlanta — and to five seasons as the No. 2 on an offense that saw a myriad of quarterbacks, running backs and wide receivers come and go. It also saw two NFC Championship Game appearances and a Super Bowl. 
McDaniel's roots to the Shanahan family go even deeper, as he famously grew up a die-hard Broncos fan, attended training camps as a kid and was a Denver ball boy when Mike Shanahan was the coach. 
When McDaniel got the Dolphins job, he quickly assembled his staff. He brought in John Embree, Kyle Shanahan's recently let-go tight ends coach and former assistant head coach in San Francisco, as an initial hire. Wes Welker, the wide receivers coach in San Francisco and a former Dolphin, came too. I remember speaking to McDaniel as he was assembling his staff, and it was a delicate dance of going with the guys he knew, keeping some holdovers from the previous regime and not frustrating Kyle too much by raiding what his former boss had worked so hard to build up. He also tapped into former 49ers players like Mike Person, who'd help the offensive line in an assistant role. Aldrick Robinson, who played in Shanahan/McDaniel offenses in Washington, Atlanta and San Francisco, was hired as an assistant, too. 
Kyle Shanahan and Mike McDaniel have coached just about everywhere together, and have done so in a variety of capacities. After 14 years as a tandem, they'll finally go against each other as opponents on Sunday. But it's not one on one. McDaniel's got a whole crew of ex-49ers coming with him. 
Ok, ok. I'll calm down. But the truth is we can look at this in one of two ways. 1) A free agent at the end of the 2022 campaign, the weight of the world and his future career reputation and earnings depend on these next four games. 2) A free agent at the end of the 2022 campaign, there's absolutely nothing to lose and a good stretch can lead him to a QB1 role somewhere. 
I'm excited for Darnold's final month of the season. And I don't care if I'm the only one. 
Michael Carter is currently battling an ankle injury, meaning we can get even more Bam on Sunday versus Minnesota. It's not often a playoff caliber team gets a spark from a rookie in Week 12. Here we are. 
I went to pick up my six-year-old son at his school in Brooklyn, NY and saw him and his five friends all doing the Griddy down an entire New York City sidewalk. He's got the game, the look, the dance. In a game littered with stars, Jefferson may very well be the most popular player. I'll be honest. I may have underestimated just how great a connection Jefferson has with America's youth. 
In advance of Sunday's 49ers-Dolphins game, this one comes from the fine folks at NFL Research. The all-time single-season leaders in passer rating on third down:
3. Kurt Warner (1999): 137.3 And yes, Young and Warner won both the regular season and Super Bowl MVPs those seasons. 
Peter Schrager is an NFL writer for FOX Sports and a host of "Good Morning Football" on NFL Network. You can follow him on Twitter at