Cherokee nation pushes for delegate in Congress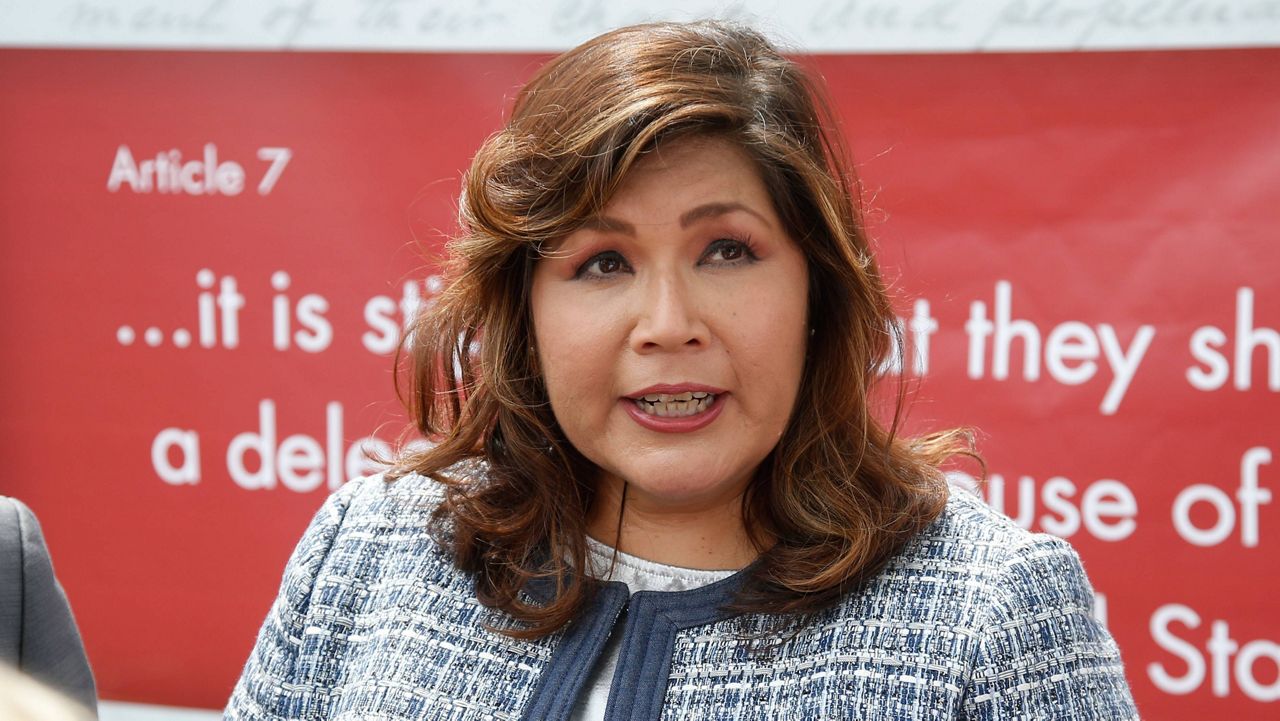 Get the best experience and stay connected to your community with our Spectrum News app. Learn More
Kimberly Teehee speaks during a news conference after it was announced that she is being nominated by Cherokee National Principal Chief Chuck Hoskin Jr. as a delegate to the U.S. House, in Tahlequah, Okla., Thursday, Aug. 22, 2019. (AP Photo/Sue Ogrocki)
The Cherokee Nation wants the federal government to honor a promise it made nearly 200 years ago in the 1835 Treaty of New Echota, which promised a Congressional delegate. 
The treaty, which was signed by a group of people claiming to represent the Cherokee Nation, cleared the way for the forced removal of the Cherokee People from their ancestral land east of the Mississippi to Oklahoma, known as the Trail of Tears.
In return, the treaty stipulated that the Cherokee "shall be entitled to a delegate in the House of Representatives of the United States whenever Congress shall make provision for the same." In 2019, Chuck Hoskin Jr., the principal chief of the Cherokee Nation, nominated Kimberly Teehee, who served as senior policy adviser for Native American affairs in the Obama administration.
"The right thing is to keep a promise to the Cherokee Nation," Hoskin said.
Lawmakers have not seated Teehee yet. Complicating matters is a disagreement: another Cherokee tribe, the Eastern Band of Cherokee Indians in North Carolina, said that it should also have a delegate.
"There's no one delegate that can speak to all of the issues that pertain to each of the Cherokee tribes," said Richard Sneed, who leads the Eastern Band of the Cherokee Indians, a separate tribe in North Carolina.
The Eastern Band — along with the third federally recogized Cherokee Tribe — The United Keetoowah Band said each should have their non-voting delegate, but they are open to just one if all three tribes have a voice. 
"When the treaty of New Echota was drafted and signed ... it was Cherokee 'nation' lowercased, and there was only one Cherokee people. There is only one Cherokee people. It is only as a direct result of federal imposition, the federal government imposing its will on the Cherokee tribes and all other tribal nations, that we now find ourselves with three unique governments," said Sneed.
"This was a claim between the United States and the Cherokee Nation. This wasn't a treaty between anyone else," Hoskin said. 
"It's complicated," said Julie Reed, an associate professor of history at Penn State University and a member of the Cherokee Nation. "We're going to have to parse out the language of treaties and how Cherokees are referred to in treaties."
Until that happens, it could make seating one delegate, let alone three, a difficult task in Congress.