Michigan's main task: Ignore the drama, upgrade recruiting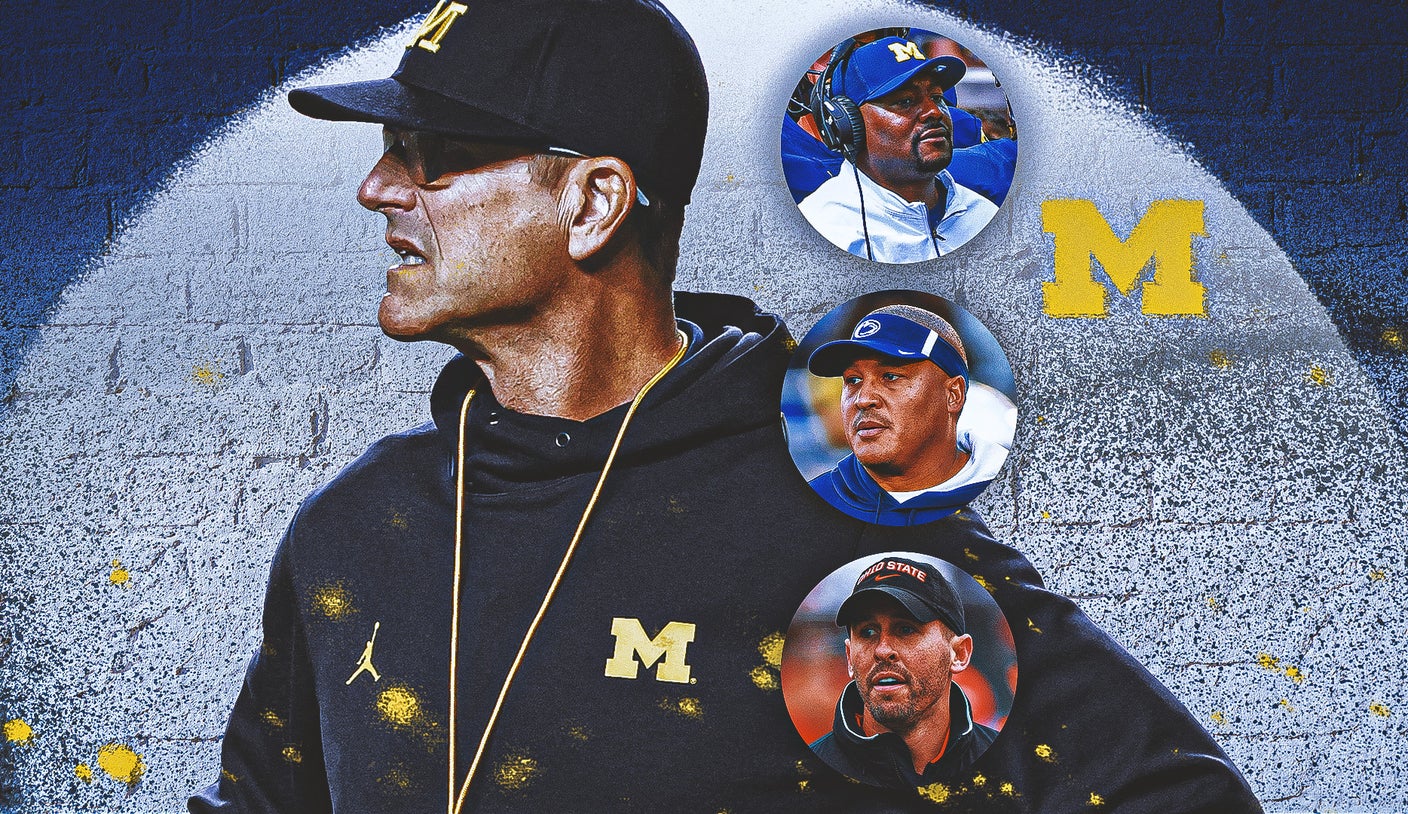 The latest flare-up involved the dismissal of co-offensive coordinator/quarterbacks coach Matt Weiss, another import from John Harbaugh's ensemble with the Baltimore Ravens and the subject of an ongoing police investigation into alleged "computer access crimes" at Schembechler Hall, the football team's epicenter on campus. Weiss was initially placed on leave as news of his entanglement surfaced earlier this month, and the athletic department's decision to terminate him on Jan. 20 meant Harbaugh needed to replace a critical member of the staff.
"Kirk is a bright, young offensive mind that immediately meshed with our coaching staff last year," Harbaugh said in a news release. "Our offensive staff was really impressed with his knowledge and expertise of the entire offense, and he was integral to the success of the offense with game planning and opponent scouting. Kirk does an outstanding job developing relationships and I know he will have an outstanding rapport with our quarterbacks."
How well and how quickly he meshes with star quarterback J.J. McCarthy will be scrutinized in the months to come, but the more pressing responsibility facing Harbaugh's newest position coach is to establish himself on the recruiting trail, something Campbell has never done at the Power 5 level. The Wolverines are among the finalists for quarterback Jadyn Davis of Providence Day School in Charlotte, North Carolina, a five-star prospect in the class of 2024, and have tailored their recruiting strategy to demonstrate he's the primary target. Now it falls on Campbell to heal the wounds opened by Weiss' unexpected departure and fast-track his relationship with a player Michigan hopes will be the high-profile heir to McCarthy's literal and metaphorical fortunes in Ann Arbor.
"I enjoy my relationship with Coach Harbaugh and our staff," Campbell said in the release, "and I look forward to working with them as we develop, mentor and coach great players. My family and I love everything about this university and football program, especially the people that I get to work with daily. I look forward to helping Team 144 reach new heights in 2023."
To reach those heights, Campbell is tasked with recruiting at a much higher level than his predecessor. The 247Sports Recruiter Rankings track the performance of assistant coaches based on the caliber of players they secure, and data from the last two seasons suggests the lack of an elite performer on Harbaugh's staff, especially compared to other blue-blood programs.
In 2022, the Wolverines signed the nation's 12th-best recruiting class after flipping several highly rated prospects in and around the early signing period. But none of Michigan's assistant coaches finished among the top 25 recruiters in the country that year, nor did they land among the top five recruiters in the Big Ten. Former offensive coordinator Josh Gattis, who won the Broyles Award before accepting a job at Miami, ranked 28th nationally and sixth in the conference to become the highest-ranking member of Harbaugh's staff. Defensive line coach Mike Elston, who remains with the Wolverines, was the next-best finisher at No. 36 overall and seventh in the Big Ten.
The current rankings are even worse. None of Michigan's coaches rank among the top 50 for 2023 — Elston tops the list at No. 58 — and the Wolverines soldier on without a commitment or signing from any player ranked among the top 170 prospects. 
Those numbers present a stark contrast to what's happening at Ohio State and Penn State, where the same pair of assistants from each school have ranked among the nation's best recruiters during Michigan's two-year, on-field revival: Brian Hartline (OC/WRs) and Larry Johnson (DL) for the Buckeyes; Ja'Juan Seider (Co-OC/RBs) and Terry Smith (CBs) for the Nittany Lions.
Larry Johnson: Arguably the best defensive line coach in college football, Johnson has mentored five Big Ten Defensive Linemen of the Year and two Big Ten Defensive Players of the Year since joining the Buckeyes in 2014. The four prospects Johnson secured in 2022 had an average rating of 88th overall as he cracked the top 10 nationally in assistant coach rankings and finished No. 1 in the conference. He's signed four more four-star prospects in 2023 and ranks inside the top 20 for the third consecutive season.
At Michigan, things will be different for Campbell given the uniqueness and specificity of the position he's recruiting. Not only do most quarterbacks coaches focus on a smaller number of prospects in each cycle, but they must also pursue those players under the brightest spotlights with the proliferation of high-profile recruiting events like Elite 11. Inevitably, a portion of each pursuit unfolds in the public eye.
So while there's little dispute over Weiss' importance to the Michigan offense the last two seasons — from molding veteran Cade McNamara into a championship quarterback to accentuating McCarthy's dual-threat ability; from installing aspects of the Ravens' rushing attack to infusing the coaching staff's approach with advanced metrics — the recruiting front was hardly his strong suit after more than a decade in the NFL. His reserved and pensive demeanor added a complicating layer to relationship building.
"One thing I've learned is there's a lot of the relationship element to it, right?" Weiss said last August. "If an NFL free agent signed with a team and went to the press conference and said, 'You know, I'm just here because I love this position coach. I mean, this guy, we have a great relationship. We're up playing "Fortnite" every day at 2 in the morning, and this guy is just awesome. And that's why I'm here.' Everybody would be like, 'Wow, what's wrong with this guy?'
"But in college, that's kind of what happens. It's not the only thing that [decisions] are based on, but it matters. So I'm learning that, figuring out how to do that. I'm certainly not playing 'Fortnite' with anyone at 2 in the morning, but just like I tell the recruits, the guy who is playing video games with you at 11 o'clock at night or whatever, that's what he's going to be doing when he should be trying to help you become a better player and should be game planning and figuring out ways to make the offense go. He's going to be playing 'Fortnite' with some 16-year-old [kid]." 
That's the kind of pressure Campbell now inherits. Time will tell if he can deliver. 
Michael Cohen covers college football and basketball for FOX Sports with an emphasis on the Big Ten. Follow him on Twitter