World's oldest person on the keys to longevity: 'stay away from toxic people'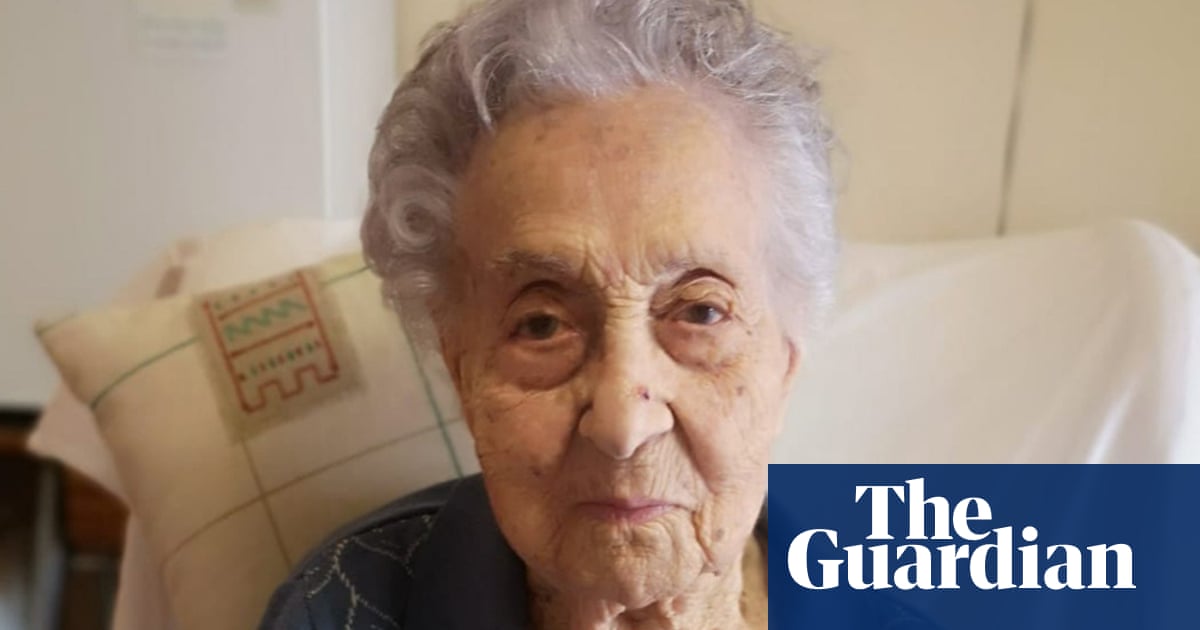 World's oldest person on the keys to longevity: 'stay away from toxic people'
María Branyas Morera, born in 1907, now in Guinness record books after death of Lucille Randon, 118, in French town of Toulon
María Branyas Morera has lived through two world wars, the Spanish civil war, the 1918 flu pandemic and Covid.
Branyas, 115, became the eldest known person alive after the death of 118-year-old Lucille Randon, the Guinness world records website confirmed last week. Randon died at her nursing home in the French town of Toulon on 17 January.
"Order, tranquility, good connection with family and friends, contact with nature, emotional stability, no worries, no regrets, lots of positivity and staying away from toxic people" is what Branyas credits with her longevity, according to the Guinness site.
"I think longevity is also about being lucky," Branyas said, Guinness officials added. "Luck and good genetics."
Branyas was born in San Francisco on 4 March 1907, a year after her parents moved from Spain to the US. Over the next eight years, the family moved to Texas and New Orleans, where her father founded the Spanish-language magazine Mercurio, before they returned to Spain and settled in Catalonia.
Ever since, Branyas has endured defining moments on scales large and small.
Her father died from pulmonary tuberculosis on the ocean journey from the US to Spain. The route was circuitous because the first world war made passage treacherous, so the ship had to go via Cuba and the Azores, Branyas once recalled.
In 1918, the Spanish flu pandemic began sweeping the world. Then, when Branyas was 29, the Spanish civil war broke out, leaving her with what she has previously summarized as "very bad memories". The second world war followed soon after.
Branyas started a family with her husband, a Catalan doctor named Joan Moret, which has given her three children, 11 grandchildren and 13 great-grandchildren.
On the couple's wedding day, after hours of waiting for him, they learned that their priest had unexpectedly died. There was no telephone at the church to call for another chaplain, so the family had to get in a car and search for another one.
Branyas has embraced advances in technology since then, embracing social media and digital communications in particular. Branyas uses a voice-to-text device and Twitter to stay in touch with her loved ones.
"Life is not eternal for anyone," she tweeted on New Year's Day. "At my age, a new year is a gift, a humble celebration, a beautiful journey, a moment of happiness.
Branyas's nursing home, Residència Santa María del Tura, issued a statement saying they would recognize her becoming the world's oldest living person in a private event.
"She is in good health and continues to be surprised and grateful for the attention that this … has generated," the home said.