Why the Godfather of Human Rights Is Not Welcome at Harvard | The Nation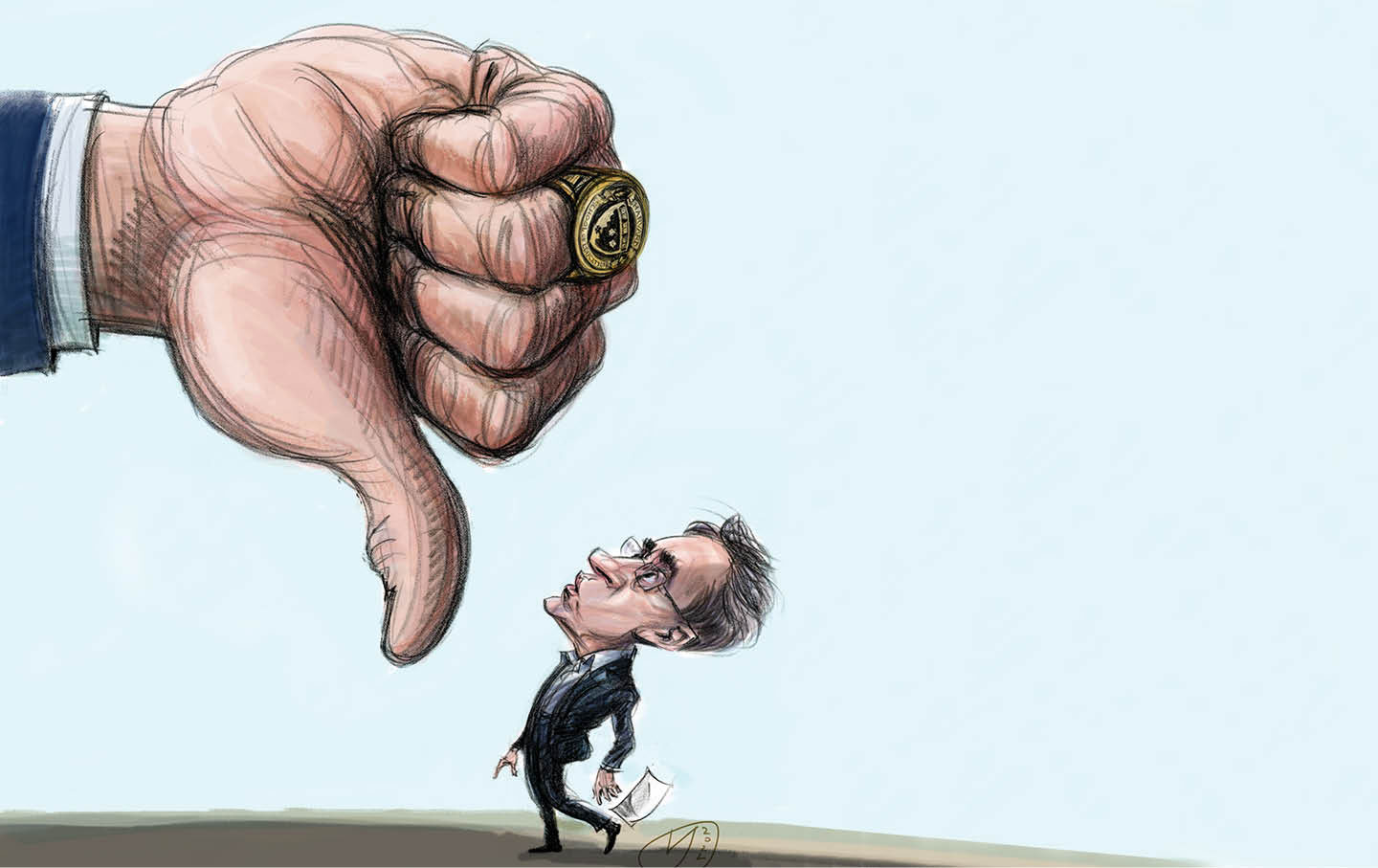 Kenneth Roth, who ran Human Rights Watch for 29 years, was denied a fellowship at the Kennedy School. The reason? Israel.
Roth had been involved with the Carr Center since its founding in 1999. In 2004, he participated in a debate before 300 people with Michael Ignatieff, then its director, over whether the US invasion of Iraq qualified as a humanitarian intervention (Ignatieff said it did; Roth said it didn't). The debate was moderated by Samantha Power, one of the center's founders.
Two weeks later, however, Elmendorf informed the Carr Center that Roth's fellowship would not be approved.
Roth rejects such claims. Most people knowledgeable about Israel, he says, understand that NGO Monitor "is a profoundly biased source" that "has never found a criticism of Israel's human rights record to be valid." Roth thinks that Steinberg was "particularly incensed that I dared to criticize Israel even though I am Jewish and was drawn to the human rights cause by my father's experience living in Nazi Germany." His father escaped to New York in 1938 when he was 12, and Roth grew up hearing many "Hitler stories."
In his recurring broadsides against HRW, Steinberg almost never mentions the organization's frequent reports and statements about . In a 2018 report titled "Two Authorities, One Way, Zero Dissent," for instance, HRW asserted that "in the 25 years since Palestinians gained a degree of self-rule over the West Bank and the Gaza Strip, their authorities have established machineries of repression to crush dissent, including through the use of torture." Based on , among others, the report listed 86 cases that together showed that "Palestinian authorities routinely arrest people whose peaceful speech displeases them and torture those in their custody." The arrests "constitute serious violations of international human rights law," and the torture "may amount to a crime against humanity, given its systematic practice over many years." The report's author was Omar Shakir.
In short, under Roth, Human Rights Watch held the Palestinian authorities to the same standard that it applied to Israel and many other governments. Roth made this point in his July 12 conversation with Elmendorf. During it, Roth recalls, the dean said that he was going to start vetting fellowships more closely and asked Roth whether he had any enemies. "That's what I do," Roth told him. "I make enemies."
"But I knew what he was driving at," Roth says of his exchange with Elmendorf. "It's always Israel."
In response to a request for comment, James F. Smith, a Kennedy School spokesman, wrote, "We have internal procedures in place to consider fellowships and other appointments, and we do not discuss our deliberations about individuals who may be under consideration." To this day, Elmendorf has given no indication of who may have objected to Roth's presence at the school.
For all the differences between Chelsea Manning and Kenneth Roth—the former a leaker and whistleblower convicted of having violated the Espionage Act, the latter a leading human rights advocate—they suffered similar fates, and together they suggest a fundamental reality about the Kennedy School: the dominant presence of the US national security community and its close ally Israel.
The Carr Center, with an eight-person staff and 32 fellows, is among the smallest and poorest of the school's subdivisions. Its survival from year to year is precarious, as its mission of promoting human rights and exposing government abuses often sits uncomfortably with the institutes that deal with defense policy, military strategy, and intelligence gathering.
Allison, who remains a strong presence at the school, has served on the boards of Natixis, Loomis Sayles, and the Hansberger Group (all engaged in investment and wealth management); Taubman Centers (mall developers); Chase Bank; Chemical Bank; the International Energy Corporation; and Getty Oil. He also served on the Defense Policy Board under every secretary of defense from Caspar Weinberger to John Mattis; was a special adviser to the secretary of defense from 1985 to 1987; and was assistant secretary of defense for policy and plans from 1993 to 1994. Reflecting his résumé, Allison helped make the Belfer Center a virtual arm of the military-intelligence complex.
Every year, the project hosts more than a dozen "rising intelligence stars" from around the world as part of a fellowship program conceived by David Petraeus, the retired four-star Army general who served as CIA director from September 2011 to November 2012. As CIA director, Petraeus . For support, he approached Thomas Kaplan, a superrich metals speculator, art collector, and foreign policy adventurer, and persuaded him to fund a fellowship for clandestine intelligence officers. Together, they reached out to their friend Graham Allison, who promptly offered to house it at the Belfer Center.
Golden devotes a chapter of the book to the Kennedy School. Once known "as the refuge of out-of-office politicians," he observes, the school "now swarms with former intelligence brass." Golden writes that the school discourages the CIA from active recruiting on campus, but a look at the Belfer Center's calendar shows that such recruiting in fact now takes place openly. On October 25, for instance, the center hosted a session on "Careers in the U.S. Intelligence Community," with former and current intelligence practitioners sharing their experiences with Harvard students.
Through his donations to the Kennedy School, Belfer got to know Graham Allison. Allison helped build the Belfer Center, and Belfer in turn arranged for Allison to join the board of Belco. (In 1999, Allison bought 39,000 shares of Belco stock; in 2000, the company announced two stock buybacks, which nearly doubled its stock price. A request to Allison for comment went unanswered.)
After a dizzying rise that saw Enron's stock hit $90 a share in the summer of 2000, the company imploded in 2001 amid revelations of fraudulent accounting and insider trading. By the time it declared bankruptcy in December 2001, its shares were trading for pennies, and the Belfers' stake—almost $2 billion a year earlier—had virtually vanished. As a board member who stood by while the company collapsed, Robert Belfer faced the wrath of thousands of shareholders whose investments were wiped out. But the Belfers retained sizable holdings in real estate as well as control of Belco Oil, and in August 2001 that company merged with Westport Resources in a transaction valued at around $866 million.
So despite Enron's collapse, Robert Belfer remained very rich—and philanthropic. In addition to the Kennedy School, he and his wife, Renée, have given to an array of cultural institutions, medical research centers, private schools, universities, and Jewish and Israeli institutions. In a 2006 interview with the US Holocaust Museum, Belfer observed that most of his extended family (including his paternal grandparents) perished in World War II—a loss that gave him "a sense of identity" of "being Jewish, of being very supportive of Israel."
The Kennedy School dean cannot afford to lose the confidence of this board; nor can he afford to alienate the US national security community, with which the school has such close ties. The Carr Center itself is enmeshed in the US foreign policy establishment: Samantha Power has served on the National Security Council and as US ambassador to the United Nations, and she currently heads the US Agency for International Development.
In 2018, the Kennedy School opened a renovated campus, made possible by a capital campaign that raised more than $700 million. Anchoring it were three buildings bearing the names Ofer, Rubenstein, and Wexner. "We shape our buildings, and afterwards our buildings shape us," Dean Elmendorf said at the ribbon-cutting ceremony, adding that "our buildings are the structural framework for our lives here. Here important ideas will be born and nurtured. Generations of students will learn from world-class scholars and practitioners."
In Elmendorf's view, Kenneth Roth had no place among those scholars and practitioners. The school could accommodate a former CIA director who leaked classified information and a former senior CIA official who apologized for torture—but not the person who led Human Rights Watch for three decades.
"The Kennedy School lost out by not having him with us," Kathryn Sikkink says. The Carr Center's research "would have benefited from his perspective." The same is true of its students, she added, many of whom "would give an eyetooth to get a job there."
After being vetoed by Harvard, Roth accepted . "It's crazy," he says of his Kennedy School encounter. "You have this human rights center. Who is better qualified than me?" As for Doug Elmendorf, Roth adds, "He has no backbone whatsoever."