Sci-tech products shine in Mianyang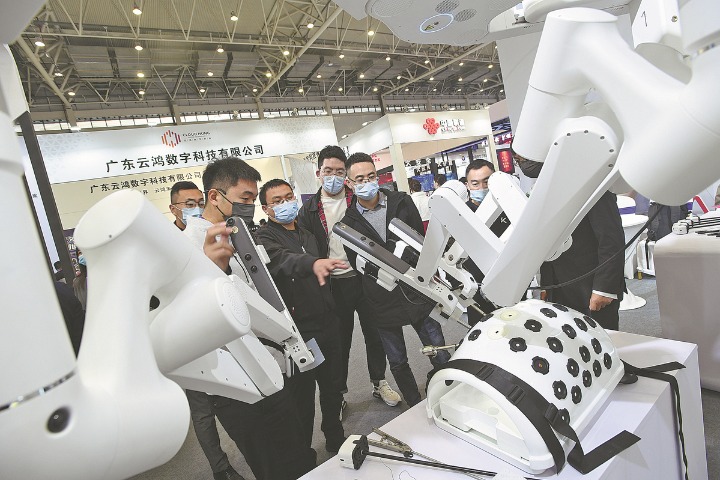 By HUANG ZHILING in Mianyang, Sichuan | China Daily | Updated: 2022-11-18 09:32
Visitors to the 10th China (Mianyang) Science and Technology City International High-Tech Expo in Mianyang, Sichuan province, are impressed with China's independently developed high-precision scientific and technological innovation achievements like the TP500 large unmanned transport aircraft, suborbital launch vehicles and medical cyclotrons.
These are some of the 4,150 state-of-the-art technological products being showcased by 428 firms in the four-day expo which started on Wednesday.
Co-sponsored by the Ministry of Science and Technology and the Sichuan provincial government, the expo was first held in 2013 and has a total exhibition area of 30,000 square meters. In addition, it has resorted to 3D dynamic technology to establish a virtual cloud pavilion, displaying 1,320 scientific and technological innovation achievements of 377 enterprises, said Liang Lei, executive vice-mayor of Mianyang.
Representatives from 15 Argentinian enterprises are attending the expo, with Argentina as the chosen national guest of honor.
The Argentine business delegation is displaying advanced achievements in the fields of electronic information, green energy, communications, aerospace industry, biotechnology and pharmaceuticals, and is hoping to take this opportunity to explore cooperation and business opportunities in China.
This year, Argentina officially joined the Belt and Road Initiative and relations between China and Argentina have entered a new stage of development. Participating in the expo has injected new vigor into the development of cooperative relations between the two countries, Argentine Ambassador to China Sabino Vaca Narvaja said.
Mianyang, the second-largest city in Sichuan, has been China's key science and technology hub since it was approved by the central authorities in the year 2000.
Mianyang's reputation as a leader in science and technology has grown in recent years, while the city's involvement in the sector actually dates back decades.
It is home to many key research institutes and enterprises with national defense contracts, such as the China Academy of Engineering Physics.
Many of Mianyang's research institutes and enterprises were set up during the Third Front Movement, a major industrial program launched in 13 inland provinces and autonomous regions in 1964.
Thanks to development during the Third Front Movement, Mianyang was ideally placed to lead the charge in the integration of civil and military industries when the country launched reform and opening-up in the late 1970s.
Sichuan Jiuzhou Electric Group, established in 1958, developed China's secondary surveillance radar system, a tool for detecting and measuring the position of aircraft. Now it makes a variety of commercial products such as broadband network devices and digital television equipment.
Copyright 1995 - . All rights reserved. The content (including but not limited to text, photo, multimedia information, etc) published in this site belongs to China Daily Information Co (CDIC). Without written authorization from CDIC, such content shall not be republished or used in any form. Note: Browsers with 1024*768 or higher resolution are suggested for this site.