End of an era: The world's oldest cruise ship is finally heading to the scrapper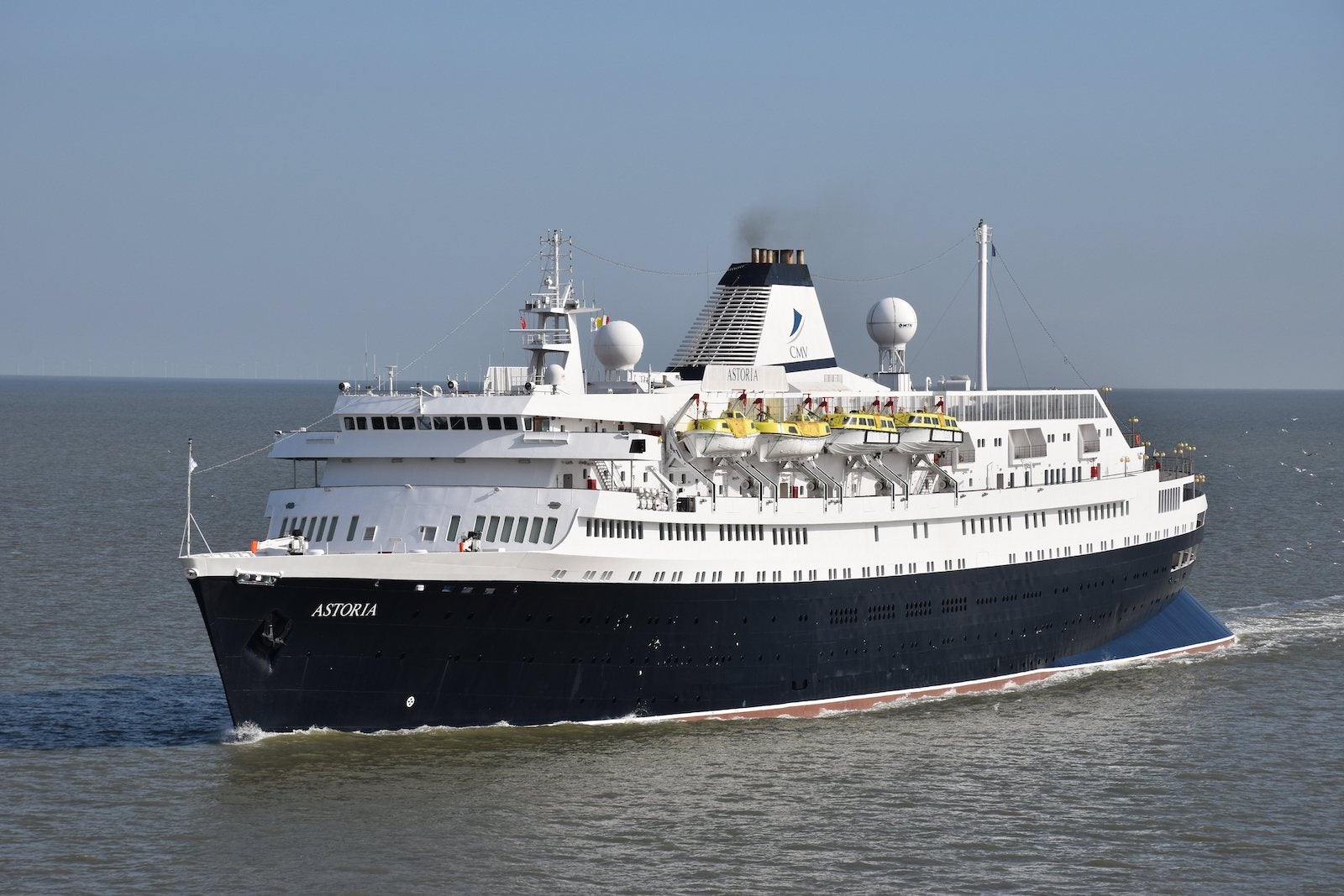 End of an era: The world's oldest cruise ship is finally heading to the scrapper
has written about cruising for more than 25 years and for many years oversaw USA Today's award-winning cruise site. He's sailed on more than 150 ships.
End of an era: The world's oldest cruise ship is finally heading to the scrapper
This post contains references to products from one or more of our advertisers. We may receive compensation when you click on links to those products. Terms apply to the offers listed on this page. For an explanation of our Advertising Policy, visit
this page
.
The Astoria was built just 36 years after the sinking of the Titantic, when ocean liners still ruled long-distance travel. And, in its early days, it crisscrossed the Atlantic on a regular schedule along with such iconic vessels as the SS United States, Cunard's Queen Elizabeth and the SS Andrea Doria.
But that was just a teaser for the improbably long and eventful career that was to come for the vessel, originally known as the Stockholm.
Sailing the world's oceans since 1948, the 556-passenger ocean liner has had a second — and a third and a fourth — life as a cruise vessel, playing a role in the development of the modern age of cruising from the 1960s to the present day. For many years, it has been the longest-serving cruise vessel at sea.
Alas, that long career is finally coming to an end, according to a shipping news outlet.
For more cruise news, guides and tips, sign up for TPG's cruise newsletter.
After three-quarters of a century, the famous and at times infamous story of the Astoria will finally come to a close in the coming months at a scrapyard, shipping news publication TradeWinds reported Tuesday.
The shipping site said the 16,144-ton vessel had been sold for recycling at an as-yet-unknown scrapyard.
As TradeWinds noted, the ship was ordered way back in 1944, even as World War II still raged, by the Swedish American Line — a company that offered regular passenger service between Sweden and New York City. It was built specifically for transatlantic travel, with an ice-strengthened bow that could deflect the icebergs that used to be more common in the North Atlantic.
Notably, it was one of the first new passenger ships put into service after World War II, sailing its first voyage in February 1948.
Still, it wasn't until eight years later, in 1956, that the vessel, then still known as the Stockholm, became a household name.
That was the year it collided with the 3-year-old Andrea Doria, the most iconic Italian ocean liner of the time. The accident took place off the coast of Nantucket, Massachusetts, as the two vessels steamed in opposite directions in foggy conditions.
Both ships suffered significant damage. The Andrea Doria eventually rolled over and sank, and 51 passengers and crew members from both vessels were killed — one of the worst maritime disasters since the sinking of the Titanic.
The accident resulted in one of the most unusual survival stories in the history of passenger shipping.
A 14-year-old girl, Linda Morgan, who was sleeping in her bed on the Andrea Doria at the time of the accident, was somehow ejected out of her ripped-open cabin and thrown onto the deck of the Stockholm, where she was found by a crew member. A sister sleeping in an adjoining bed was killed, as was the girl's stepfather in an adjacent room. She became known as the "miracle girl."
Soon after the accident, after repairs, the vessel began its second life as a cruise ship — and an unusual one at that. The vessel was transferred in 1960 to the East German government to serve as a cruise vessel for East Germans under the new name Volkerfreundschaft.
It was transferred several more times between various cruise companies, and renamed many times, too, over the ensuing 63 years. Along the way, its interiors were completely rebuilt to make it more suitable for modern-day cruising.
It has sailed under the name Astoria since 2016 for British line Cruise & Maritime Voyages, which shut down during the COVID-19 pandemic.
TradeWinds reported that cryptocurrency billionaire Brock Pierce acquired the vessel in 2021 with the intention of using it as a cruise ship but has since dropped the idea. TPG was unable to reach Pierce for confirmation.
For a cruise ship to remain in service for 75 years is extremely rare. Most modern-day cruise ships are designed for a life of 30 years, and they sometimes are retired and scrapped even earlier than that. During the COVID-19 pandemic, a large number of cruise vessels just 20 to 30 years old were permanently removed from service.
Editorial disclaimer: Opinions expressed here are the author's alone, not those of any bank, credit card issuer, airline or hotel chain, and have not been reviewed, approved or otherwise endorsed by any of these entities.
Our points-obsessed staff uses a plethora of credit cards on a daily basis. If anyone on our team wouldn't recommend it to a friend or a family member, we wouldn't recommend it on The Points Guy either. Our opinions are our own, and have not been reviewed, approved, or endorsed by our advertising partners.
Earn 90,000 bonus miles after you spend $4,000 in purchases on your new Card in your first 6 months.
Credit ranges are a variation of FICO© Score 8, one of many types of credit scores lenders may use when considering your credit card application.
Build your loyalty to Delta by applying for the carrier's mid-tier card option, the Delta SkyMiles Platinum card. The annual fee is quickly recouped by the card's travel perks, such as an application credit to Global Entry or TSA Precheck, annual companion certificate and so much more. Plus you can fast-track to elite status simply through card spend.