Mississippi Job Extravaganza . . . An Inclusive Business Learning Experience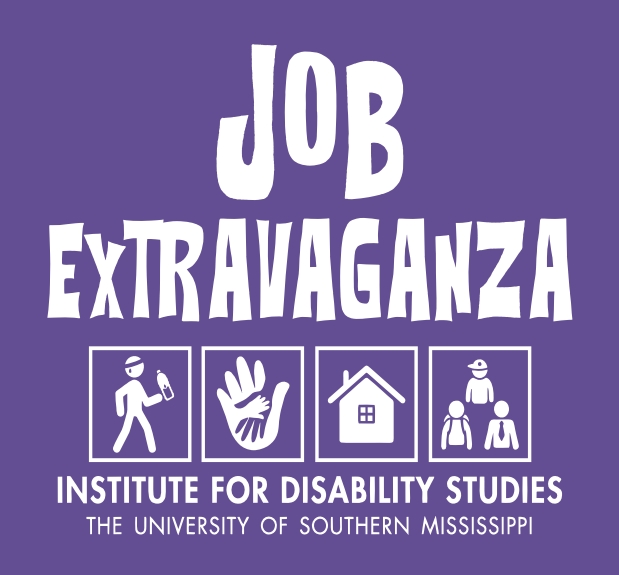 Mississippi Job Extravaganza . . . An Inclusive Business Learning Experience
Teenager and young adults with disabilities were provided a hands-on learning experience during the inaugural Mississippi Job Extravaganza held last November on the Gulf Coast.
Students age 14-21 participated in a fun-filled and educational event with the primary purpose of providing an inclusive business learning experience. The Extravaganza, jointly provided by the Institute for Disability Studies at The University of Southern Mississippi (USM) and the Mississippi Department of Rehabilitation Services, consisted of local businesses providing hands-on skill experiences for high school students with disabilities. 
The ultimate goal of Job Extravaganza is to provide an environment in which students can freely explore a variety of careers  at their own pace and hopefully discover career options that best fit their preferences, strengths, and interests.  
One high school special education teacher noted, "This gave our students an opportunity to take time to learn from and talk to business owners in a relaxed setting. The businesses took time with them, and it boosted their confidence in exploring future careers.  In the past, when we have taken them to job fairs, they are normally intimidated to talk to the employers, but not today. This was like a personal job fair just for them." 
Dr. Jerry R. Alliston, Associate Director of the Institute for Disability Studies, noted the support the students received throughout the event . . . "students were provided peer mentors that assisted them in participating with at least 10 business experiences.  Students then attended a networking lunch with their mentors and ended the day with interactive trainings on dressing for success and job interviewing provided by our staff."
The students were all smiles and appeared to gain confidence as they visited each workstation where they had the opportunity to demonstrate their skills and learning new ones. The hands-on business experiences gave students exposure to new skills, potential employment, and possibly career options. 
For example, Rosalie Station Car Wash & Detail Center gave students the opportunity to hand wash and wax a truck. Alliston's Screen Printing, Embroidery & Awards provided all materials for students to make an actual trophy and an award medallion. Wild Acres provided hands-on time with reptiles and a lesson in creating specialized meals.
Additional businesses participating in Job Extravaganza included Triton Systems, Salvation Army Family Store, Sunshine Nutrition, Institute for Disability Studies, The University of Southern Mississippi Gulf Coast Library, Fantasy Games, the Coffee Box, Southern Bagel Company and 34th Street Wholistic Gardens.
The Job Extravaganza event was co-led by Beth Robertson, IDS Transition Coordinator, and Michett Ramos, Family Wellness Support Specialist, who provided oversight for all event activities. 
Regarding the event, Beth Robertson explained, "Because of the variety of work industries represented and the carefully selected hands-on tasks prepared by each business, the students were able to engage in personal and meaningful ways, leaving a lasting impact on their lives. Students are still talking about the event and teachers are leading class discussions on all the students learned and of careers they dream of pursuing.  We hope to offer more of these events in the future and as a result see many more students with disabilities have the opportunity to explore potential career paths." 
Job Extravaganza is provided through the Institute for Disability Studies at The University of Southern Mississippi, Mississippi's University Center for Excellence in Developmental Disabilities, and is funded by the Mississippi Department of Rehabilitation Services.
For over 40 years, IDS has maintained its mission to positively affect the lives of Mississippi citizens with developmental and other disabilities and their families across the lifespan and to work toward increasing their independence, productivity, and community inclusion. IDS concentrates its work in three emphasis areas: Community Living, Education and Capacity Building and Family Engagement.