Jeff Beck: British guitar legend dies aged 78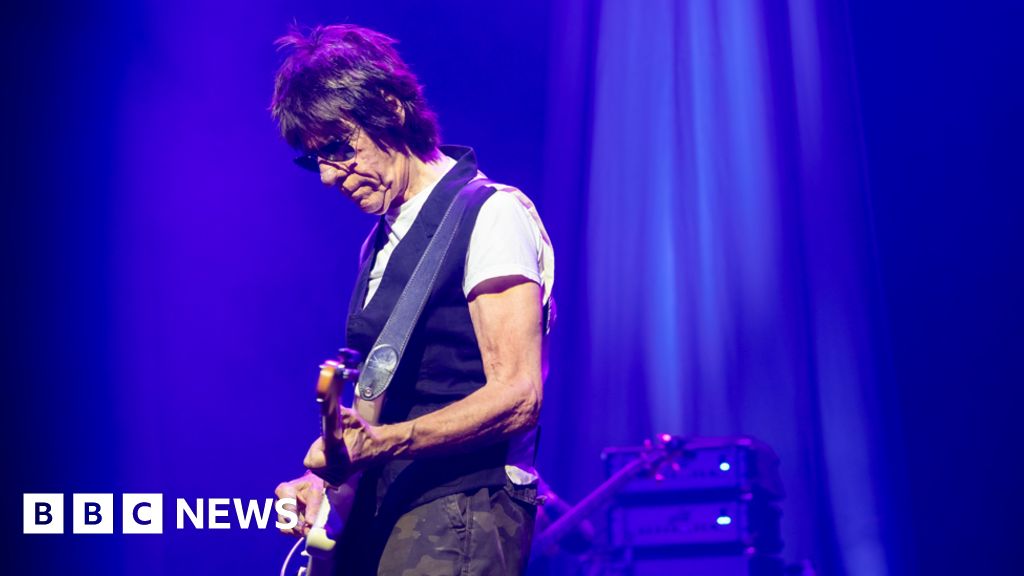 Jeff Beck, one of the most influential rock guitarists of all time, has died at the age of 78.
The British musician rose to fame as part of the Yardbirds, where he replaced Eric Clapton, before forming the Jeff Beck Group with Rod Stewart.
His tone, presence and, above all, volume redefined guitar music in the 1960s, and influenced movements like heavy metal, jazz-rock and even punk.
"On behalf of his family, it is with deep and profound sadness that we share the news of Jeff Beck's passing," the statement said.
"After suddenly contracting bacterial meningitis, he peacefully passed away yesterday. His family ask for privacy while they process this tremendous loss."
Describing his playing style in 2009, Beck said: "I play the way I do because it allows me to come up with the sickest sounds possible."
"In fact, if I don't break the rules at least 10 times in every song, then I'm not doing my job properly."
Born Geoffrey Arnold Beck in Wallington, south London, the musician fell in love with Rock and Roll as a child, and built his first guitar as a teenager.
"The guy next door said, 'I'll build you a solid body guitar for five pounds'," he later told Rock Cellar Magazine. "Five pounds, which to me was 500 back then [so] I went ahead and did it [myself].
"The first one I built was in 1956, because Elvis was out, and everything that you heard about pop music was guitar. And then I got fascinated. I'm sure the same goes for lots of people."
After a short stint at Wimbledon Art College, he left to play with shock-rocker Screaming Lord Sutch and the Tridents.
When Eric Clapton left the Yardbirds in 1965, Jimmy Page suggested hiring Beck - and he went on to play on hits like I'm A Man and Shapes Of Things, where his pioneering use of feedback influenced musicians like Paul McCartney and Jimi Hendrix.
"That [technique] came as an accident," he later told BBC Radio 2's Johnnie Walker.
"We played larger venues, around about '64-'65, and the PA was inadequate. So we cranked up the level and then found out that feedback would happen.
"I started using it because it was controllable - you could play tunes with it. I did this once at Staines Town Hall with the Yardbirds and afterwards, this guy says, 'You know that funny noise that wasn't supposed to be there? I'd keep that in if I were you.'
The guitarist stayed with The Yardbirds for nearly two years, before declaring he was quitting music altogether... then releasing his first solo single Hi Ho Silver Lining.
Recorded in just three hours, the song was his only top 20 hit in the UK, charting in both 1967 and 1972. But the singer was famously ambivalent about it.
He was persuaded to record the song by producer Mickie Most who, Beck said, "wasn't the slightest bit interested in recording my sort of music".
"I couldn't say to him, 'Look, you don't know what's going on,' because he had 20,000 gold disks on the wall saying 'I do know what's going on'," he told Rolling Stone magazine in 1971. "So for a couple of years I wasted my career doing junk tunes."
When he left the studio after cutting the track, the receptionist was already singing it. "That," he said, "was when I knew it was a disaster".
He went to describe the song as a "pink toilet seat around my neck", but eventually made his peace with it, even performing it on Jools Holland's TV show in 2015.
After that brief brush with fame, he formed the Jeff Beck Group, whose first two albums Truth (1968) and Beck-Ola (1969), took a ferocious approach to the blues that laid the groundwork for heavy metal.
But the band were unhappy - with a US tour regularly descending into arguments and physical fights.
Singer Rod Stewart and bassist Ronnie Wood quit in 1970 to join the Small Faces (later The Faces), and when Beck was injured in a car accident, he had to put his career on hold.
When he recovered, Beck assembled a second line-up of his band but their albums were commercially unsuccessful and Beck went solo in 1975.
That year, he recorded an album, Blow By Blow, with Beatles producer George Martin. Entirely instrumental, Beck's lyrical, mellifluous guitar playing essentially replaced the parts of a lead vocalist, an approach he would take for most of the rest of his career.
Blow By Blow made the US top 10 and was awarded a platinum disc, and Beck quickly followed it up with 1976's Wired (also produced by George Martin) and the 1977 concert album Jeff Beck With The Jan Hammer Group Live.
After the tour documented on the album, the musician retired to his estate outside of London and remained quiet for three years.
"The pitch I play at is so intense that I just can't do it every night," he later explained.
The 1980s saw him collaborate with Nile Rodgers on an album called Flash, which contained his first US hit single - a cover of Curtis Mayfield's People Get Ready with Rod Stewart on lead vocals - and earned him a Grammy Award.
In 1987, he played on Mick Jagger's solo album Primitive Cool, and continued to work with artists like Roger Waters and Jon Bon Jovi in the 1990s, as well as contributing to Hans Zimmer's score for the Tom Cruise movie Days Of Thunder.
But his solo output slowed down, until the release of 1999's You Had It Coming, featuring Imogen Heap on vocals, followed in 2003 by an album he simply called Jeff.
Around this time, he started incorporating more electronic and hip-hop elements to his music; culminating in his fourth Grammy victory for the tempestuous, shape-shifting instrumental Plan B.
He toured extensively in the 2010s, including a joint-headline venture with Beach Boy Brian Wilson.
The duo had hoped to record together but those plans fell apart. Instead, Beck ended up befriending actor Johnny Depp, with whom he released a full-length album, 18, in 2022.
Beck was inducted into the Rock and Roll Hall of Fame twice, in 1992 as a member of the Yardbirds, then as a solo artist in 2009.
His legacy lies in the balance between the fluidity and aggression of his playing, a technical brilliance equalled only by his love of ear-crunching dissonance.
"It's like he's saying, 'I'm Jeff Beck. I'm right here. And you can't ignore me'," wrote Mike Campbell of the Heartbreakers in an essay for Rolling Stone's Greatest Guitar Players of All Time, where Beck placed seventh.
"Even in the Yardbirds, he had a tone that was melodic but in-your-face - bright, urgent and edgy, but sweet at the same time. You could tell he was a serious player, and he was going for it. He was not holding back."
"He'd just keep getting better and better," Led Zeppelin's Jimmy Page once recalled. "And he leaves us, mere mortals".