Christine McVie, Fleetwood Mac singer-songwriter, dies aged 79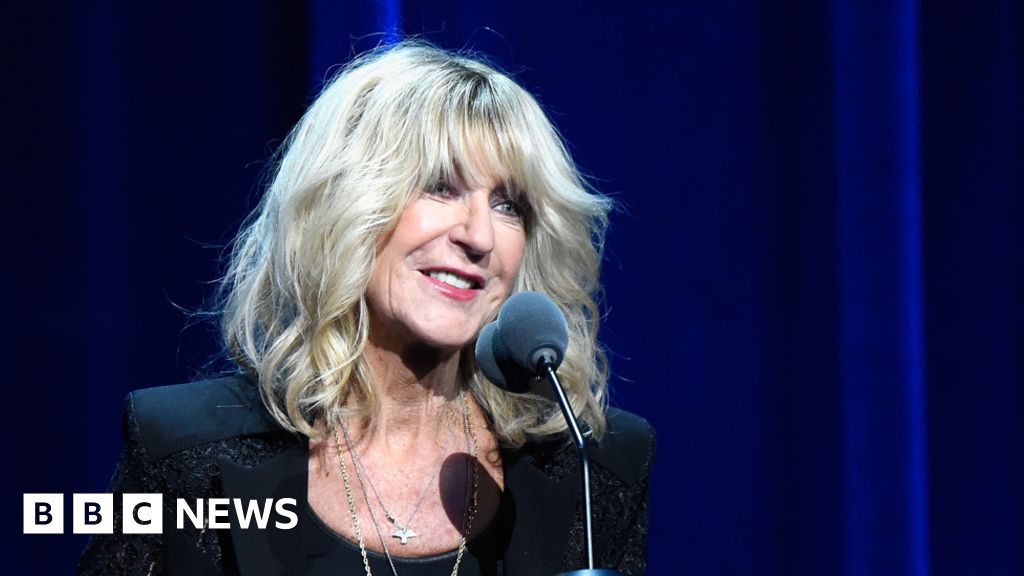 Christine McVie, who played with Fleetwood Mac and wrote some of their most famous songs, has died aged 79, her family has said.
The British singer-songwriter was behind hits including Little Lies, Everywhere, Don't Stop, Say You Love Me and Songbird.
She died peacefully at a hospital in the company of her family, a statement said.
The family's statement said "we would like everyone to keep Christine in their hearts and remember the life of an incredible human being, and revered musician who was loved universally".
Born Christine Perfect, McVie married Fleetwood Mac bassist John McVie, and joined the group at the start of the 1970s.
Fleetwood Mac became one of the world's best known rock bands in the 1970s and '80s.
Their 1977 album Rumours - inspired by the break-ups of the McVies and the band's other couple, Lindsey Buckingham and Stevie Nicks - became one of the biggest selling of all time, with more than 40 million copies sold worldwide.
McVie was one of eight members of the band inducted into the Rock 'n' Roll Hall of Fame in 1998.
In the same year, after the success of their live album The Dance, she retired to Kent, saying a fear of flying meant she was leaving the band.
But she rediscovered her love of performing at a one-off appearance with the group at London's O2 arena in 2013 and returned to them a year later.
"It was amazing, like I'd never left. I climbed back on there again and there they were, the same old faces on stage," she told the Guardian newspaper at the time.
In 2017 she told BBC Radio 4's Desert Island Discs programme that she had developed agoraphobia after leaving the band.
A statement by the band said of McVie: "We were so lucky to have a life with her.
"Individually and together, we cherished Christine deeply and are thankful for the amazing memories we have. She will be so very missed."
In a post on Instagram, Stevie Nicks wrote: "A few hours ago I was told that my best friend in the whole world since the first day of 1975, had passed away.
"I didn't even know she was ill... until late Saturday night. I wanted to be in London, I wanted to get to London - but we were told to wait.
"So, since Saturday, one song has been swirling around my head, over and over and over. I thought I might possibly get to sing it to her, and so, I'm singing it to her now.
"I always knew I would need these words one day... It's all I can do now."
In a tweet, band co-founder Mick Fleetwood wrote: "This is a day where my dear sweet friend Christine McVie has taken to flight... and left us earthbound folks to listen with bated breath to the sounds of that song bird... reminding one and all that love is all around us to reach for and touch in this precious life that is gifted to us.
"Part of my heart has flown away today...I will miss everything about you Christine McVie."
Harry Styles was among those paying tribute - sharing a black-and-white picture of McVie with emojis of a bird and a black heart.
Crowded House lead singer Neil Finn, who played with Fleetwood Mac in Lindsey Buckingham's place on their last tour in 2018, wrote: "She was a unique and soulful musician, supremely gifted songwriter and a warm and wonderful friend and I am so grateful to have shared some hours in her beautiful presence."
Singer Sheryl Crow said: "The world feels weird without her here. What a legend and an icon and an amazing human being"
Merck Mercuriadis, owner of the Hipgnosis Songs Fund which bought McVie's back catalogue, described her as "arguably the greatest female English songwriter of all time".
Speaking at the Mobo Awards in London, Mercuriadis said: "She had this ability with the melody, the emotion and the lyric to just change people's lives."
Former US President Bill Clinton tweeted: "Don't Stop was my '92 campaign theme song - it perfectly captured the mood of a nation eager for better days. I'm grateful to Christine & Fleetwood Mac for entrusting us with such a meaningful song. I will miss her."
BBC 6 Music breakfast presenter Lauren Laverne began her Thursday programme paying tribute to McVie who she said "left such an incredible musical legacy, and a wonderful story.
"A girl from Cumbria making it into the Rock & Roll Hall of Fame, absolutely amazing".
Listeners have been sharing their memories on the People's Playlist segment of the show.
Christine McVie was an essential member of the complicated cast of characters that made up one of the greatest bands ever.
She was deeply soulful as a singer. She could be both heartbreakingly delicate and a powerhouse as a keyboard player. But above all, she had the gift of writing beautiful, timeless pop songs.
Her melodic gift for a good chorus was among the best. She described herself as "the hook queen".
"I don't know how to write any other way," she said in a BBC documentary. "It just happens that way."
Her songs appear simple in their composition and sentiments - disarmingly direct and always sincere. Few people could have written and sung lyrics so seemingly soppy as "I love you, I love you, I love you like never before", as she did on the classic Songbird, and sounded like they meant them so deeply.
But her songs were never so straightforward that they were cliched. "That's the trick about writing a love song," she said. "You can't just go: 'I love you, you love me, where are you, I miss you.' There always has to be a bit of a twist."