The Scotland fans making their mark at the Qatar World Cup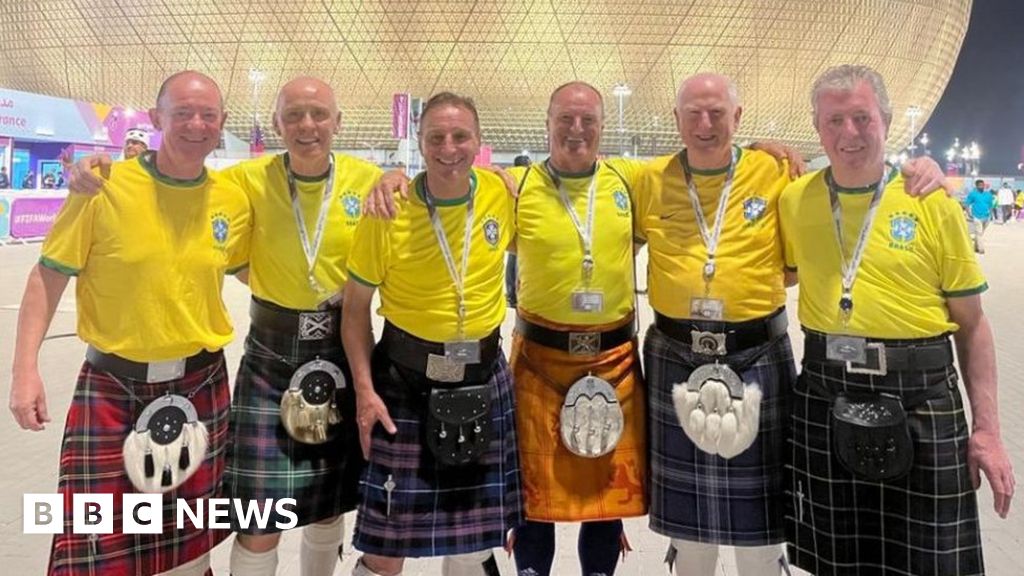 Most Scotland fans have been assuming a familiar position on the sofa for this year's World Cup, with the men's team once again absent from the finals.
The side may not have not qualified for the World Cup since 1998 but some members of the Tartan Army have still made the trip to Qatar to enjoy the football.
Despite logistical, financial and moral concerns, saltires and kilts have been spotted at the Fifa tournament.
Brian Hendry, from Aberdeen, is at his ninth men's World Cup since 1982, but has only seen Scotland play at four of them.
Brian is in Doha with a group of five friends, all in their 60s and originally from the Granite City.
"We're here just to watch football," he tells BBC Scotland. "Supporting France one day, Brazil the next, Mexico the next, America a few times.
Brian says he and his kilt-wearing friends have been mobbed at games by international fans who want a picture of Scotland's national dress.
"They love them," he says. "It's hundreds of photos at every game. Hundreds – and it's people from all nationalities."
Brian, a retired theatre worker, has primarily been backing the USA due to family ties in the country.
He says: "Scotland have been at the World Cup quite a few times but it doesn't matter if they're not.
"It makes it better if we're here but if they're not it's still great football."
Among those welcoming the travelling Tartan Army members is Zoe Clark, who moved to Doha from Aberdeen two years ago.
She lives there with her two sons and husband Michael, who runs Qatar's Scotland supporters club.
"For Scotland fans, obviously we haven't experienced a World Cup for a long, long time and it was almost within touching distance this year," Zoe says.
"So to see people then coming over and still being able to enjoy it has been incredible."
Discounted tickets have been offered to Qatar residents, with Zoe and her family taking in games featuring Senegal, Netherlands, France, Spain and other World Cup heavyweights.
They also hope to get tickets for the final at the Lusail Stadium on 18 December.
Her son, Cameron, 12, was also selected as a flag bearer for Brazil's opening match against Serbia.
Yet perhaps more than any other World Cup, Qatar 2022 has been dominated by ethical concerns.
Homosexual acts are illegal in Qatar, with punishments ranging from fines and imprisonment to death by stoning.
Amnesty also says that since the World Cup was awarded to the country in 2010, hundreds of thousands of migrant workers have faced human rights abuses while employed to build wider infrastructure necessary to host the tournament, as well as the venues.
World Cup veteran Brian says this tournament has been "wonderfully organised" for fans, who have enjoyed "brilliant" weather and "magnificent" stadiums.
But he adds: "We go to the stadiums and we think about the workers. That has to be addressed.
"Then LGBT rights. Of course we're aware of that and can support that but we've also got to remember there are teams here that don't support it."
"They have to be handled, have to be highlighted and hopefully sport can do that, and it has to be done in the right way," Brian says. "Now is the time."
Qatar 2022 chief executive Nasser al Khater has said laws on homosexuality will not change and visitors should "respect our culture".
Ahead of the tournament, both Fifa and Qatar's government hailed progress on labour reforms since the World Cup was awarded to the country in 2010.
"Few countries have come so far so quickly, and Qatar now leads the region on labour rights," a spokesman for the government said.