Russia-Ukraine war live: International Atomic Energy Agency raises grave concerns over shelling at nuclear plant – as it happened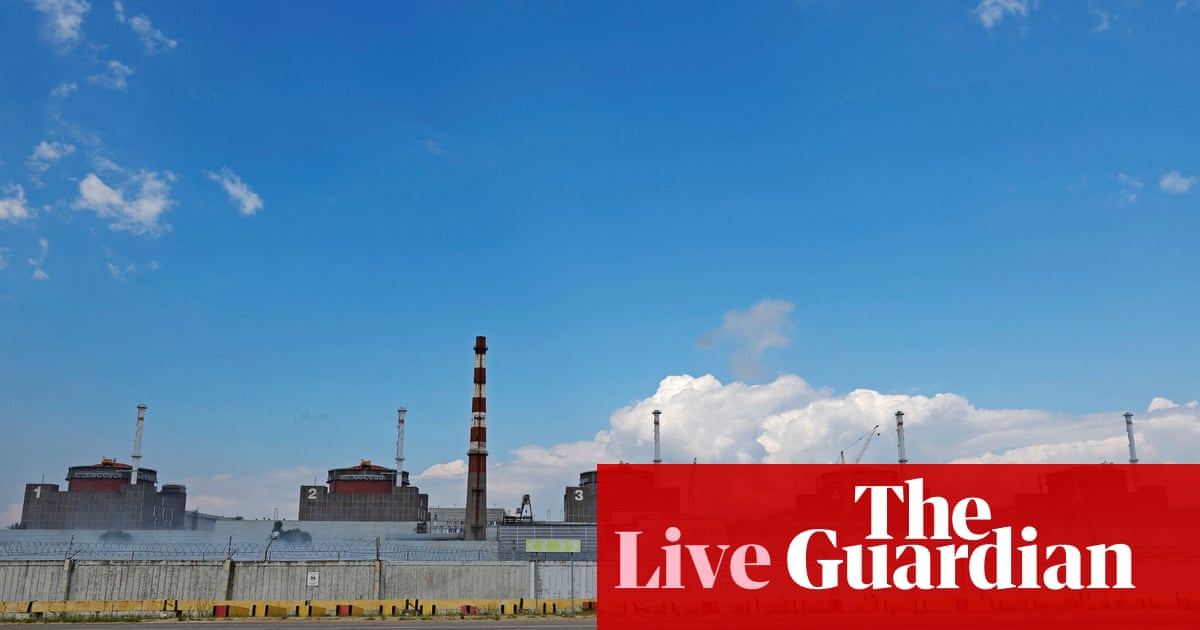 Russia-Ukraine war live: International Atomic Energy Agency raises grave concerns over shelling at nuclear plant – as it happened
Follow all the latest developments in Ukraine as Russia reportedly shells dozens of towns in east and south
This blog is closing now, thanks for following the day's developments. All our Ukraine news is here
Thanks to this, the world will hear, know and understand the truth about what is happening in our country even more.
Chastain also visited the Okhmatdyt children's hospital, according to Ukrainian public broadcaster, Suspilne News.
The plant, in Russian-controlled territory, was also shelled on Friday. Moscow blames Ukrainian forces for the strikes.
Reuters has put together some facts about Europe's largest nuclear facility.
Mykolaiv borders the mostly Russian-occupied Kherson region. A medical facility in the southern port city was recently damaged in a Russian attack, which Mykolaiv's mayor described as 'terrorism'
Of those charged, about 15 were in Ukrainian custody and the remaining 120 remained at large,, said in an interview in the capital, Kyiv.
Yuriy Bilousov, head of the war crimes department of the prosecutor general's office
Thirteen cases had been submitted to courts and seven verdicts issued, he said.
"Sometimes we've been asked why we prosecute such ... low-ranked officers. It's just because they are physically here ... If generals were here physically and we were able to capture [them], we would definitely prosecute generals," Reuters reported Bilousov as saying.
President Volodymyr Zelenskiy presents orders and the other state awards to service personnel and to members of the families of fallen soldiers in Kyiv on Sunday on the Air Force of Ukraine Day.
Ukraine and Russia are pointing the finger at each other for shelling at Ukraine's Zaporizhzhia
While the Ukrainian president, Volodymyr Zelenskiy, called for a stronger international response to fresh shelling at the plant, reportedly by Russian forces, Russian occupation authorities claimed on Sunday a strike reportedly by Ukrainian forces had damaged administrative buildings inside the complex, AFP reports.
Zaporizhzhia – Europe's largest atomic power complex that was occupied by Russia early in its offensive – has in recent days been the scene of military strikes that have damaged several structures, forcing the shutdown of a reactor.
On Sunday, Russian occupation authorities in the city of Energodar where the plant is located said that overnight, "the Ukrainian army carried out an attack with a cluster bomb fired from an Uragan rocket launcher," AFP reports.
"The projectiles fell within 400 metres of a working reactor," Russia's TASS state news agency quoted them as saying.
The strike damaged some administrative buildings and fell in a "zone storing used nuclear fuel".
The rights group published the report on Thursday saying the presence of Ukrainian troops in residential areas heightened risks to civilians during Russia's invasion, Reuters reports.
"Amnesty International deeply regrets the distress and anger that our press release on the Ukrainian military's fighting tactics has caused," it said in an email to Reuters.
"Amnesty International's priority in this and in any conflict is ensuring that civilians are protected. Indeed, this was our sole objective when releasing this latest piece of research. While we fully stand by our findings, we regret the pain caused."
Zelenskiy accused the group of trying to shift responsibility from Russian aggression, while Amnesty's Ukraine head, Oksana Pokalchuk, quit, saying the report was a propaganda gift for Moscow.
Ukrainian officials say they try to evacuate civilians from front-line areas. Russia, which denies targeting civilians, has not commented on the rights report.
In its email on Sunday, Amnesty said it had found Ukrainian forces next to civilian residences in 19 towns and villages it visited, exposing them to risk of incoming Russian fire.
"This does not mean that Amnesty International holds Ukrainian forces responsible for violations committed by Russian forces, nor that the Ukrainian military is not taking adequate precautions elsewhere in the country," it said.
"We must be very clear: Nothing we documented Ukrainian forces doing in any way justifies Russian violations."
Pope Francis welcomed the departure from Ukrainian Black Sea ports of the first ships carrying grain previously blockaded by Russia, saying the breakthrough could be a model for dialogue to bring an end to the war in Ukraine.
At his weekly address to pilgrims and tourists in St. Peter's Square on Sunday, Pope Francis said:
This event presents itself as a sign of hope and my own heartfelt wish is that following this path, it will be possible to bring an end to the fighting and reach a just and lasting peace.
Zelenskiy calls for stronger international response to Russia's 'nuclear terror'
The Ukrainian president, Volodymyr Zelenskiy, has called for stronger international response to Russia's "nuclear terror" after reported new shelling at the Zaporizhzhia Nuclear power plant. During a phone call with the European Council president, Charles Michel, Zelenskiy called for sanctions to be imposed on the Russian nuclear industry and nuclear fuel, the Ukrainian leader wrote on Twitter.