Spectrum News | Download Our App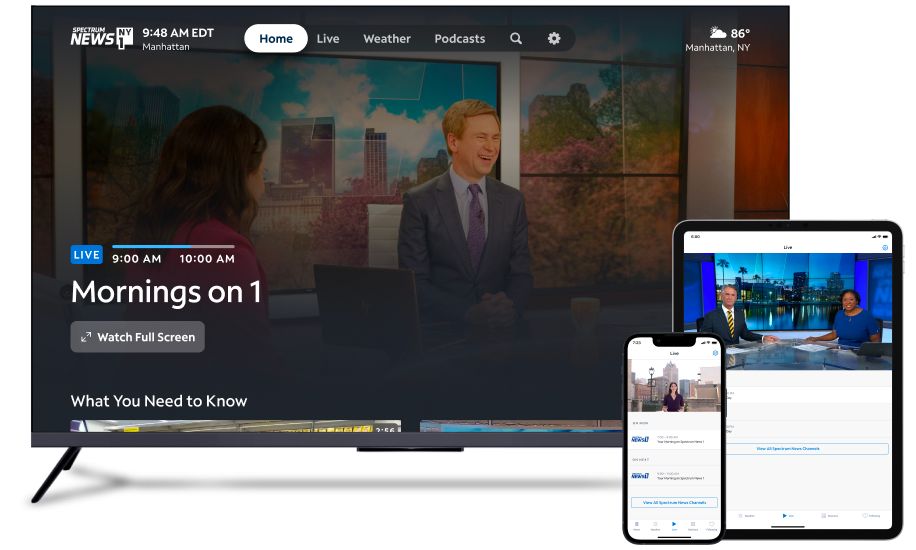 Spectrum News ofrece historias e información que te importan tanto a ti como a tu comunidad.
Access Spectrum News' portfolio of local news networks, wherever you are. Watch on your phone, tablet or TV.
Ve el catálogo de la red de noticias de Spectrum News donde sea que estés. Disfrútalo en tu teléfono, tableta o TV.
Keep up with the latest weather forecasts from our meteorologists and explore real-time data.
Accede al pronóstico del clima de la mano de nuestros meteorólogos y explora los datos en tiempo real.
Stream episodes of your favorite Spectrum News shows such as Capital Tonight, LA Stories or Inside City Hall, whenever you want.
Disfruta los programas originales de Spectrum Noticias NY1 a la carta como Pura Política y El Abogado a tu Lado.
Read or watch hyperlocal and national news stories by our Spectrum News journalists and local partner publications.
Get recaps of today's top headlines in just 90 seconds with "Spectrum News in :90."
Escucha las noticias, entrevistas y análisis de nuestros periodistas sobre los temas que afectan a tu comunidad.
Listen to stories, interviews and analysis from our journalists on the issues impacting your community.
Lee o ve las noticias hiperlocales de la mano de los periodistas de Spectrum News y de las publicaciones locales asociadas.
Stay informed and prepared with notifications, including Morning and Evening Briefings, precipitation alerts and severe weather alerts.
Available for all Spectrum customers.* If you're not a Spectrum customer, enjoy free access for 30 days.
Disponible para todos los clientes de Spectrum*. Si no eres un cliente de Spectrum, disfruta de acceso gratuito durante 30 días.