Chris Mack confirms Big Blue Nation is indeed everywhere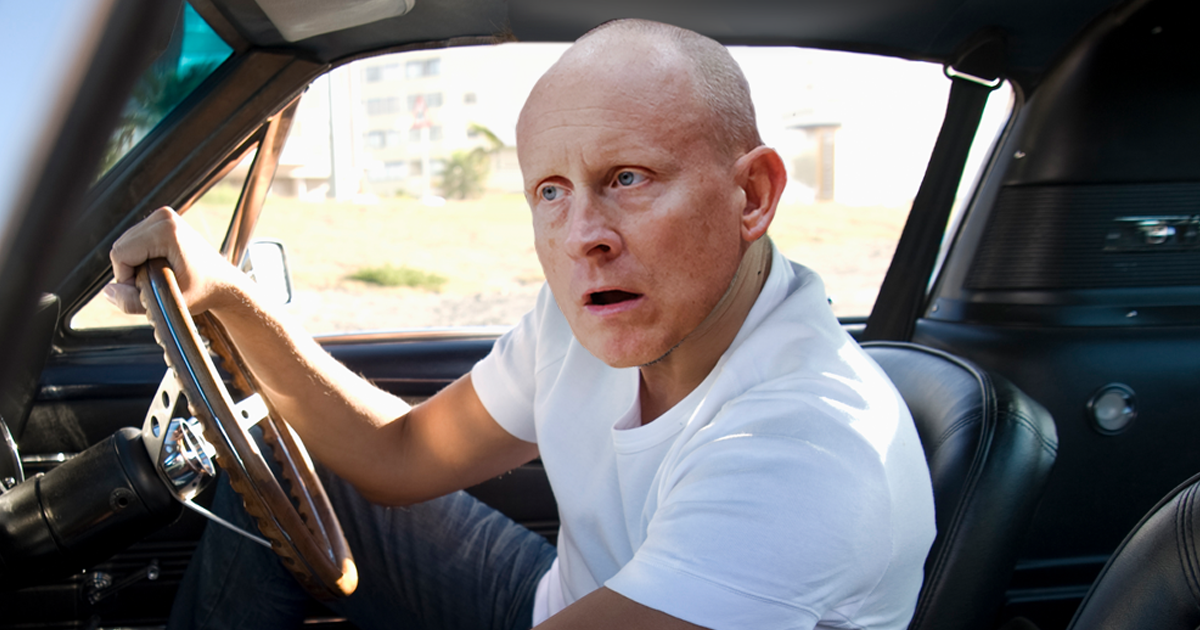 As what's left of Louisville Basketball burns to the ground before our very eyes, its former head coach, Chris Mack, is enjoying his time away from the game by dipping a toe into the college basketball media world. Last night, Mack spent an hour with "The Field of 68" to talk about Tuesday night's results and fond memories of beach house fun with Jeff Goodman.
In that discussion, Mack shared a story of a run-in with a Kentucky fan while he was vacationing in Florida during his 20-day suspension from Louisville last fall. The story came up when the show's host, John Fanta, asked Goodman about the craziest fan bases, and if Mack had any stories about Big Blue Nation from his short time at Louisville.
"When I was wrongfully suspended last year," Mack began, "and I was down in Florida for the week, or the 10 days out of the 20, I went to Walmart to get some stuff for Thanksgiving. And as I'm pulling out of the parking lot, I'm in a white, beat-up, 1995 pickup truck. You know the truck, Goodman.
"So I'm sitting there at the stop sign and this guy pulls up to the stop sign. I'm going left. He's going right. So we're at the stop sign at the same time. And as I'm turning left onto a state route to head back to the house, this guy screams out, 'Go Wildcats!'
"I'm in Florida," he reiterated. "I got a hat on. I got a t-shirt. I got a swimsuit on. And this guy yells out 'Go Wildcats!' so he was either stalking me in Walmart or followed me out, got in his car, and made sure he pulled up at the same time. But, man, they're everywhere."
Goodman echoed Mack's "everywhere" with two more "everywheres," even noting there is a Kentucky flag flying outside a house down the street from his house in a Boston suburb.
Hit play below to hear Mack's story during his appearance on "Field of 68 After Dark."
And leave a comment if you were the one who yelled at him. We won't judge.
In John Calipari's time as head coach at the University of Kentucky (2009-present), 19 different players have transferred to a different school to finish their playing careers. Three of those transfers (Sacha Killeya-Jones, Dillon Pulliam, and Tai...
Marques Cox might not be at Kentucky if his 2022 season did not end at Kentucky. In a strange twist of fate, the talented left tackle has returned to the place that nearly derailed his career. It's difficult for the 6-foot-5, 305-pound offensive...
"They are not machines, they are not robots," John Calipari said of his team following Kentucky's loss to Kansas on Saturday. It's become a go-to Cal-ism over the years, one used quite frequently as of late. He throws it out there just about every...
Kentucky football goes 1-for-2 on National Signing Day. On Wednesday, the same day that four-star defensive lineman Kendrick Gilbert flipped from Purdue to the Wildcats, another highly-ranked lineman, William "Woo" Spencer, elected to go against...
With the Name, Image, Likeness (NIL) era in full swing, student-athletes can finally earn money from autograph signings, merchandise sales, and endorsements. What players do with that money is entirely up to them, but this morning, we got a pretty...
Tuesday evening started with bad news for the Kentucky Wildcats. Matt Jones broke the news that starting point guard Cason Wallace would miss the game. Jack Pilgrim later confirmed the story adding it was a "leg issue" and the television broadcast...
As of January 10, Kentucky's NCAA Tournament resume was non-existent, with the Wildcats clearly on the outside looking in regarding the field of 68. UK was coming off an inexcusable home loss to South Carolina -- a Quad 4, a dagger in the eyes of...
2024 four-star guard Tahaad Pettiford has announced his commitment, and as expected, the Kentucky Wildcats were not the choice. The 6-foot, 160-pound junior out of Jersey City (N.J.) Hudson Catholic will, however, join an SEC rival during the...