Ukraine war: Conflicting claims over embattled town of Soledar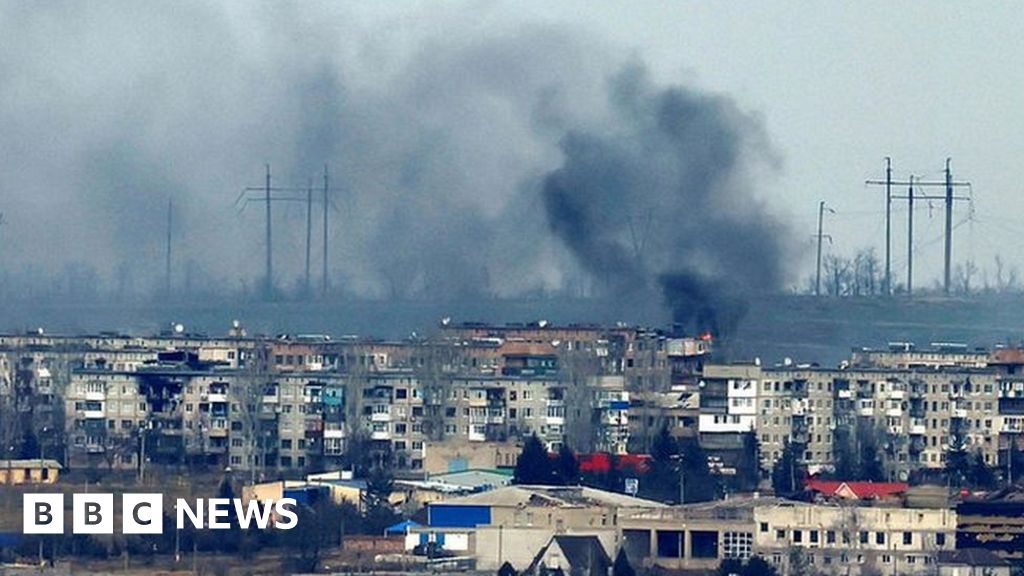 Russia's mercenary Wagner Group has claimed control over the town of Soledar in eastern Ukraine - but Kyiv says its soldiers are holding out.
Russia's media carried a statement purported to be by the Wagner head, Yevgeniy Prigozhin, who said Ukrainians were now encircled in the city centre.
Ukraine's Deputy Defence Minister Hanna Maliar earlier said that "heavy fighting is continuing".
In the reported statement late on Tuesday, Mr Prigozhin said: "Wagner units took control of the entire territory of Soledar. A cauldron has been formed in the centre of the city in which urban fighting is going on."
The statement stressed that only Wagner fighters - who are not part of the Russian armed forces - were taking part "in the storming" of Soledar.
Meanwhile, Ms Maliar said a few hours before that "the enemy does not pay attention to the large losses of its personnel and continues to actively storm".
"The approaches to our positions are simply strewn with the bodies of dead enemy fighters. Our fighters are defending bravely," she added.
The fall of Soledar - a small salt-mining town in the Donetsk region - could help Russian troops to encircle the nearby strategic city of Bakhmut.
The UK said earlier on Tuesday that Russian troops and the mercenary Wagner Group were "likely" to now be in control of the town.
On Monday, Ukraine President Volodymyr Zelensky said there was "almost no life" left in Soledar and "no whole walls left".
And in a new address late on Tuesday, Mr Zelensky praised the resilience of Ukrainian forces.
The strategic importance of Soledar is debated, but its capture would be significant for two reasons.
First, it would allow Russian forces to inch closer to the regional city of Bakhmut. Russia could use access to Soledar's deep, city-like network of salt mine tunnels, dormant since April, to penetrate Ukrainian-controlled territory.
Secondly, invading forces would be able to give Ukraine a taste of its own medicine.
One thing that has helped Kyiv liberate territory has been its ability to target Russian supply lines.
Long-range missile strikes have often left thousands of invading troops unable to replenish personnel, ammunition, fuel, and rations, and stopped them freely moving military hardware.
The capturing of Soledar - which had a population of 10,000 before the war - would effectively cut Bakhmut off from a major supply line from nearby Sloviansk.
The UK said it believed Soledar was close to falling to Russia - but added that the Kremlin was "unlikely" to take Bakhmut immediately due to Ukraine's "stable defence lines".
A senior military official from the US Department of Defense said earlier on Monday there was a "good portion" of Soledar in Russian hands.
Fighting around Bakhmut has been going on for months, and the US official described the most recent exchanges as "savage".
Two British nationals have gone missing in the region and were last seen heading to Soledar.
Despite the long and intense battle, Oleh Zhdanov - a highly respected military analyst in Ukraine - believes that neither Soledar nor Bakhmut are especially important from an operational point of view.
Mr Zhdanov said in an interview on Monday with the Ukrainian newspaper Gazeta that Russia "is trying to prove to the whole world that its army is capable of winning".
The Institute for the Study of War, a US-based think-tank, has said that Mr Prigozhin, "will continue to use both confirmed and fabricated Wagner Group success in Soledar and Bakhmut to promote the Wagner Group as the only Russian force in Ukraine capable of securing tangible gains".
Russia has suffered several major setbacks in Ukraine since its invasion nearly a year ago, including
Capturing Soledar would just as much be a propaganda victory for the Kremlin as a military one.
The gains for Russia are relatively small and costly, but the town would be a much-needed trophy to present to critics back home.